[caption id="attachment_4645" align="aligncenter" width="504"]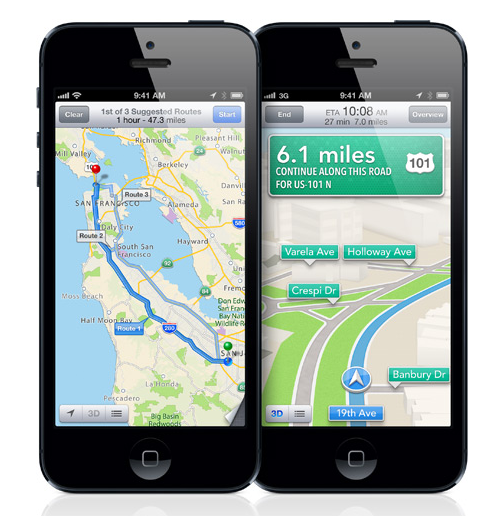 Apple's new mapping software is partially built on some acquisitions the company's made over the past several quarters.[/caption] Apple began pushing out iOS 6 to iPhone and iPad users Sept. 19, and the early word on the mobile operating system seems decidedly mixed, with many users complaining in particular about the company's new maps app. The iOS 6 native maps app abandons Google Maps, long a mainstay of iOS mapping, in favor of proprietary software developed by Apple. It's very slick, complete with voice navigation and 3D "flyovers," but some users—including a few among the tech-world elite—have fired off criticisms about its functionality. "Apple's made a new product that actually is pretty but dumb," Anil Dash, co-founder and managing director of Activate, wrote in
a Sept. 19 blog posting
. "Worse, they've used their platform dominance to privilege their own app over a competitor's offering,
even though it's a worse experience for users
. This is the new Maps in iOS 6." Dash's complaints include what he views as a "degraded" ability to search by building name, as well as issues with directions and routing features for drivers, which he claims includes "out-of-date road information, impossible directions and a general level of unreliability." He also complained about a general lack of transit features. Meanwhile, Daring Fireball's John Gruber suggested in
a Sept. 19 posting
that "the new Maps is going to be the biggest problem with iOS 6" and that the new mapping was "a downgrade." He also wondered openly if Google will release a standalone Google Maps app. Meanwhile, regular users took to popular online forums to vent their complaints. "I won't be upgrading my iPhone 4 until I'm sure that Google has an app in place," wrote one
Slashdot member on what turned into a vigorous discussion
. "I do not feel that I should be caught in Apple's shifting allegiances." On a more humorous note, another Slashdot member wrote: "Only a sap would grapple with apple's map app. It's a trap." Others seemed more defensive of Apple and its mapping endeavors. "Why is Apple always the villain around here?" one Slashdot user asked. "Remember that one time when Google implemented turn-by-turn directions for iOS maps app? Yeah, me neither. Besides, I trust Apple more. With them, I'm the customer. With [Google] I'm the product...with my personal information being sold to advertisers." The big question now seems to be whether Google will try to release its own map app for Apple's App Store, and if Apple will reject said app. There's no love lost between those two companies, with Apple battling Google Android device manufacturers in court. In the meantime, as pointed out by several Slashdot members, the Web version of Google Maps remains accessible via the browser.
Image: Apple