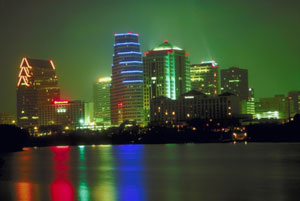 Austin Named the Top City for Growth:
Austin was ranked the top city for growth and prosperity in the coming decade in a study conducted by Praxis Strategy Group for Forbes. The ranking was based in large part on the city's being one of the top areas in the country for job creation and an influx of educated workers.
Forbes
Electronic Arts May Open Local Game Studio:
EA Sports is scouting possible locations for a game development studio in the area. COO Daryl Holt says the company sees opportunity with "connected, multi-platform development," and wants to "attract, hire and retain the industry's best talent."
IGN
Initiative Seeks to Create Startup District:
The Greater Austin Chamber of Commerce is launching an initiative to create Austin Live, a downtown work space that will serve as a home base for entrepreneurs and early stage startups.
Statesman.com
Isis Will Showcase Mobile Wallet Technology:
Austin will be the second launch market of Isis's NFC mobile wallet technology. The city was selected because of its tech-savvy consumers and merchants, says CEO Michael Abbott.
Computerworld
Dell's Acquisitions Are Paying Off:
Although its three-year-old business transformation isn't close to being finished, it's already paying off, says Dell CEO Michael Dell. He says the company has been busy acquiring others in a move to become a broad-based information technology company.
Statesman.com
Solarwinds Acquires Trigeo to Expand Network Management:
Network management software developer Solarwinds is acquiring Idaho-based TriGeo Network Security. TriGeo will allow Solarwinds to expand "the range of problems SolarWinds can solve for its users," the company said.
Statesman.com
SolarBridge Technologies Raises $19 Million:
The AC module system developer for the solar industry has now raised total funding of $46 million.
Vatornews