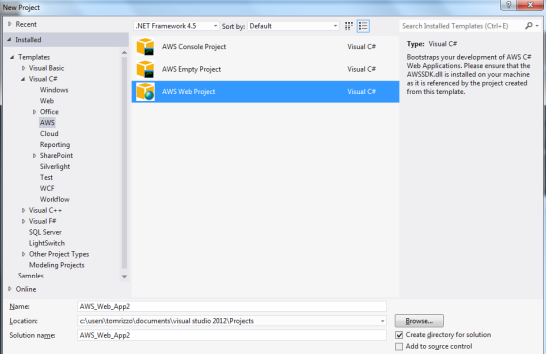 Amazon is adding Windows Server 2012 to its portfolio of supported platforms for AWS (Amazon Web Services). While that's not wholly surprising—AWS also supports Windows Server 2003 R2, 2008 and 2008 R2—it comes at a time when Microsoft and Amazon find themselves in a state of heightened competition over their respective cloud services. As part of its
Windows Server 2012 support
, Amazon has published 31 Windows Server 2012 AMIs, including AMIs for 19 different languages. The AMIs themselves are usable with every instance type, and available in every region. AWS also supports the .NET 4.5 framework that shipped with Windows Server 2012, and features integrated Visual Studio support (including Visual Studio 2012). An AWS tool within Visual Studio gives a view into AWS resources without the user actually needing to leave the Visual Studio environment. AWS Elastic Beanstalk, Amazon's automated provisioning system for applications, will support Windows Server 2012 in addition to Java, PHP, and other formats.
The Battle
Meanwhile, Microsoft's Azure and AWS are locked in battle for clients in need of Infrastructure-as-a-Service (IaaS) and Platform-as-a-Service (PaaS).
SlashCloud's Jeff Cogswell compared the two platforms
and found that AWS qualifies in many ways as an IaaS level, with the notable exception of Elastic Beanstalk, while Azure is more of a PaaS product. He used both platforms to develop a scalable application, a process that allowed him to test the usability of each. His conclusion? "If you're not using any vendor-specific APIs, then it's safe to say the experience you get on either Amazon or Microsoft will be roughly the same,"
he wrote
. "But that means you're also not developing an app that necessarily takes advantage of all possible cloud capabilities—not just add-ons, but scalability." Once the developer begins using those vendor-specific APIs, however, they risk being locked into either AWS or Azure. Microsoft and Amazon aren't just competing for the hearts and minds of developers and organizations. They're also battling for consumer dollars, with Amazon's Kindle Fire tablets going head-to-head against Microsoft's new Windows 8 tablets. If Microsoft can seize a larger portion of the mobile market (and, by extension, the cloud apps and services that inevitably go with it), it could potentially threaten Amazon's plans in that area, as well.
Image: Amazon