[caption id="attachment_10168" align="aligncenter" width="601"]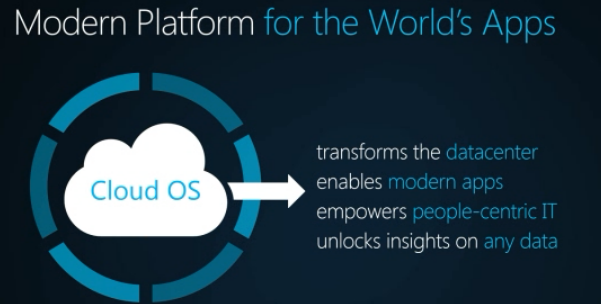 Microsoft (which offered up this slide as part of its latest Windows Server rollout) is arguing its Server platform is ideal for a cloudy IT environment.[/caption] Microsoft's enhancements to Windows Server 2012 could make it easier to manage, move and store Hyper-V-based virtual machines within large infrastructures. Those enhancements,
announced at Microsoft's TechEd conference in New Orleans
, include making large virtual infrastructures based on Hyper-V easier to manage and configure, as well as networking enhancements. Both Windows Server 2012 and the infrastructure-as-a-Service (IaaS) platform underlying Microsoft's Azure (along with those of its third-party cloud providers) are based on Hyper-V. The cloudiest addition to Windows Server is the Windows Azure Pack, which allows companies to create a Web portal that looks and functions like the public Azure while remaining private to the company backing it. The Service Management Portal within the server allows for the creation, selection and management of live VMs and VM images; it is integrated with a Service Bus that provides a messaging service for cloud-based applications to communicate and to support Software-Defined Networking (SDN). Microsoft is also adding a compression engine to the Live Migration service in Windows Server 2012 R2 Hyper-V. Microsoft's hypervisor has been compared unfavorably to that of competitor VMware for the comparative difficulty of moving a virtual machine from one server to another (or one data center to another) without shutting it down and re-launching it. Microsoft is trying to reduce the complexity of the hardware emulation within virtual networks via an alternate VM configuration it calls the "Generation 2" virtual machine. Rather than containing all the layers of emulation that legacy hardware hypervisors need to run on a variety of servers, Generation 2 VMs contain support only for the 64-bit version of Windows Server 2012 and 64-bit Windows 8. That leaves out emulation of legacy systems not supported in those two OSes. Generation 2 VMs also boots using UEFI (Unified Extensible Firmware Interface) rather than the older BIOS required by older systems. They can also boot from virtual SCSI drives or network adapters to make them even more independent of hardware. "Windows as an operating system now has deep knowledge of what it means to be on a VM. A Generation 2 VM does away with all the pretense of trying to look like a physical computer," Microsoft program manager Ben Armstrong said at a press briefing. Other features include the ability to change the size of a VHDX-format virtual machine while it is running, the ability to clone a running virtual machine to troubleshoot it away from the production version, or to create an identical machine. Microsoft also added variability to an existing Hyper-V Replica feature that
replicates virtual-machine instances
from one physical server to another across the network; it is now possible to set the frequency of the replications so they take place at intervals of anything from 30 seconds to 15 minutes. A feature called Remote Live Monitoring allows network managers to capture traffic from a particular VM to analyze and troubleshoot the VM or its applications without interrupting the workload they are running. Microsoft also expanded support for physical networks to simplify the processing of packets from many NICs and transferring data directly to the VM; the NIC teaming function got better load balancing for high-bandwidth connections. On the Linux side of the equation, Microsoft has added support for Dynamic Memory in VMs running Linux on R2 Hyper-V for better memory management and higher density of Linux-based VMs on a server. In addition, R2 eliminates some remote-management difficulties by adding support for Remote Desktop to Hyper-V to allow datacenter managers to work remotely on VMs more directly than they could by going in through the VM's own virtual network interfaces. The feature is disabled by default in R2, but enabled in an update to Windows 8 called Windows 8.1 Client Hyper-V to help encourage VM administrators to switch access methods. The public preview of Windows Server 2012 R2 will be released later this month, with much of that unveiling expected to take place during the Build 2013 developer conference in San Francisco.
Image: Microsoft