If a recruiter calls you with a particularly interesting position, delivering your resume in a few minutes rather than scrambling to revamp it at lunch can give you an advantage. It demonstrates that you're serious about moving on and up, and that in turn makes employers more serious about you.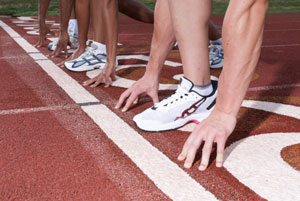 Even if you're content with your current job and don't plan to leave any time soon, remember that the best way to take advantage of opportunities is to prepare for them. That means having your
resume
, pitch, business cards and even
interview clothes
ready.
The Resume
The rule of thumb is to
keep it up-to-date
. When you're actively looking for work, you'll
customize
it to emphasize your fit with a job. When you're not looking, keeping a generic resume on hand and tweaking it regularly will make it tighter and better prepare you for your pitch.
The Pitch
This is nothing more than a 30-second description of yourself - where you've been, your skills, interests and ambitions. You may use all or just part of it, but it eases the challenge of talking unashamedly about yourself. For example, it's a handy thing to have rehearsed when meeting a colleague's former supervisor at lunch or a conference. Another advantage of a ready pitch: It gives you something in your pocket for those recruiters or hiring managers who call you unexpectedly, at home or in your cube. Some manages enjoy catching candidates off guard. It may not be fair but it happens all the time. Your pitch gives you time to collect your thoughts and secret yourself sway from nosey cube-mates, barking dogs or rambunctious kids.
Business Cards
Effective cards are printed on simple white stock and include your name, title, e-mail, social media addresses, and blog. Keep it simple, though. Cards shouldn't look like an advertisement for everything you. If in doubt your name, title and e-mail will do. In an age where information is fluid, a card can be like a Trojan Horse (the non-viral type) that's pulled from a shirt pocket at the end of the day.
The Clothes
Happily working - or not so happily working your job search from home - you may have relaxed your wardrobe. You've stopped wearing the tie or are getting away with a pullover and jeans. Stop this for two reasons. First, you're not immediately presentable for a spontaneous
interview
, and those do happen occasionally. Second, and more importantly, dressing up for a quick interview at lunch will raise alarm bells to anyone who sees you at your current job. Always dress well at work. Dress
as if
you're going to that interview. The job market is coming back, albeit slowly. To take advantage of it, be prepared.
Originally published Dec. 10, 2010