[caption id="attachment_10756" align="aligncenter" width="500"]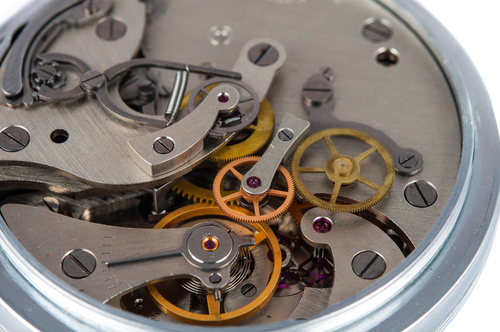 Whatever Apple produces, it'll be more technologically advanced than this.[/caption] Apple has applied for a Japanese trademark on the term "iWatch,"
according to Bloomberg
. While that doesn't mean a timepiece from the tech titan is necessarily imminent, it's helped refuel speculation that Apple has its eye on the wearable-electronics market. The trademark application was filed June 3 with the Japan Patent Office. Apple's Tokyo-based spokesperson refused comment to Bloomberg. Apple sells millions of devices every quarter, and still attracts legions of diehard customers. But that hasn't satisfied investors, who've punished the stock over the past several months; to listen to the more pessimistic ones, Apple's most innovative days are surely behind it. Indeed, the days are long past when Apple had a comfortable lead over the rest of the tech industry, at least as far as innovation is concerned. A few high-end Android and Windows Phone devices now match the quality of the iPhone. Even the iPad, which once held a commanding portion of the tablet market, is slowly losing market-share to Android devices such as the Kindle Fire and Google's Nexus 7. Macs continue to sell well, but the PC industry isn't exactly a growth segment at the moment. On top of that, there are indications that the higher end of the mobile-device market is
reaching something of a saturation point
. Apple could expand into new territories on new carriers—a deal with China Mobile would bring millions of new iPhone sales, for instance—but it's clear that the iPhone is reaching the end of its potential for explosive growth, unless Apple decides to release an ultra-cheap edition that targets the lower-range smartphone market. Indeed, explosive growth will only come from conquering a new market segment. For quite some time, rumors have suggested that Apple is exploring a television set as its Next Big Thing; but despite the desperate prognostications by certain analysts, such a device has yet to appear. Instead, attention has shifted to the aforementioned "iWatch" and wearable electronics. According to analysts, a significant percentage of consumers would purchase such a device. ChangeWave Research (a service of 451 Research) interviewed 1,713 North American respondents between March 4-19 and found that 5 percent were "very likely" to buy an "iWatch," with another 14 percent indicating they were "somewhat likely" to do so. That same month, Citigroup analyst
Oliver Chen told Bloomberg
that an "iWatch" could earn as much as $6 billion a year, a sizable fraction of the $60 billion global timepiece market. But will Apple actually release a timepiece? And if so, what features will it offer? Earlier this year,
The Verge
(citing anonymous sources) said that the company had "chosen to rework the full iOS to run on the watch instead of building up the iPod nano's proprietary touch operating system," but didn't mention what the device would actually do; a similarly lengthy report in
The New York Times
also failed to detail the software. At this point, it's pretty much anyone's guess. In any case, Apple CEO Tim Cook has suggested that no new Apple products are arriving before the fall timeframe. That's plenty of time for media speculation to run rampant, fed by scraps such as this trademark application. But will an iWatch reverse the perception from certain quarters that Apple is a stagnant company (should the device actually hit the market, of course)? That's anyone's guess.
Image: oksana2010/Shutterstock.com