If a turnaround is possible at BlackBerry, John Chen, former CEO of enterprise mobility firm Sybase, is being touted as
the man who can lead it
. Indeed, he's being called the type of leader the troubled smartphone vendor should have tapped when co-CEOs Jim Balsillie and Mike Lazaridis stepped down in late 2011.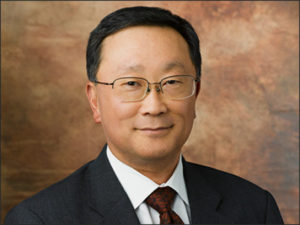 On Monday, the company said a
buyout by a consortium
led by hedge fund Fairfax Financial Holdings isn't happening. Instead, Fairfax is helping put together a $1 billion loan package to keep BlackBerry going. BlackBerry also said that Chen will become interim CEO and board chairman as current CEO Thorsten Heins departs with a hefty severance package. Chen is best known for taking Sybase from a company whose value dropped at one point to $400 million to a $5.8 billion buyout by SAP. He did that by betting on a mobile strategy when detractors thought he was nuts. Current BlackBarry Board Chair Barbara Steymiest said Monday's announcement represented a "significant vote of confidence in BlackBerry and its future." The buyout deal valued the company at approximately $4.7 billion. The new investment raises that valuation to approximately $6.25 billion. "It's going to take time, discipline and tough decisions to reclaim our success," Chen said in a statement. He told Reuters, "I know we have enough ingredients to build a long-term sustainable business. I have done this before and seen the same movie before." Though he declined to offer details about his strategy, Chen estimated the turnaround will take about six quarters. Though Chen has asserted that BlackBerry won't abandon its handset business, analysts foresee a move toward enterprise systems and services, and say its servers and enterprise management platform are key assets. Gus Papageorgiou of Bank of Nova Scotia told the Globe and Mail that he believes the BBM chat service could, in time, be worth $300 million a year in mobile advertising revenue. It's not clear what Chen's strategy will mean for BlackBerry's employees. At Sybase, Chen slashed costs and focused on niche markets. Presumably, with 4,500 employees -- or
40 percent of its staff
-- just laid off, costs at BlackBerry have already cut into bone. "The question is can BlackBerry refocus its energies and assets around a place it can win, as opposed to playing catch-up and 'me too,' which is what it's been doing for the last five or six years?" Stephen Beck, a partner at management consultancy cg42, told Forbes.