[caption id="attachment_17868" align="aligncenter" width="549"]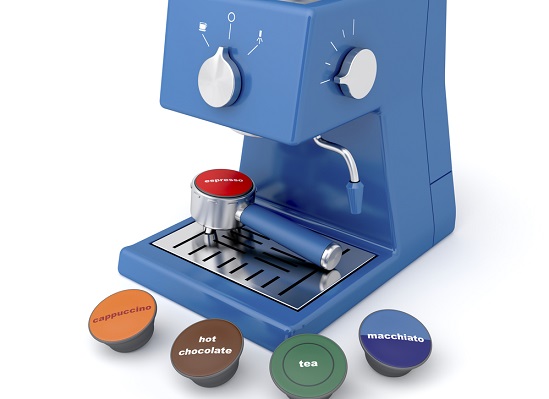 DRM will keep customers from using unlicensed coffee pods in Keurig machines.[/caption] Leading high-end single-serve coffeemaker Keurig, Inc. is being sued in New York by competitors demanding that the court keep the company from installing software that will prevent coffee pods from other manufacturers from being used in its machines. Keurig, which is owned by Green Mountain Coffee Roasters, popularized the idea of single-serve coffee-pod coffeemakers for coffee-sipping gourmands, and enjoyed a monopoly on the market until its
patents ran out in 2012.
It has always had to contend with competition from machines made by rivals including commercial beverage-machine-maker Bunn, coffee empire Starbucks Corp. and even an entry sold by WalMart from Esio Beverage Co.,
according to Reuters.
Once its patents expired, however, it could no longer keep competitors from offering "unlicensed" coffee products designed to fit in the same slot as the Keurig K-Cups that are still the leading brand of coffee pod. This seems like no big deal except that, in single-serve coffee makers (as with bubble-jet and other personal printers), the hardware is just a platform for the actual product: a subscription to a lifetime of generic consumables purchased from the manufacturer at premium prices because the toner (or coffee) is packed in proprietary ways that make it difficult for competitors to offer cut-rate alternatives. Coffee pods are a lot easier to reverse engineer than toner cartridges, however, so the "unlicensed" coffee pods sell at discounts of five percent to 25 percent below Keurig's own, prompting Keurig to push into new formats such as the reusable coffee filter,
according to TechDirt, which brought this outrage to light March 3.
Green Mountain CEO Larry Blanford told analysts during a Nov. 2012 earnings announcement that the company expected unlicensed K-Cups to take up between five percent and 15 percent of the total K-Cup market,
according to the Wall Street Journal.
That was before onetime ally Starbucks – which manufactured as many as 25 percent of the licensed K-Cups sold in the U.S. under a licensing deal with Keurig –
launched its own, competing coffee machine and coffee-pod technology
. By November of 2013, unlicensed K-Cup analogs had eaten up 12 percent of Keurig's own sales, prompting Keurig to announce it was taking drastic measures: Beginning with the "Keurig 2.0" model of its machines, which will begin selling this year, Keurig will include an "interactive readability" system that will tell its machines not to brew with coffee pods from other vendors. The threat will be a little slow in coming – the DRM-enabled machines won't ship until mid-2014 and into 2015. The impact will also be dampened by the base of Keurig machines already in place, which will not have the competitor-excluding technology built into the new machines. So Keurig's plan to defend its territory depends on customers being willing to replace their existing machines with new, less convenient models. Keurig will also continue to try to get rogue suppliers to sign up for official Keurig licenses "so they can participate in the innovations ahead,"
according to a November 2013 story in FoodNavigator.
Rival coffee-pod-maker TreeHouse Foods, Inc. is having none of it, however. The Chicago company sued Green Mountain Coffee Roasters in federal court in New York Feb. 11, claiming that Keurig's deals with pod-makers are designed to exclude other suppliers "and maintain Green Mountain's monopoly power in the cup market after expiration of Green Mountain's cup patents,"
according to a public statement from TreeHouse announcing the lawsuit.
Rather than being a technological innovation, Keurig's upcoming "interactive readability" feature is actually "an anti[-]competitive lock-out technology that will prevent the Keurig 2.0 brewers from functioning with cups supplied by unlicensed competitors," according to the announcement. "Such lock-out technology cannot be justified based on any purported consumer benefit," continued the lawsuit, a PDF of which is available
here.
"Green Mountain itself has admitted that the lock-out technology is not essential for the new brewers' function. Like its exclusionary agreements, this lock-out technology is intended to serve anticompetitive and unlawful ends." Keurig holds 89 percent of the market for brewers and 73 percent of the market for coffee packs, according to TreeHouse. The suit asks the court to declare Keurig's "lock-out" brewing technology to be an attempt at monopolistic control of the market, stop Keurig from issuing it, and force Keurig to loosen up its "exclusionary" manufacturing and distribution agreements. The whole dispute sounds so much like the endless patent wars, trademark disputes and endless attempts of leading vendors to hold a market lead with "advances" such as proprietary power cords or very-nearly-standard protocols that it is easy to forget the darkness at the heart of the whole issue is coffee rather than print toner or computer-mogul ego-centrism.
Image: Shutterstock.com/ Mile Atanasov