Ever hear the old saying, "waiting for the other shoe to drop?" If you work for a publicly traded IT company, keep an eye on its quarterly financial reports. If their revenue or profit numbers fall substantially below earlier projections, the company will be required to disclose it - either as an earnings warning or when they formally announce their quarterly results. And sometimes earnings declines morph into workforce cuts. On the other hand, companies heading toward an IPO, or have recently launched one, are often in a good financial situation. They tend to be loaded with cash once they go public. The downside is they're potentially less stable. Here's a quick cheat sheet of companies that are poised to go public and ones that recently carried off a successful IPO, as well as publicly traded tech companies who've said their fourth quarter financials aren't shaping up as well as they'd hoped.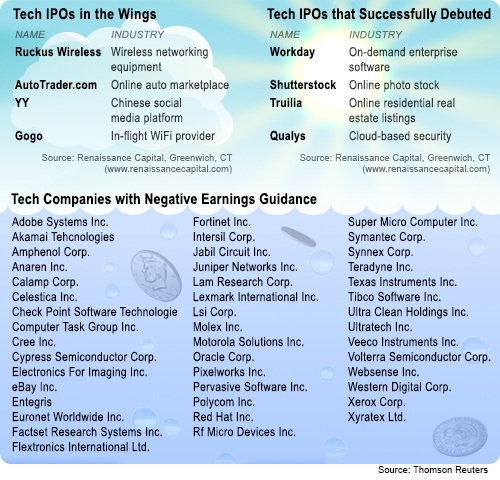 Look Here, Not There?
With the third quarter earnings season wrapped up, you'd be wise to check out a prospective employer's quarterly results. They're available for any public companies, though sometimes private firms will make them available, as well. By the same token, you'd be smart to take a look at some of the IPO darlings that recently went public and are flush with cash and growth prospects. Last month, Zynga dropped a bomb when it warned that its third quarter results would include a loss upwards of $105 million and that it needed to lower its financial forecast for the year. A couple weeks later, the struggling social games maker announced it would
lay off 5 percent of its workforce
.
Sizing Up the Situation
"I always tell candidates they should research the company they're interested in. If it's a public company, there's a lot of information that's available," says David Knapp, San Francisco Metro Market Manager of IT recruiter Robert Half Technology. Indeed. These companies release their financial information every quarter and typically hold a conference call or webcast with analysts and investors, which the public can access. Just go to the company's website and look on its investors page for information about current and past first (Q1), second (Q2), third (Q3) or fourth (Q4) quarterly results. This information will not only include a company's revenue and profit picture, but usually comments from management about the current and future state of its operations. Other sources include reports by well-known business publications like The Wall Street Journal, Bloomberg, or Crain's. "While the fourth quarter may have been poor, (you) should look at the company's overall performance. Every company goes through ups and downs," says Knapp, adding that prospective candidates should seek out the underlying reason for the financial misstep, such as a delayed product launch, repeated miscalculations about revenues, or a one-time loss for writing down debt. Kim Ruyle, president of Inventive Talent Consulting in Coral Gables, Fla., shares that view. "In isolation, a poor quarterly earnings report might have little impact on hiring, unless it's significantly lower than anticipated and lacking a clear cause of the lowered earnings," she says.
Are IPO Companies the Place to Be?
"Revenue, cash, earnings (profit) are all separate measures — a company may have one or two but lack another," Ruyle says. "First, focus on the maturity of the company, quality of management and senior leadership, viability of business model (including barriers to entry), value of products and services offered, market share and position, and growth prospects. Quarterly earnings can and probably be considered, but not to the exclusion of other important factors." Whether it's a company working toward an IPO or a mature business that recently missed its earnings mark, the need to scope out its financial strength comes back to the same issue: Don't be the last hired and first fired in a downsizing. "This does happen, but I haven't seen it happen often," Knapp says, adding, "Job candidates should ask about the stability of the company in the interview."