By training Vika Zafrin is a digital humanist, a Ph.D. whose area of study is the humanities as they intersect with the confluence of computing, research, teaching and creation. Currently, the 36-year-old is the Digital Collections Librarian at a major Boston-area university. As part of that community, Zafrin makes digital content as widely available as possible, online and for free, curates online collections and data mines large cultural data sets. It's pretty heady stuff and unsurprisingly, her tattoos have a depth of meaning as well.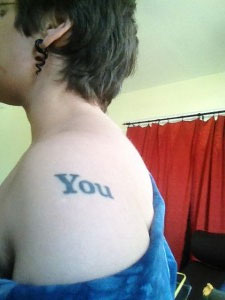 You have the word "You" on your left shoulder. Why that particular word?
I was 26 when I got that tattoo. What prompted me was Shelley Jackson's project Skin: A Mortal Work of Art. Shelley Jackson is a widely taught author and I heard about her project through the electronic literature crowd. I applied to be part of Skin back when it launched. Shortly after that, my then-partner E. also applied, and we requested that if possible, we receive successive words. Shelley obliged and our phrase was "You open," which we got done somewhere in L.A. on Jan. 1, 2004. I no longer remember the studio. Since then, E. and I have gone our separate ways but I love that phrase still, and am thrilled to be part of the project.
Your second tattoo says "anicca." What does that mean?
This's my favorite tattoo. It incorporates two elements: One is the word "anicca" (pronounced uh-NEECH-uh), which is one of the three pillars of Buddhism and is usually translated as "impermanence," but I think a better translation is "flux." The other element is a stylized heyiya-if, a symbolic double spiral from Ursula K. LeGuin's Always Coming Home that represents two complementary forces coming ever closer but never quite touching, with an eye-of-the-storm empty space always between them.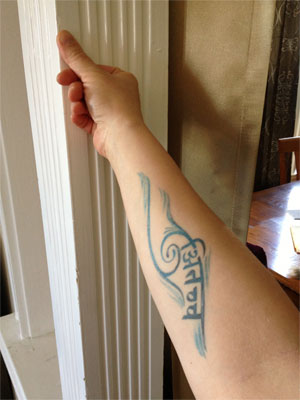 The word anicca ended up on my skin with the first two letters transposed. I briefly considered correcting it, but then thought, you know, it's appropriate for the word flux to be tattooed 'in flux' onto my body. So it remains and serves as a reminder to me that everything is changing and in motion all the time.
Who created and implemented it?
The initial design of the anicca/spiral piece was by
Ram of Fat Ram's Pumpkin Tattoo
in Jamaica Plain, Mass. The design was later enhanced by Lisa Schmoldt of Florida's
Otherside Ink
, when she was in Boston for a tattoo convention.
Do you have any other art on your body?
I have gauged ear piercings, one in each ear.
Are you planning any more body art?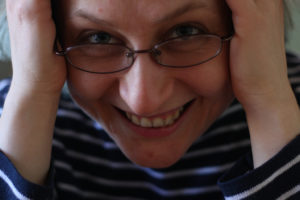 Yes! There's an artist up in Maine with whom I'd like to work. I'll need help fleshing out the actual design, but it'll involve a sparrow and three swallows in flight. When I was pregnant with my now-toddler son, his inside name was Sparrow. And the swallows are some of my favorite birds.
Have you ever gotten flak for the tattoos at work situation?
I've never gotten flak. Academics are a pretty tolerant bunch. If it's ever affected my employment, I don't know about it.