Kathryn Greenbaum has a cool job in games, but we'll get to that. First let's talk about what's on her skin. Specifically her four tattoos, all in black ink, one on each arm, two on her torso. We talked about her arm.

I like the intimacy of the piece. Tell us the story behind it?
My younger sister is an incredibly talented artist and had never designed a tattoo before, so I asked her to do some sketches of horse skeletons. We grew up on a horse farm and they've played a huge role in our lives. I think that horse skeletons are really beautiful, intricate things. When I had it inked, the tattoo artist went over the drawing exactly as my sister drew it, which I think gives it a different slant than your typical tattoo. I really love how spindly and sketchy the lines look.
Who did the work?
It was done by an artist out of Philly, whose name is Trevor. He's also close friends with my friend Will. It was done in Will's bedroom in Brooklyn.
Are you going to add to the canvas?
I think I'd like to get a few more small pieces, but after getting two of my four done in the last couple months, I'm probably taking a break for a little bit. I also don't have any idea what I'll get next. I think it will definitely all be black ink though. I feel like it ages better and just looks cleaner, more aesthetically pleasing.
What do you do for a living?
I'm a screen capture artist for Rockstar Games. I create the still images that are used for marketing, PR, publications and such. This past May we released
Max Payne 3
. We're working on a new project but I can't really discuss it.
That's an unusual gig at a gaming company. How did you wind up there?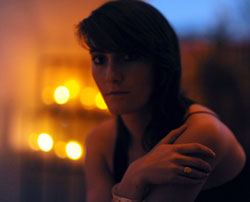 My path to Rockstar was a pretty interesting one. I graduated from NYU in 2011 with a BFA in photography and imaging and a minor in art history. After graduation, I started working as an assistant studio manager at a small retouching studio that mainly did work for Victoria's Secret. After about six months I realized that I wasn't really enjoying what I was doing and decided to look into other jobs. I didn't really have any idea what else I wanted to do, so I spoke with my friend Max, who kind of acts a bit like my big brother, and he reminded me that we had often talked about my working in the games industry after graduation. I like Rockstar's games and decided to check out how I could possibly fit in there. I sent them an email basically saying that I wasn't sure what I'd be able to do for them, but detailed my background in fashion photography. I ended up going in for an interview that day! It turns out a photography background is ideal for a career as a screen shot artist.
Full disclosure: Kathryn's my niece. But her tattoos are so cool.
If you work in tech and have a tattoo to share, we want to know about it. Email us and tell us about it.
Images:
The Tattoos: Alli Coates
Kathryn's Portrait: Meagan Cignoli