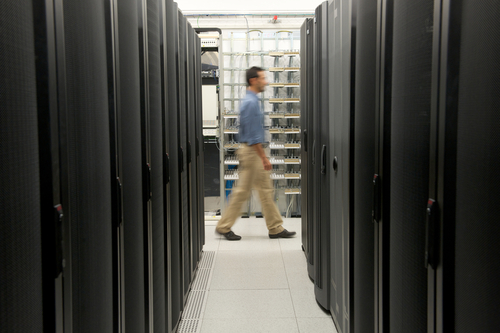 Dell's enterprise sales contribute mightily to company's bottom line, helping insulate it from
imploding consumer PC and storage sales
. So it's no surprise that the Texas manufacturer is doubling down on its business audience, with the creation of a new division—the Enterprise Systems & Solutions organization—that will develop converged and enterprise-workload products. Engineers and executives involved in the division will work on optimizing the IT infrastructure that backs most enterprise applications, as well as figuring out ways to streamline complex workloads. With regard to day-to-day business, in the words of the company, that means designing models for pre-built infrastructure solutions that can be installed by Dell or customer architects, and creating a single framework for managing "complex topologies that include server and storage resources, software images, and network connectivity." "As customers increasingly move to fully-integrated solutions, we are favorably positioned to capitalize on these trends," Dario Zamarian, vice president and general manager of the new division, wrote in a Nov. 16 statement. But Dell also has precious little choice when it comes to pursuing that particular line of business: rivals from Cisco and IBM to Hewlett-Packard have all devoted considerable resources to pushing some version of the converged data center. Cisco sells a Unified Computing and Servers platform that combines networking, virtualization, and storage; IBM has its own converged networking solutions; and HP's offerings in that area include the BladeSystem, Matrix Operating Environment and Cloud Service Automation for Matrix. Dell has made several aggressive moves over the past year designed to make it more of a data player. In addition to pushing out new server and storage products, it also
acquired Quest Software for $2.4 billion
, giving it more software tools for managing infrastructure such as Windows Server. In October,
it introduced Active Infrastructure
, a converged infrastructure offering that incorporates storage, networking, compute, and management tools. On Nov. 16, just as it announced the new division, Dell confirmed that it had acquired Gale Technologies, a maker of infrastructure automation software. Those moves are almost certainly driven by the bottom line. Dell's fiscal third quarter saw its net income shrink by 47 percent year-over-year, to $475 million, and its revenue dropped 11 percent to $13.7 billion. While sales of consumer PCs declined, its server and networking business actually rose on the strength of enterprise spending. Clearly, businesses represent Dell's best hope for competing on equal footing with a variety of competitors.
Image: Alessandro Colle/Shutterstock.com