By Chandler Harris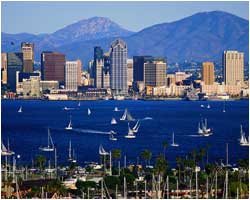 While Southern California isn't typically known for its IT jobs, the region has a large and distributed tech sector that's currently hiring. The good news: Demand for IT professionals in the area outweighs supply. The March 2010 employment numbers from the
U.S. Bureau of Labor Statistics
revealed Southern California's IT sector grew 6.5 percent - one of only two sectors in the area that increased employment that month. (The other sector was education, which increased employment by 1.6 percent.) The sudden growth has created a "tremendous demand" for tech professionals, says
Craig Kapper
, senior regional vice president for
Robert Half Technology's
Southern California office. In particular, San Diego, which has a sizeable number of technology companies, is struggling to find people, especially program analysts.
No More Delayed Upgrades
"(Southern California) companies are now doing many IT upgrades and enhancements because of delayed enhancements and projects over the last few years," says Kapper. "Companies are now saying they can't put it off any longer and are performing hardware and software upgrades and other needed upgrades." Professionals experienced with user interface and user exchanges are particularly needed, as well as program analysts. Also, IT professionals skilled in Web development, Java, .NET, and C#. Oracle program analysts and people who can implement Microsoft Sharepoint are also in demand, Kapper observes. The driving force behind all this is the belief by many technology executives that the worst of the recession is over, according to a survey by
socalTECH.com
. The survey found 82 percent of the region's IT leaders expect some level of growth in 2010, while 75 percent are planning to hire employees this year. At the moment, SocalTECH sees a strong demand for software engineers, Web developers and database administrators.
Opportunities in Mid-Tier
"It's a big change from last year," says
Ben Kuo
, founder of SocalTECH.com. "I think companies were really shy on hiring last year. They may have wanted to hire, but they were worried about the economy." The biggest demand for IT professionals is coming from numerous mid-tier companies - those with $5 million to $50 million in revenue - who are scrambling to find software engineers and other tech professionals, according to TechAmerica. At
Technical Connections
, an IT recruitment firm in Los Angeles, the most in-demand IT jobs are in software engineering. They include ERP/CRM, quality assurance, DBA, administrators and network engineers. "Almost every technology company I visit (in Southern California) has open job positions," says
Kevin Carroll
, regional director of the Southern California chapter of
TechAmerica.
"Many people are making the assumption there is a big pool of tech workers waiting for jobs, but the good folks are always working."
Salaries Look Good, Too
The good news for the state's IT workforce is the average wage high-tech workers received there in 2008 was $105,500, says TechAmerica. With demand so strong, tech salaries are only expected to increase. At Novastor, a data storage and protection company in Los Angeles, the employee count has gone from 16 last year to 35 today. The company employs software engineers, Web developers and tech support personnel with experience in C++, C# and .NET.
Mike Andrews
, managing director at
Novasto
r and vice president of the
Technology Council of Southern California
, sees many of the region's IT professionals willing to sacrifice short-term revenues in order to share in the long-term gains of companies. Through creative employment packages with strong benefits and performance incentives, IT workers can find lucrative positions at tech companies. For
Tony Karrer
, CEO/CTO of
TechEmpowe
r, a Web development company, finding software developers has been difficult. He hears other CTOs complain about the frustration of trying to find talented IT professionals. "12 months ago even the CTOs were looking for work and not many were hiring," Karrer says. "Now most of them are back in positions and are trying to find talented developers."
Chandler Harris is a business and technology writer in California
.