Though the tech hiring market has stabilized across many areas after a surge in the second quarter of 2021, the majority of top employers still increased their tech hiring in the third quarter. According to 2022 First Half Dice Tech Job Report, more than three-quarters of the top 50 companies (by tech job postings) have boosted hiring, with only 18 percent decreasing their hunt for tech talent.
Who's hiring all these technologists? Employers in the aerospace and defense industries, ecommerce and retail (Amazon, Target, Walmart), IT services (Infosys), health (Anthem Blue Cross) and fintech (FIS) were among the top 10.
As automation, cybersecurity and artificial intelligence continue to gain momentum, companies in the aerospace and defense industries have an increasing need for tech talent with data and digitization skills. Defense firms Lockheed Martin, Raytheon and Boeing all increased hiring across the U.S., even after a strong second quarter. Lockheed Martin is on a tight timeline to carry out a successful flight of their hypersonic missile by the end of 2022 after their failed attempt this summer, dedicating their new 65,000-square-foot 'smart' facility in Huntsville, Alabama to the task. The defense firm is looking to fill tech roles quickly.
The finance industry is used to technological advances impacting their business models by now, with the creation of turnkey asset-management programs and increasingly accurate predictive analytics, but the industry (and its advisors) seems once again at a crossroads. As in so many other industries, artificial intelligence (A.I.) and machine learning are disrupting traditional processes (and making powerful financial and trading tools available to a wider segment of the public). This quarter, Charles Schwab's hiring was up 35 percent quarter over quarter, with many of the job postings seeking engineers and developers in Texas, Colorado and Arizona; this activity points to continued efforts to keep up with technological advances in the industry.
In the related Fintech industry, FIS ramped up their hiring in Q3 significantly as the banking-as-a-service trend accelerates and consumers show increasing preference for digital products and services post-pandemic. The company moved to a Work from Anywhere model in March 2020, which will likely enable them to fill their need for software developers and network engineers with financial services industry experience more quickly, thanks to technologists' preference for remote work and the larger pool of candidates to recruit from.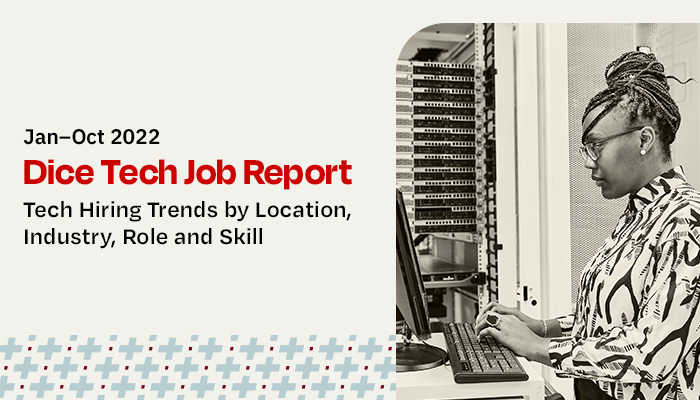 Find out which industries currently have the highest demand for tech professionals like you in Dice's latest Tech Job Report.