It's a continuing complaint: Employers who need skilled IT professionals say they can't find people to fill their open jobs. But job seekers say it's getting harder and harder to find a job. Why the disconnect?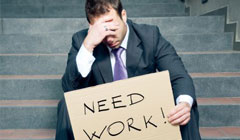 The unemployment rate in technology seems to underscore the employers' arguments that there's more demand than supply. During the fourth quarter of 2013, the rate dropped to 3.5 percent from 3.9 percent, according to
Dice's Q4 Tech Trends Report
. That compares to a national unemployment rate of 6.7 percent in December.
Skills in Demand
The biggest issue is that there are just not enough people with the "right" skills, says Rob Reeves, CEO and president of
Redfish Technology
, a recruitment firm specializing in IT. Given the shifting tides in technology and the peaks and valleys of specific needs, even those with significant experience can find it difficult to get a job, he notes. "You have a certain need for a certain position at a certain time," he says. That dynamic can leave some professionals out in the cold. The best advice for job seekers is to keep up on the shifts in IT. "There are breakthroughs and game changers," observes Reeves, who points to examples like
Java
,
security
,
the cloud
,
Big Data
and
mobile
. Such skills are so coveted that supply and demand simply won't match up at some point. Plus, employers want experience, but with new technologies there aren't enough people available who've got it. Another factor: There are some positions an organization simply can't do without. According to Reeves, that's just what's happening with
front-end developers
,
full stack developers
and
DevOps engineers
.
Tough Specifications
Nowadays, employers are even more exacting in what they want. When their job descriptions reflect that, prospective employees get discouraged from even applying. "Our job descriptions are certainly specific in terms of the technical requirements that our clients are seeking," says Sophia Navickas, vice president of the search firm Lynx. "However, within broad categories, accomplished engineers can be considered if they have some subset of the required skills and have the ability to demonstrate their ability to come up to speed quickly." As frustrating as this is for many, it's good news for some. Those with the right skills are seeing bumps in salary, a trend that's expected to continue. Average U.S. tech salaries rose to $87,811 in 2013 from $85,619 during 2012, according to the
latest Dice Salary Survey
. And employers are rewarding those with the needed experience and certifications at much higher rates. "The tech market hasn't slowed down," says Reeves. "It's simply changed. In January, we had one of the biggest months, and last year was good, too. We see companies with multiple openings. The pendulum is on the candidate's side -- if you have the right skills, of course."