Our weekly snapshot of who's hiring and who's firing across the IT landscape.
Hiring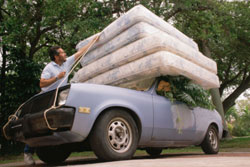 MindBody
, a software company serving the yoga industry, is expanding its San Luis Obispo, Calif., operation and is seeking upwards of 250 additional employees following a $35 million round of venture funding. The open positions include a UX director, a front-end developer and a staff software developer. [The Tribune]
Tableau Software
, which develops business analytics software, is ramping up hiring for its engineering groups as it moves toward a $150 million IPO, according to its filing with the Securities and Exchange Commission. Currently, Tableau has approximately two dozen IT job openings for positions in the Seattle area, Menlo Park, Calif., and Austin, Texas.
Mavenlink
, a collaboration, file sharing and team management software company with offices in Irvine, Calif., and San Francisco, is looking for junior, mid-level and senior software engineers who specialize in Ruby on Rails.
Alorica
, a Colorado Springs outsourcer of customer-management solutions, will hire 200 workers during the next two months. The positions include a systems engineer and a senior telecommunications engineer in Irvine, Ca., and a senior software engineer in Plantation, Fla.
Apple
is looking for a software engineer to work in its Melbourne, Fla., center. It particularly wants someone who's got ASIC design verification skills and assembly level code for sensor control and test. There's speculation that Apple is interested in using this position, and possibly others, to develop fingerprint technology for its devices. In other words, this could be the first such job of many.
Layoffs
The Walt Disney Co.
shuttered its LucasArts studio,
eliminating an estimated 150 to 200 positions
at the San Fransisco game studio. The maker of the cult favorite game
Monkey Island
was on the verge of releasing its
Star Wars: First Assault
game when the studio closed.
U.S. Cellular
anticipates laying off more than 600 workers in Illinois as it wraps up the sale of some markets -- including Chicago -- to Sprint Nextel. [Chicago Tribune]
Activision
cut 40 developer positions from its High Moon Studios, based in San Diego. The cost-cutting move comes as High Moon completed development of its
Deadpool
video game. Gamemaker
Square Enix
chopped jobs in Los Angeles, particularly in its IT, accounting and events departments. In addition, President and CEO Mike Fischer is reportedly on his way out. [Joystiq]
APL Logistics
, a supply-chain management company, plans to let 44 people go from its Grand Prairie, Texas, office on April 30. It expects to lay off another 12 people on June 1.
Fisker Automotive
is
cutting 75 percent of its workforce
, or 160 employees, from its payroll. The high-end hybrid-electric car maker is facing a financial squeeze. [Autoweek]
I
s there hiring or firing going on at your company? Email what you know — in confidence, of course — to
tips @ dice.com. (And remember, you probably don't want to send from your company email address.)