Interviews can be nerve-wracking. but at some tech companies they can be real pressure cookers. At least that's one of the takeaways from Glassdoor's list of the 25 most difficult companies to interview with. Eleven of the businesses on the list are tech companies – including Google,
Microsoft
and
Citrix
.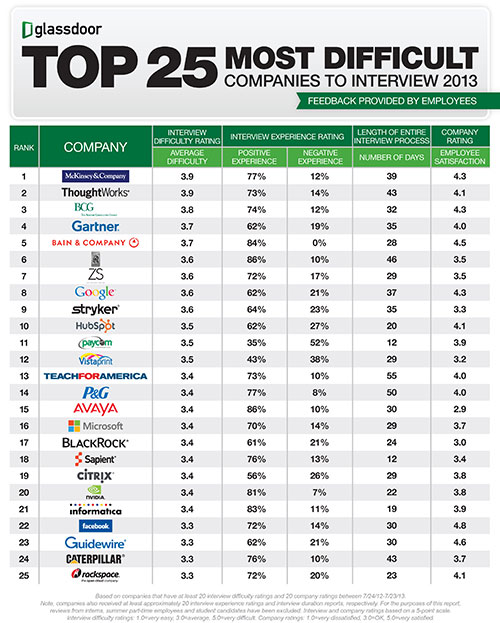 For the first time in two years, Microsoft was on the list. Given the company's reputation for difficult questions, it's more surprising that it had dropped from the group at all. For the first time, data integration software provider
Informatica
was listed, even though the Redwood City, Calif., company has an 83 percent rating for positive interviews, among the highest for tech companies. The Glassdoor average for a positive interview experience is 52 percent, while a negative interview experience carries a 13 percent average, Scott Dobroski, a Glassdoor spokesman, told Dice News. One of the more surprising listed companies was Citrix. Over the last year, it's rating for a negative interview experience more than doubled, from 12 to 26 percent. (On the other hand, it scored 56 percent when it came to offering a positive experience.) Generally, employees, former employees and job applicants who express a negative view cite unclear communication, disorganization and a quick interview, Dobroski says. Positive interview experiences generally include transparency, honesty and thoroughness. Catch a glimpse of what engineers had to say about the interview process at these tech companies:
Google
Looking for new opportunities, I contacted someone I know at Google to see if they were looking for engineers with my profile. I got contacted a week later by a recruiter who started to figure out the location because of visa issues. Then, I was invited to do a round of interviews at the Mountain View office. From all the interviews I had during this week, the questions were by far the hardest but the interviewers were nice and the scheduling around the interview was good (some interviews before lunch and some after, not all of them in one afternoon). Google took longer than others after the interview to come with an answer and even longer to provide an offer but the recruiters were always giving updates and told me in advance that things would take time. – Google Software Engineer Interview, Mountain View, Calif.
Hubspot
I was contacted by an HR recruiter who found me on linked in. Was very nice and persistent about coming in for an informal chat to check the office, not for an interview. I accepted, was impressed by the technologies, the talent and the opportunities, then scheduled an interview a few days later. Two days after the interviews I was told the feedback was positive and started negotiating the offer. Interviews were very technical, met with 4 engineers (about 3hrs), algorithms, big-o, lots of white-board coding and system design, though nothing super crazy. Very informal and casual, very relaxed environment, I wore nice jeans and nice shirt, which made me feel more comfortable, as the interviewing engineers were also very relaxed. – Hubspot Software Engineer
Avaya
The on-site interview lasted 6 hours and was interviewed by 8 different people throughout that time. The people seemed "normal" for the most part but there were areas with the nerdy and quiet stereotypes. – Avaya Systems Engineer III Interview, Westminster, Colo.
Microsoft
I was contacted via linkedIn for this job. I had to go through two technical and one non-technical interview. The two technical interview were via phone. The first was just a simple Q/A. In the second interview, I was interviewed by two PFE engineers. Please expect to be subjected to very tough questions. Make sure to understand the core concepts. I was interviewed for Active directory, hence I was asked questions from AD replication, sites and subnets etc. The questions will be asked from Easy to tough and it will keep getting tougher till you break. Be honest, if you don't know something, just tell them. – Microsoft Premier Field Engineer Interview
Citrix Systems
We discussed approaches to specific challenges, when asked for examples of providing solutions to a business group, I targeted both my tactical and strategic examples to demonstrate my range. - Citrix Systems Mobility Program Manager Interview, San Jose, CA
NVIDIA
Even though you answer all questions over phone and get shortlisted for an onsite interview, you will not get a fulltime offer unless you have an internal reference. – NVIDIA Compiler Verification Engineer Interview Austin, TX
Informatica
"Most of the interview questions are related to algorithm, problem solving and critical thinking. Interviewers are very friendly and do make one feel comfortable. They focus less on coding and more on general design skills. – Informatica Principal Software Engineer Interview, Redwood City, Calif.
Facebook
The second phone interview…I told her about my future plans for Facebook she said it wasn't much different from what they have now. (It is, but she was apparently expecting more than my already unconventional ideas). – Facebook Product Manager Interview, Menlo Park, Calif.
The interviews were very open, enthusiastic and more like technical discussions. I have never given interviews like these - it was a pleasure and everyone was genuinely friendly. The face to face interview was with 3 people and each one of them made me feel comfortable and asked great questions. Clearly I had never had such fun in the interview process. Questions were on expected lines and it never felt that these guys were asking anything that would never be used on the job - very logical and practical questions around java and general language constructs. One of the most impressive things about Guidewire was that they are very thorough and detailed in scheduling, providing details and setting up everything along the process. Even after their offer, they went out of their way to set up all the required resources and sent emails with the details. The interview process is tough and lengthy, but once you get through you know that you will be working with brilliant people who themselves went through this process and this gives you that much more confidence. – Guidewire Integration Architect Interview, Chicago, Ill.
Hour three [of the interview] involved meeting the prospective actual team lead & manager to see how the fit might be. Questions like "Do you get enjoyment out of completing 50 tasks in a shift or do you prefer to tackle very difficult projects that take many hours?" Resume was scrutinized, and questions about if hired, where I wanted to be within the company in 5 years type questions. – Rackspace Window Systems Administrator II Interview, Austin, Texas
"Just because an interview is difficult doesn't mean it's a bad place to work," Dobroski says. "Most of the employees on this list report they are satisfied or very satisfied once they are hired."