Of all Apple's products, none are as
fresh
or controversial as HomePod. It's expensive, its benefits subjective, and it's become
a dividing line for Apple's users
. It's also a bet on the future. Setting the device up couldn't be simpler: You just plug it in and hover your iPhone near it. Like AirPods, the HomePod finds your iPhone. It then begins the process of automatically latching onto your home WiFi network, and pairing to your iCloud account. If there are multiple people in the home, you may want to immediately ignore the part of the setup process that links your iCloud reminders and messages. This allows you some light access to personal info via HomePod, but not enough – and Siri just doesn't do enough to be considered a true assistant in your home (yet). Here are some critical things
Siri can't do
on HomePod:
Start a call
Set multiple timers
Read recent messages (however, HomePod will read incoming messages)
Access your Calendar
Read back your emails
Add multiple items to a list via a single 'hey Siri' command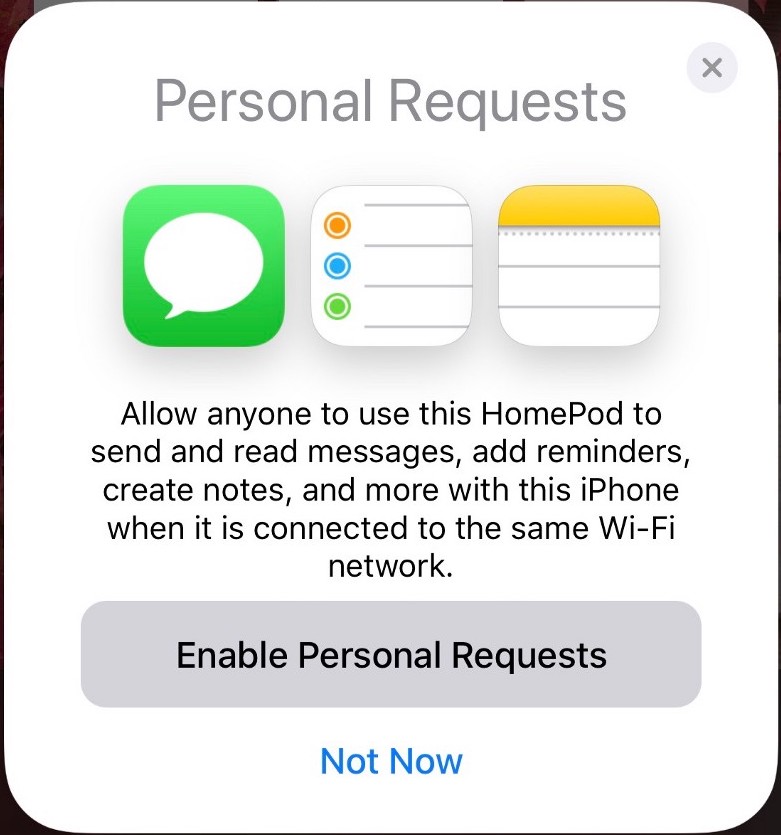 'Hey Siri' is the most frequent interaction you'll have with HomePod, and it doesn't identify individual voices: You, a roommate, or family member can ask HomePod/Siri to do anything. The top of the device is touch-capacitive, but it's mostly to activate Siri and control volume. HomePod is great for music playback, which is where Apple is hanging its proverbial hat. Sound is subjective to the listener, but I think HomePod is great. It has low bass notes and high trebles, but also does an admirable job of plucking unique rhythms or features from songs and making sure you hear them. Some songs just plain sound better with HomePod, even compared to great over-ear headphones.
Self-proclaimed audiophiles love it
. Some are bashing Apple's choice to limit HomePod to Apple Music (which is likely more about Siri's capabilities than Apple seeking a competitive edge against Spotify and other streaming services). Just in time for HomePod's release, Siri got some deep learning about Apple Music's various artists and genres. It can still operate as a Bluetooth speaker if you have Spotify or another service. Versus various home speaker offerings from Google and Amazon, there's little comparison. Even Sonos has trouble keeping up with HomePod in terms of audio quality. The device's small footprint is also helpful. Here's a good comparison (I suggest using headphones to listen to the embedded video):
How Apple's new HomePod stacks up against Google Home and Amazon Echo pic.twitter.com/FkhgiqQXPg

— The Verge (@verge) February 12, 2018
HomeKit Still Has No Home
Aside from excellent sound and a small footprint, HomePod is a HomeKit hub.
This is where the investment is truly made
. Unlike Google and Amazon, Apple's connected home platform uses encrypted communication between devices on your WiFi network. That previously slowed third-party developers from jumping onto the HomeKit platform, but it's no longer a valid concern; there's enough in the HomeKit ecosystem to completely connect an entire home with aplomb. You can ask Siri to turn lights on, unlock doors, and various other actions. What you can't do is make a HomePod part of a "scene," or sequence of events activated by a single command (for example, saying, "Hey Siri, good morning," and having the house lights switch on and the doors unlock, provided that hardware is HomeKit-supported). HomePod is found in the 'Home' app on an iPhone or iPad, but it can't be added to scenes; you also can't control its volume via the Home app, or turn it off. Scenes are where HomePod shows its limits in the HomeKit context. If you wanted to have a 'hey Siri, good morning' command turn on lights, open blinds, trigger a coffee machine, and have HomePod start reading you the news, it's all possible – save for the news. As with an iPhone or iPad, HomePod is treated as a control center, not an accessory. When you set a HomePod up, it asks which room it's in. This is handy for HomeKit, because you can ask Siri via the HomePod to control items in the room you're in. Rather than saying 'hey Siri, turn on the living room lights' while you're
in
the living room, you can just say 'hey Siri, turn on the lights.' So long as both those lights and HomePod are noted in the Home app as being in the living room, Siri keeps track. I have two of my HomePods in an open floorplan where the kitchen blends into the living area. Apple has crafted proximity for HomePod, so it won't turn living room lights on if I'm closer to the Kitchen HomePod. It's the little things. [caption id="attachment_146508" align="aligncenter" width="2048"]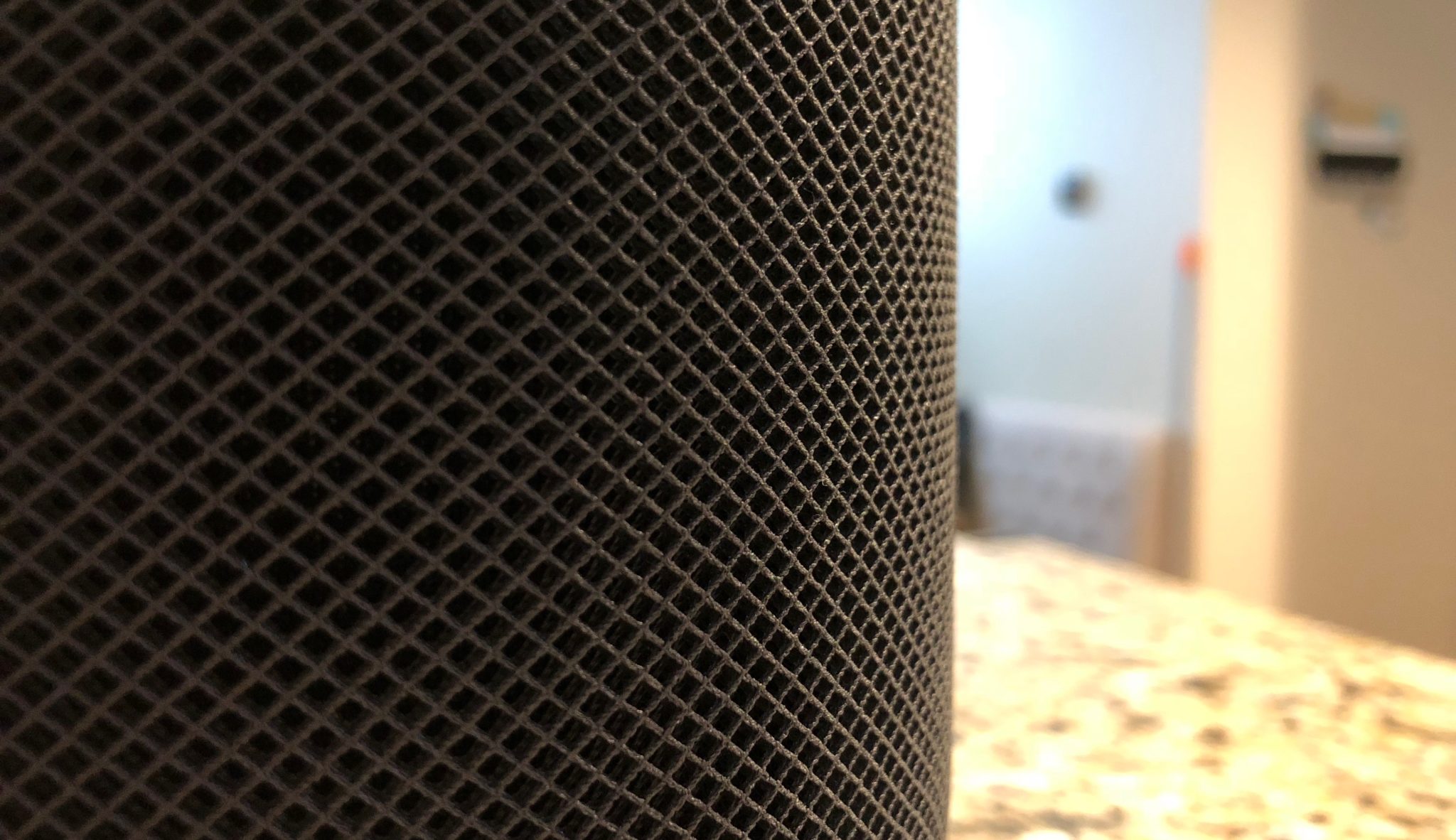 HomePod has a mesh fabric cover.[/caption]
HomePod, Siri, and the Future
Right now, HomePod doesn't do
great
things. Its incredible sound isn't stereo; AirPlay 2, Apple's wireless speaker-linking protocol, is coming later this year, so multi-room or same-room pairing isn't available yet. Apple's attitude about hardware is on full display with HomePod. It apparently sees devices as mere entry points to its various services and platforms. More than any other device, this is a problem with HomePod; I'd sooner listen to the news on a speaker (or speakers) than try to
shove AirPods in my ears
once I spin up a scene. Unique use-cases for hardware abound in Apple's ecosystem, but Apple doesn't seem to understand this yet. Neither does Siri; across devices, the voice assistant experience isn't unified. I can hail a Lyft via Siri on my phone, but I can't ask HomePod to do the same for some reason – even though a lot of HomePod's functionality is
handed off to iPhone
. These are big problems. HomePod with Siri feels bespoke, a unique pairing that cares about little beyond music. Apple is paying close attention to feedback, and appears to understand where its limitations and opportunities are. This makes HomePod a down payment on a future that is more accessible and smarter. But it's at least a $350 investment, even more if you have a home and want to create a unified music-cum-Siri environment across multiple floors. There's also a level of trust you need to have with Apple. The company appears serious about HomePod as a speaker, but we're not yet getting heavy signals it's investing in HomePod as both an entry point and utility for HomeKit. I trust Apple will get it right. In part because it's not technically hard, but more because the connected home market is not one it can afford to overlook. Alexa and Google (err, Nest… which is now part of Google…) already have a head start. Apple also
can't afford
to get Siri wrong for much longer. Data shows we typically play music via these smart hubs, but they're also gateways for the connected home market.
Somehow, voice commands makes turning lights on much more interesting
. These are early days for HomePod. It's probably the best speaker you want to buy for your home, unless money is no object. As a home speaker system, it'll only get better. Other wish-list items are conspicuously missing on Apple's end. It never promised to add HomeKit functionality. Apple also hasn't promised to unify the Siri experience. Rumors abound that the company is set to unify a lot of its framework stack across iOS, tvOS, watchOS and macOS – which will help on this "home front." It may also be what's holding HomePod back. For $350, you get a sensational speaker and a sagacious down payment on what will probably be the best smart home experience available. If you're invested in Apple's ecosystem, HomePod is a smart bet. Whether you make your bet now or later is sort of moot, because once Siri and HomeKit mature, HomePod will only get more powerful.