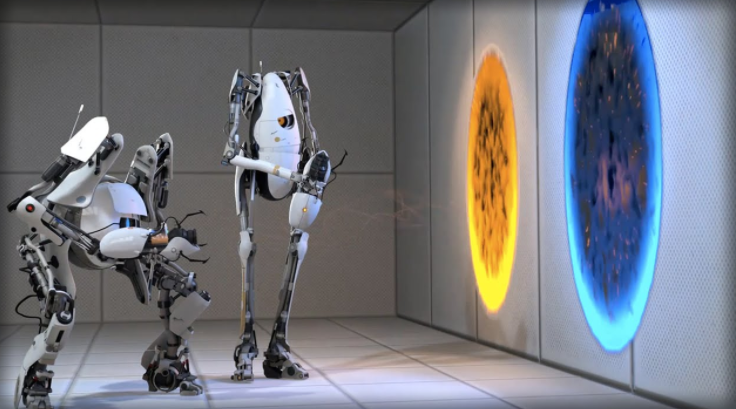 Valve co-founder Gabe Newell is a legend in the development and gaming communities not only for the games he helped build, including the "Half-Life" and "Portal" series (the latter screen-grabbed above), but also his work on the
Steam
game-distribution network. So when he recently appeared for an
Ask Me Anything on Reddit
, lots of techies flooded onto the page with questions. That flood smacked right into the immovable wall of Newell's intellect. Of course he wasn't going to tell the crowd about his next top-secret project, or his roadmap for evolving game distribution. But he
did
offer a handful of taciturn answers ("Yes, nice, support, good.") combined with some lengthier non-answers ("We think VR is pretty important as a tool for interesting games.") and some insights into game design and developer tools. For those interested in building their own software, Newell had some tips on development. "The most important thing you can do is to get into an iteration cycle where you can measure the impact of your work, have a hypothesis about how making changes will affect those variables, and ship changes regularly," he wrote. "It doesn't even matter that much what the content is—it's the iteration of hypothesis, changes, and measurement that will make you better at a faster rate than anything else we have seen." In other words, iterate and ship as quickly as possible—when the process lingers too long, the team risks losing momentum. Newell offered some updates on Source, the 3D engine developed by Valve as a successor to GoldSrc. Valve has used the current version, Source 2, to build
"Dota 2"
and other games. (
The Source SDK
, free to all Steam users, is available via Valve's Developer Community.) "We are continuing to use Source 2 as our primary game development environment," he said. "Aside from moving 'Dota 2' to the engine recently, we are using it as the foundation of some unannounced products. We would like to have everyone working on games here at Valve to eventually be using the same engine." Source 2 will remain free to developers for the foreseeable future, and updated regularly. Lots of Redditors queried Newell about the status of "Half-Life 3," the long-rumored sequel to the bestselling "Half-Life 2" that has achieved almost mythical status among the gaming community. Newell toyed a bit with commenters on the AMA ("The number 3 must not be said," he offered at one point), but ultimately refused to offer any new scraps of information about the game. While the lengthy (unconfirmed) development cycle for "Half-Life 3" is maybe a little ironic, considering Newell's focus on iterating and shipping quickly, there's perhaps a reason why the game still hasn't seen the light of day. "The issue with 'Half-Life' for me is that I was involved in a much higher percentage of the decisions about the games," he said. "So it's hard for me to look at them as anything other than a series of things I regret." That alone might have slowed production on new entries in the series. Valve is also interested in expanding virtual reality beyond its current state. "The big thing right now is broadening the range of options we have in creating experiences," Newell said. "We think investing in hardware will give us those options.
The knuckles controller
is being designed at the same time as we're designing our own VR games." Along with HTC, Vive has spent the past few years working on the Vive, a high-end, PC-based VR rig that competes directly with Facebook's Oculus Rift. Newell himself is researching "brain-computer interfaces," and who knows how that will play out in coming years. For all anyone outside of Valve knows, "Half-Life 3" could end up being a virtual-reality title controlled entirely by your thoughts—and wouldn't that
help spike sales of the Vive
?