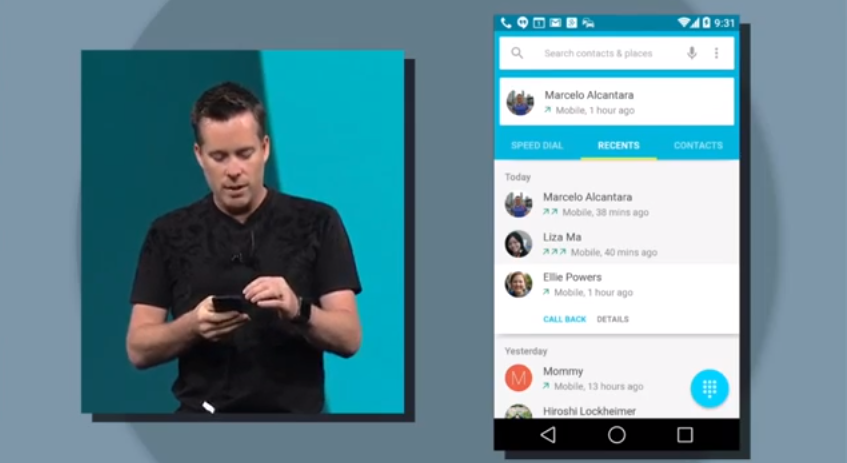 Google kicked off its I/O conference this week with a preview of
Android
"L," the next version of its popular operating system. Android "L" will presumably follow in the footsteps of previous Android versions and adopt a dessert-oriented nomenclature as it approaches release later this year—the tech press seems to assume it'll be "Lollipop." But "L" is also a radical departure from its predecessors, especially from a design standpoint: The new interface incorporates Google's new design language, known as "Material Design," which is minimalistic and
"flat,"
with emphasis on cards to convey information. In many ways, this decision to completely toss out an old interface in favor of a new one is reminiscent of what
Apple
did with
iOS
7. If Apple's experience is any indication, Google could face protests from a sizable portion of Android users over the changes, at least at first; with iOS, those screams of rage eventually subsided to bitter mumbling. In addition to altered shapes and transition effects, "L" will feature thousands of new APIs, along with a tweaked notifications menu and system font.
Click here for more Android-related jobs.
Is that it? No, that's definitely not it. "L" introduces a tiered
security
system, in which your Android phone won't demand a code to unlock the device if you're standing in a pre-set location or have a compatible Bluetooth-enabled timepiece within range. As with pretty much every other company in the tech industry, Google has firmly adopted a "mobile first" ethos, with Android acting as the unifying "spine" for a number of platform initiatives. In addition to Android "L" on smartphones and tablets, the next several months will see the rollout of Android Wear for wearable electronics, Android TV for living-room screens, and the appearance of Android apps on Google's desktop- and laptop-centric Chrome OS. Android has maintained a steady lead over its mobile OS rivals, including Apple's iOS and
Microsoft's
Windows Phone. But Google can't afford to rest on its laurels: Over the past few quarters, the tech industry has shifted its gaze increasingly to wearable electronics and embedded systems, where the next battle for user eyeballs and data will presumably take place. In other words, it's not enough for Android to run on a majority of the planet's smartphones and tablets: If Google wants to win the next decade, it will need to place Android in everything from vehicle dashboard systems to wristwatches and augmented-reality headgear.
More Articles
Image: Google