Google recently announced a new service called
Google Search Plus
. While it's still not clear why the deal between Google and Twitter wasn't renegotiated, the launch started a little cyber war. At first, Twitter released a statement saying:
For years, people have relied on Google to deliver the most relevant results anytime they wanted to find something on the Internet. Often, they want to know more about world events and breaking news. Twitter has emerged as a vital source of this real-time information, with more than 100 million users sending 250 million Tweets every day on virtually every topic. As we've seen time and time again, news breaks first on Twitter; as a result, Twitter accounts and Tweets are often the most relevant results. We're concerned that as a result of Google's changes, finding this information will be much harder for everyone. We think that's bad for people, publishers, news organizations and Twitter users.
Shortly after this, Google used their own social platform and responded to Twitter:
We are a bit surprised by Twitter's comments about Search plus Your World, because they chose not to renew their agreement with us last summer (http://goo.gl/chKwi), and since then we have observed their rel=nofollow instructions.
What is Google Search Plus?
On their official blog, Google claims that Search Plus results will make our lives easier by including results from Google+ social network: posts, photos, profiles, pages, people and so on. Some results, like profiles from Google+ are even included inside the auto-complete search box.
Is Google Search Plus good or not?
As you might have observed in the first picture, this is how Google Search will look from now on — with Google pushing their results from the Google+ social network. Tweets are gone from Google Search and the future is not bright for getting them back, even if it was far better to have them included. The move is smart for Google because everyone will be forced to have a Google+ account or page if they want to be a part of Google Search. For big companies, Google+ will be the only option to gain higher visibility in Google results, otherwise they will risk going backwards, into anonymity.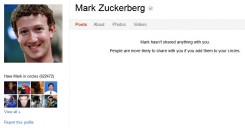 For normal users, this move is not good. For example, if you now search for "Mark Zuckerberg" on Google, the search results will give you a link to Mark Zuckerberg account on Google+. It might sound interesting, but in reality is not, because Mark Zuckerberg doesn't share anything on his Google+ account. How this can be relevent? Only Google knows.
How can I disable the Google Search Plus Feature?
If you believe that the Google Search Plus feature displays content that isn't useful, you can disable it whenever you want. On Google, click on the Search Settings page. There, under Personal results, you have the option to use/do not use personal results inside Google Search. Just make sure you click Save when you are done. [youtube=http://www.youtube.com/watch?v=_QSVHxY2SJE]