[caption id="attachment_6106" align="aligncenter" width="564"]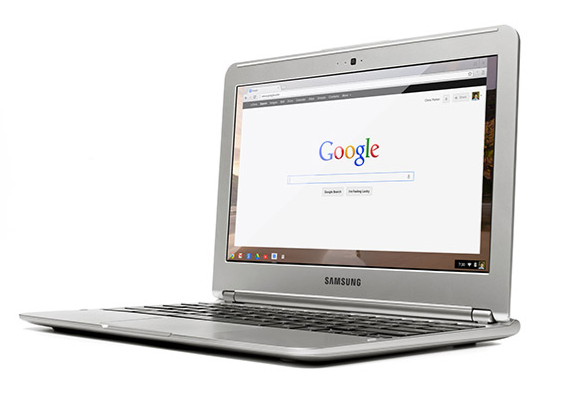 Chromebooks: Getting touchy-feely?[/caption] There are rumors going around that Google plans on launching one or more Chrome OS-powered laptops with touch-screen capability. Google's Chrome OS is a cloud-dependent operating system for laptops and desktops. It features Google services such as Gmail, as well as access to the Chrome Web Store and its wide variety of apps. While some offline functionality exists (including the ability to edit documents via Google Docs), devices running Chrome OS are largely dependent on a constant Internet connection.
DigiTimes
reported Nov. 26
that Google had partnered with Taiwan-based Compal Electronics and Wintek to build such a 12.85-inch device. The newspaper cited the Chinese-language
Commercial Times (CT)
as its source. (Hat tip to
InformationWeek
for spotting the info.) "Compal will start shipments as soon as the end of 2012,"
DigiTimes
wrote, paraphrasing the other newspaper. However, any reader should take that with a massive grain of salt, as
DigiTimes
has reported on many a rumor that later failed to manifest as an actual product or service. What's indisputable is that Google is pushing Chrome OS harder than ever. Within the past two months, the search-engine giant has partnered with Acer and Samsung to produce two new Chromebooks. The first one out the proverbial gate, the Samsung Chromebook, retails for $249 and features 6.5 hours' battery life, an ARM-based 1.75GHz Samsung Exynos 5 Dual Processor, a boot time of under 10 seconds, and a total weight of 2.5 pounds. The second, the Acer C7 Chromebook, retails for $199 and boasts an Intel Celeron 847 processor, a total weight of 3.05 pounds, and a boot time of less than 18 seconds. However, its battery life is advertised at a relatively short 3.5 hours. In addition to battling Windows PCs and Macs, which can claim more robust hardware in exchange for a somewhat higher price, Chromebooks must push back against tablets running iOS and Android that offer flexibility and connectivity for a relatively low sticker price. While Google and its hardware partners have lowered their Chromebooks' pricing by a few hundred dollars, making them more competitive on the broader marketplace, a low price might not be enough to make significant inroads such a great variety of rivals. By touch-enabling Chromebooks, however, Google could potentially make the devices more appealing to those consumers who might otherwise opt for a tablet or even Microsoft's Surface hybrid. That alone could drive the company, in conjunction with its hardware partners, to craft laptops with exactly that sort of capability.
Image: Google