[caption id="attachment_18273" align="aligncenter" width="618"]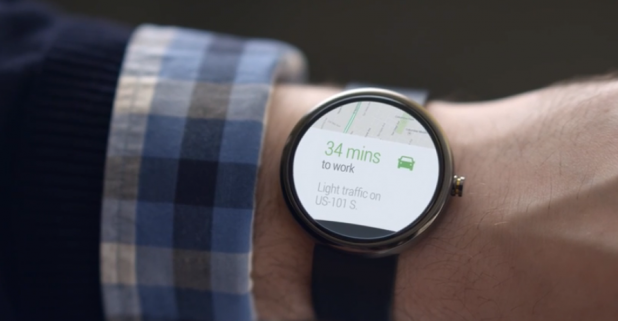 Google's mockup of a timepiece running Android Wear.[/caption] Google definitely wants a bigger footprint in the wearable-electronics market. The search-engine giant has released Android Wear, which adapts the mobile operating system for small devices such as wristwatches. The modified software can display maps and text-based information, answer any spoken queries, offer data on the wearer's fitness (via fitness apps), and even control other devices via a tiny screen. According to a demo video provided by Google, swiping a finger along the watch-face will cycle between these various functions. As party of this initiative, Google has released a
Developer Preview
, which offers the ability to tailor existing app notifications for watches. "Because Android for wearables works with Android's rich notification system, many apps will already work well," read a note on the
Official Google Blog
. "Look out for more developer resources and APIs coming soon." Google's manufacturing partners in the initiative include Asus, LG, Motorola, Samsung, and HTC, along with a constellation of chipmakers and fashion brands. Android Wear emphasizes voice and contextual operations; in that way, it's very much the next step in Google's work with natural-language queries and voice-activated controls. (Google Now, the software undergirding these efforts, has regularly scored high marks in comparison to its closest rival,
Apple's Siri for iOS
.) But the success of Android-driven watches may rest on something else entirely: Google's hardware partners. Unless the latter can figure out a way to make the devices chic and power-efficient (nobody wants to take off their watch to charge it every couple of hours), the whole initiative could risk failure. Google and its partners could also face competition from Apple, which is heavily rumored to have a "smartwatch" of some sort in the works. Despite those rumors persisting for quite some time, however, Apple has yet to announce any sort of project in its pipeline. Even so, the prospect of an "iWatch" on store shelves will only increase pressure on Google and company to produce something meaningful that utilizes Android Wear.
Image: Google