Despite all of their arguments, those on both sides of the H-1B debate agree on one thing: Along with the rest of America's approach to immigration, the program is long overdue for an overhaul.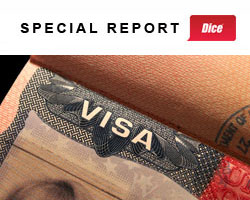 Many analysts are optimistic that House Republicans will bless the kind of comprehensive reform package that they've resisted in the past. The GOP wants to improve its standing with Latinos, the nation's fastest-growing ethnic group, and one that overwhelmingly votes Democratic. (Of course, this assumes the current proposal makes it out of the Senate.) Will that make much difference to guest-worker programs? It's not clear. One of the biggest sticking points is how to handle foreign workers. For its part, the White House is treading carefully, trying to steer unions and corporations toward a compromise about how many guest workers will be allowed into the U.S. each year, how much they can be paid, and whether they'll ultimately be able to seek permanent residency. As you consider all this, remember that non-immigrant work visas cover a range of situations, as do the policies that govern them. For example, some have specific education requirements, while others demand certain skills or abilities, and still others require both.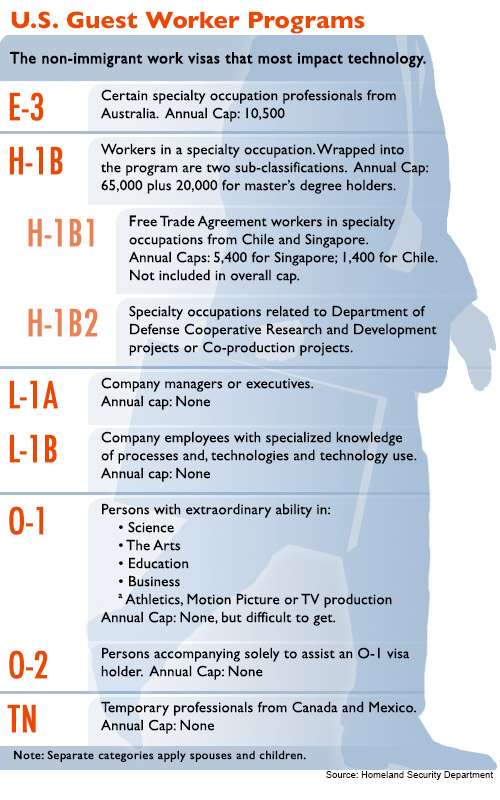 The length of stay allowed by visas also varies. For instance, the H-1B is a six-year visa that's given in two three-year increments. The H-2A and H-2B programs for unskilled workers are typically good for a year. The L-1A visa, for high-ranking executives of foreign companies who come here to run a subsidiary, has no cap. Neither does the L-1B, for employees who have specialized knowledge about their company's products or operations. Then there's the H-3 visa for employees who are sent here for additional training. Let's not leave out the categories for citizens of certain countries with which the U.S. has treaties governing visa policies. One of the most common is the E-2, which is for foreign nationals who are investing in U.S. businesses.
The Special Report:
Current Laws and Policies
Proving Their Case
When petitioning the Department of Labor for guest-worker visas, an employer must demonstrate that the domestic talent pool doesn't include enough candidates who are willing, able or qualified to do the specific jobs it needs to fill. Companies must also show that their compensation of foreign employees won't depress the wages of similar American workers. The visas attach some strings to workers, as well. Unlike citizens or permanent residents, H-1B holders — like most non-immigrant workers — must stay with their sponsoring employer during the visa's term. If they change jobs, their new company must file a new petition. And while in some cases the guest worker would be allowed to begin the job as soon as the employer files with the USCIS, there's a real chance that the petition won't be granted. Also, H-1B holders who lose their jobs technically have to leave the country immediately -- but realistically have up to 30 days -- unless they find a position with another business. If that same worker remains in the country for 30 days without securing a new job (and new visa), he or she becomes an illegal immigrant. That kind of policy makes foreign workers vulnerable, notes Mario Musil, an attorney in Orlando, Fla. "There will be some employers that try to take advantage of that," he says. One last thing: Although the majority of employers petitioning for H-1Bs are in technology, companies in other sectors such as healthcare, scientific research, engineering and architecture participate as well.