Hackbright Academy in San Francisco is a 10-week boot camp with a twist: Not only is the year-old program for women only, all of its graduates began with established careers in non-STEM fields.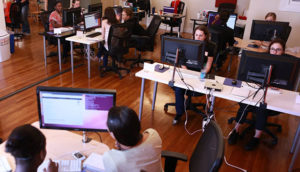 Through its intensive training, mentoring, final projects and "speed dating" career day, Hackbright has been able to place graduates into positions as software engineers at startups and established organizations including Change.org, Eventbrite,
Facebook
, Flixster, Heroku, New Relic, Rdio, Perforce, Pinterest, Pivotal Labs, StubHub, SurveyMonkey, Trulia, Twilio and Uber. "After they pay off their debt, they get into the day-to-day grind, they decide they don't want to be a lawyer, they don't want to be a teacher, they don't want to be a librarian," explains Angie Chang, Hackbright's director of growth.
The Joys of Programming
"I was an HR wench," says Tilde Thurium, who is now a software engineer at Pinterest. "I spent four years as a payroll benefits specialist at Whole Foods Market, plus a little time doing human resources data analysis." She hit a career crossroads when she found she had too much experience for junior HR roles, but not enough for senior positions. Another Hackbright alumna, Katherine Wu, had always enjoyed working with computers and creating websites but didn't think it was a "real career." Although she graduated from the well-regarded High Technology High School in Lincroft, N.J., she went on to study biology at Boston College. She was all set to go medical school and become a doctor – the career regarded by her family as the ultimate achievement. Through BC's career office, she learned of a recruiting event at Google's New York offices. She got a job there in customer support, which she intended to be temporary until she went to medical school, but discovered a field that was "more fun than medical school would be" and her "temporary" stint lasted for more than four years. Nevertheless, in her partner manager position as an intermediary between engineering and clients, she felt she hit a roadblock. Her lack of programming knowledge meant she had to ask engineers to make changes, rather than directly making them herself. "In my job, I didn't feel I had the skills to fix a bug for example. I had to persuade someone else to actually do the work," she said. Both Wu -- now a junior software engineer at New Relic -- and Thurium say they learned about Hackbright through friends. "The idea of a women-only program was very appealing to me," Thurium says. "[My friend Christina Liu] was accepted into Hackbright at the same time, so we went through the program together." For Wu, it was a co-worker who passed along a notice about the program. After she was accepted, she got a sabbatical from Google, said goodbye to her husband, and crashed with a friend in San Francisco while she took the course. Thurium and Wu were part of separate 30-woman classes selected from a pool of about 500 applicants. In addition to learning Python, the women complete a final project, which gives them work samples to present to prospective employers. They also receive "enough theory to actually understand what you're building," says Wu. "Often, women suffer from imposter syndrome," says Tom Croucher, former chief technology officer for Change.org and current Hackbright mentor, adding that women can feel inadequate in an environment full of men. "Maybe in a more traditional environment, women are afraid of putting themselves out there because they are afraid that their answer might be wrong."
Career Day
During the program, each student works with her own team of three software engineering mentors from Hackbright's partner companies, who sponsor the school's career day. These include Facebook, Twitter, Pinterest, Eventbright and Palantir. The mentors give code reviews, assist with personal projects and help students with their job search. Wu describes Hackbright's career day as "speed dating." Each student has a table to display her final project. Hiring companies receive a booklet outlining the different projects. The student and company have seven minutes to woo one another before the company moves on to the next student's demonstration. If an employer senses a match, the student is invited in for an interview. Wu met her current employer, New Relic, through the career day. However, she didn't follow up on their discussion until it became clear that Google couldn't provide an easy transition to a software engineering position. Many of the companies who hire Hackbright graduates are new and more open to nontraditional candidates. "I think we're a little bit different in that we tend to value people's ability to learn quickly and dive into things they haven't done before," says Curtis Chambers, director of engineering at Uber, which has hired two Hackbright graduates. A solid final project demonstrates that ability. Often, courses in traditional computer science programs are superfluous when it comes to the job market, says Change.org's Croucher. "I did a computer science degree in the UK. One hundred percent of my credits were in computer science. When I started working, I didn't use most of that information." Similarly, Thurium had wanted to work with computers since she was a little girl, but she became discouraged because she heard she'd need to study calculus. "After moving to San Francisco, and making many engineer friends, I realized that software engineering doesn't necessarily require advanced math. While a background in advanced math is helpful, most software engineers don't use calculus in their day-to-day jobs," she says. After they're done, Hackbright's alumna can return as often as they'd like as the program builds a network among its graduates. As for the program's value, Wu sums it up this way: "I was like, 'this is amazing,' and something that I was meant to do." Image: Hackbright Academy