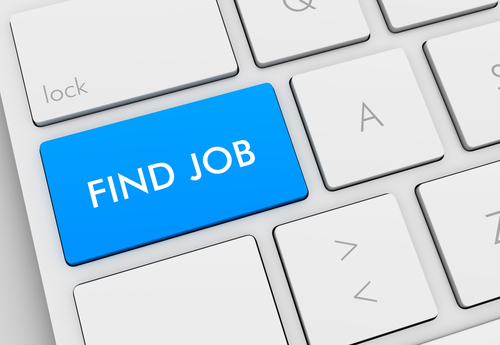 Fearful that tech-job hiring will slow down sometime in the near future?
A new survey
of tech-industry executives by Silicon Valley Bank suggests that, to the contrary, there's a lot of hiring momentum -- at least in the short term. "We see abundant potential in the pace of new company formation, global expansion and availability of capital, and in the emergence of new products and solutions that will change the world," reads the introduction to the report, released April 28. The survey included more than 12,000 tech-industry executives, the majority of whom reported optimism for the year ahead. Some 66 percent said they would increase their workforce this year, while 82 percent said they expected business to improve. A full eight out of 10 respondents said they sought workers with experience, especially in technology jobs, rather than hiring workers straight out of college for less money. In even better news for job seekers, 91 percent of the executives polled said they were having trouble finding the right candidates for their jobs. Sixty-one percent said finding the right person is "extremely challenging," while only 30 percent said "somewhat challenging." All this hopefulness comes from stellar financial performance. During 2013, 65 percent of the companies polled met or beat their revenue goals. Those results, combined with an optimistic outlook for 2014, translate into the addition of new full-time jobs; seventy-six percent of those surveyed also said they will increase the size of the workforce, while sixty-four percent expect to increase their headcount by more than 20 percent.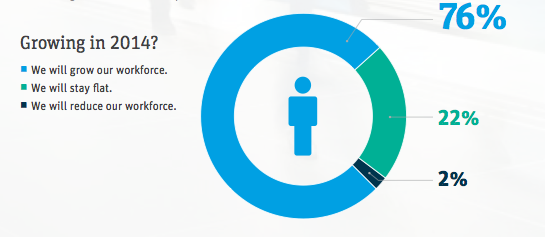 Companies with revenues of more than $50 million per year expect workforces to grow about 15 percent; smaller companies expect growth at higher percentage rates, though lower overall job figures. Executives based in Northern California and New York both said they expect 50 percent growth in their workforces; innovators in New England expect 40 percent growth; and those in the Northwest expect 30 percent. Finding people with the right kind of experience has become a top challenge, according to the report. Discovering candidates with the right skills and education is a worry for 28 percent of execs, while finding people at the right salary and benefit level causes 21 percent to fret.
Related Stories
Image: mstanley/Shutterstock.com
Chart: Silicon Valley Bank