Speak Swahili, Bengali or Amharic? If you're an app developer looking to launch your career on the currency of potentially 5 billion more Internet users should
Facebook and internet.org successfully connect the world to the Net
, then it may be time to pick up a few new languages and become familiar with the local issues in developing countries.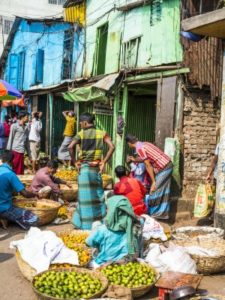 After all, a number of industry titans are betting on emerging markets creating the next wave of Internet adoption. And if you're a mobile app developer, you may want to be there. Faced with a perceived slow annual growth rate of 9 percent for Internet adoption, Internet.org -- comprised of Facebook, Ericsson, MediaTek, Nokia, Opera, Qualcomm and Samsung -- aims to extend Internet access to roughly 66 percent of the world's population. Currently, only 33 percent of the world, or 2.7 billion people, are estimated to have Internet access. Granted Internet.org's goal to plug all developing countries into the Internet will likely take years to occur, if at all, but some of the best bets of countries to aim for in creating mobile apps may be the low hanging fruit of rural areas that are close to more urban centers with infrastructure already in place, or countries that hold the promise of mega-markets with their millions of residents. "It is far easier to roll out a network in a population center, such as a city, than it is to provide coverage in rural areas. Agriculture is a core pillar of many emerging market economies, and people living in rural communities need (and expect) connectivity just as much as city dwellers," says James Barton, Editor at Developing Telecoms, a publication that covers telecom in developing and emerging markets. "Therefore, in most deregulated markets, the areas that are underserved tend to be remote rural communities – however, network providers are constantly working on infrastructure and energy solutions that allow for easy build-outs in these areas." Here's a snapshot from Internet World Stats on the penetration rate of Internet users: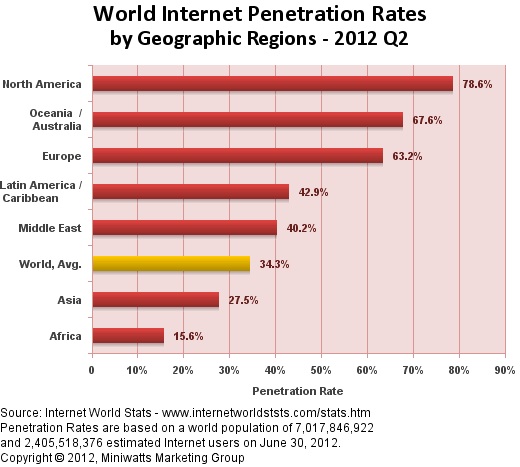 Asia, Africa, Oh My
In drilling down the list of Internet World Stats, Asia and Africa fall below the worldwide average of 34.3 percent. Asia's Internet penetration rate comes in at 27.5 percent for its 3.9 billion residents and Africa has a lowly 15.6 percent for its 1.1 billion nationals. But the numbers for Africa are even more dismal when broken down on a country by country basis. Of the 58 countries that comprise the African continent, 30 of them have an Internet penetration rate below 10 percent and, in some cases, that percentage falls even as low as 1.1 percent, like in Ethiopia, which has a population of 87.3 million and whose official language is Amharic. The Democratic Republic of Congo is not far behind with a population of 73.6 million and a penetration rate of 1.2 percent, whose native languages include Swahili. Here is a list of countries on the African continent with less than a 10 percent Internet penetration rate and their population, according to Internet World Stats for the second quarter in 2012: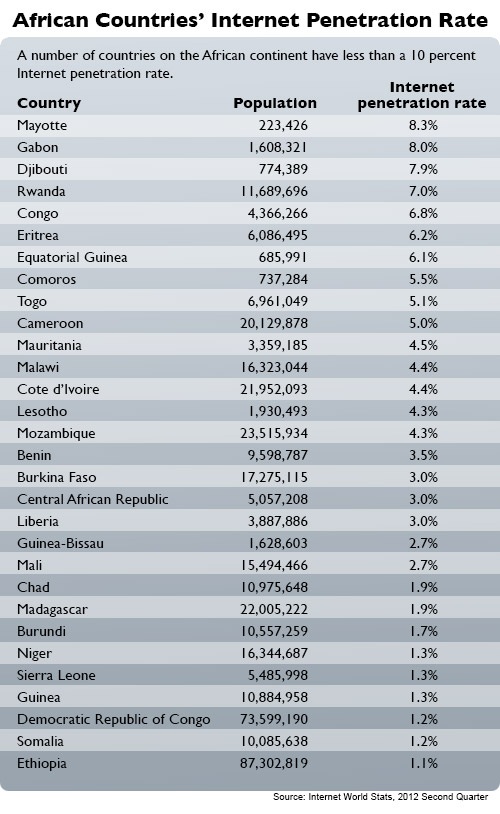 In Asia, the number of countries with low Internet penetration rates is far fewer. Of the 35 countries that comprise Asia, only eight had an Internet penetration rate of less than 10 percent in the second quarter 2012, according to Internet World Stats. Bangladesh, with its massive population of 161.1 million who largely speak Bengali and face an Internet penetration rate of 5 percent, may afford an attractive place for mobile app developers to become acquainted. Here's a list of other countries in Asia that also have a penetration rate less than 10 percent: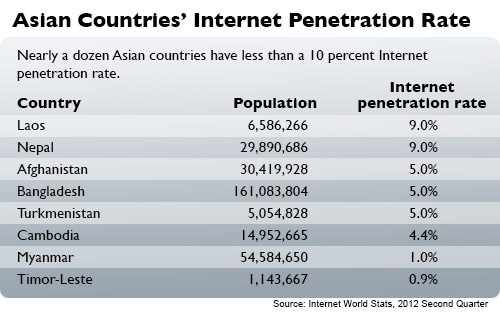 Build It, Will They Come?
Mobile broadband is getting a leg up through a number of means, from increasing cell tower coverage via small cells, fiber-through-the-air and even green energy companies developing wind or solar powered telecom solutions that are easy to install in remote areas, Barton says. And while some countries like
Ethiopia have governments that restrict Internet use
, as noted by the BBC, Barton says it's quite rare that a country's government would want to intentionally prevent Internet deployments, given it's considered a sign of progress that could potentially lead to economic gains. "A major success story in Africa is mobile banking. In many African countries, a significant chunk of the population has no bank account. Through the creation of 'mobile wallets.' people are now able to pay money into accounts and pay bills, all via their mobile phone. A major factor in the success of mobile banking is that it directly improves the livelihood of its customers, as well as making their lives easier," Barton says. "These are factors that play into widespread adoption of apps in emerging markets." Looking to add fiber to the mobile app market in Africa is MTN Group, a large telecom provider in the region. It's currently running its
MTNApp Developer Challenge 2013
through Oct. 24, seeking entries for such categories as entertainment/lifestyle, productivity, games, education and health/wellness. "For every mobile banking success story, there has been a market where the technology failed to catch on. The same service may have been pushed in a similar market, but for whatever reason, the perception of the solution's value differed and so it was not widely adopted," Barton cautioned. Mobile app developers need to understand each of the local markets and their pain points, rather than lumping all 30 countries into a single African market. In some parts of the world, for example, sourcing water and other basic needs is a constant concern. Is there a mobile app for that?