Despite a recession that kicked off in late 2007 and lingered for a couple years, Amazon.com's workforce has grown more than four fold since those dark, dark days. The Seattle-based Fortune 500 company, which began in July 1995, today has approximately 97,000 employees worldwide, many of whom are in technical roles.

And the company is far from reining in its hiring. It currently has hundreds of job openings available in the U.S. from data engineers to hardware developers to software developers and other IT professionals. Susan Harker, Amazon VP of Global Talent Acquisition, spoke to Dice about the company's broad technical reach and what it takes to join its team. Here is what she had to say:
How to Reach Out
Our careers site is a great place to start. We have a very active recruiting organization that is constantly searching for and reaching out to candidates who seem qualified for our technical roles.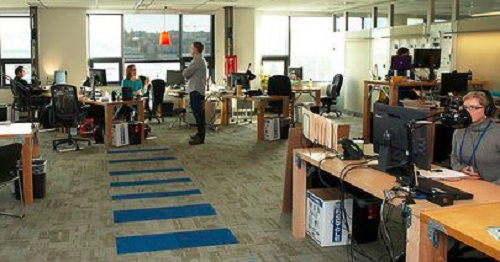 Amazon Corporate Office[/caption] Other popular ways for candidates to connect with Amazon include on-campus recruiting events, industry leading trade shows, NIPS for machine learning scientists and the Grace Hopper Celebration of Women in Computing for women in technical fields. Finally, utilize social media such as LinkedIn and Facebook and get connected with Amazon recruiters.
Navigating Job Postings
How to navigate our job postings depends on what you're looking for. There is a wide variety of software development roles, for example, and we hire a lot of machine learning scientists to work on challenging business problems. Our job listings change frequently, as roles are filled and new roles open up. Candidates should browse, or search, our careers site for jobs that fit well with their experience and interests. They can also filter jobs by job category (e.g., IT) and by location, as well as search with keywords, so we recommend spending some time reviewing the listings and seeing which sounds the most exciting based on individual experience and interests.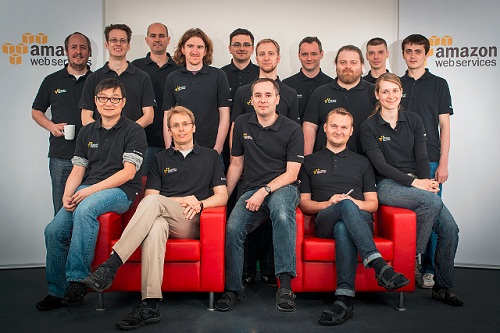 Amazon AWS employees in Dresden, Germany[/caption] It's difficult to generalize our specific skill needs because we have such a wide range of technical roles, with positions in infrastructure software, device OS and mobile applications, machine learning and data science. Amazon has long been an open architecture company, so we look for people with very strong backgrounds in distributed systems engineering and people who not only build, but also know how to operate software services. We also look for people who are intensely customer focused and passionate about innovating for our customers. Developers at Amazon own their projects and are expected to think big and holistically about the systems and products they work on – not just about a small piece of them. They have opportunities to invent new technology, products, or features that directly impact our customers.
The Interview Process
The process typically starts with a phone interview or two. After that, candidates are invited to one of our development centers for a series of in-person interviews. Interviews are interactive and will involve demonstration of design and coding skills, as well as creative problem solving skills.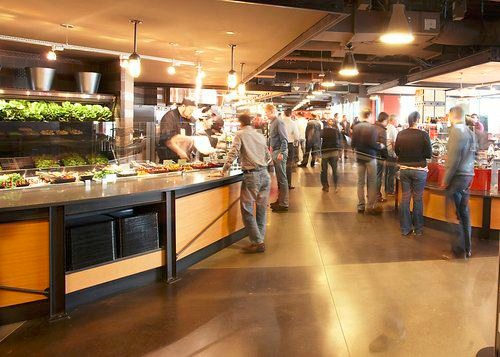 Amazon Corporate Office Cafeteria[/caption] We also assess soft skills that help us determine whether a candidate fits with the culture. A great way to prepare is to review the leadership principles on our careers website and be ready to show us that you're an owner who wants to invent and build great things for our customers. We want to hear about your track record of success – not just where you've been. We're a technology company at our core and we look for innovators who have a history of delivering results.
What Makes a Good Fit?
We're looking for leaders who want to think big, take ownership and invent on behalf of our customers from day one. The projects our teams work on at Amazon directly impact our millions of customers around the world, so people who are motivated by customer obsession and the opportunity to solve really hard problems will do well here. We look for people who have relentlessly high standards and who are tenacious and motivated to take on big challenges and find their way through, over or around hard problems. Again, I need to emphasize that candidates read the leadership principles on our careers site. It will give you a great sense of the criteria for success and behaviors of those who do well at Amazon.
Advice for the Seasoned Professional
You need to want to work in a dynamic, high velocity business. The best advice for maximizing consideration for a job is to network and make contact with someone at Amazon, who can help you navigate opportunities in the business groups, or with recruiters. You can easily find and connect with people through LinkedIn, for example. The career site is a great starting point to pinpoint roles and then connect with a recruiter, or employee, if you know one. Show us what you've accomplished, not just where you've been. Strong credentials are great, but it's more important to show a track record of innovation and delivering results on behalf of your customers. Give us examples of times that you've solved really hard problems or invented something that improved the customer experience.
Advice for the New Graduate
We have a very robust college hiring program and employ a large number of computer science majors, MBAs and undergraduates into a wide variety of roles. We work with a core set of schools in each category, but accept applications from students at other schools, too. We look for things like analytical thinking, creative problem solving, calculated risk taking and evidence that people can shift from strong thinkers to strong operators who drive results. For example: Did you take ownership during an internship and invent a new processes that helped improve the customer experience? Did you start your own side business in college? It could be an invention or passion outside the field of academic study that demonstrates these traits. If you don't have that kind of experience, look for those opportunities in an internship, or first job out of college.