[caption id="attachment_11483" align="aligncenter" width="552"]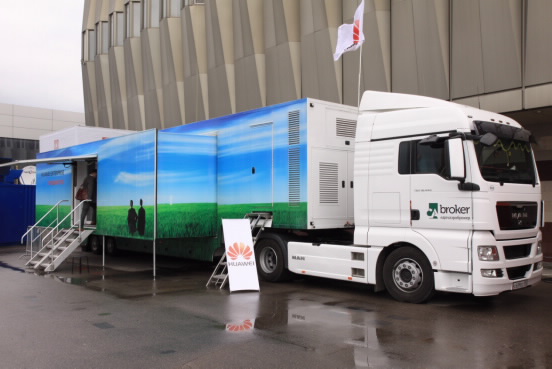 Huawei's demo truck, loaded up with equipment and taken on the road.[/caption] Despite what sounded like a sour-grapes decision to take its toys and go home after U.S. and U.K officials cast aspersions on the security of Huawei Technologies, the Chinese-owned company appears to be trying again to build up a Western market in enterprise networking gear. Huawei executives told
The Wall Street Journal
this week that they expect the company's enterprise network business to grow 40 percent during 2013—after they finish building a network of VARs and resellers that could help Huawei compete with Cisco Systems and Juniper Networks. VARs and resellers are usually the ones contacting most customers in person. Huawei has about 3,000 resellers worldwide and are working hard to expand that list, using the $600 million it has budgeted for R&D this year to help build credibility among cautious resellers. Dominant vendors can lock up a market such as enterprise networking, but disruptive factors such as the BYOD movement, increasing reliance on cloud-computing platforms, and changes in mobile networking create openings that allow new companies to slip in and establish themselves,
according to the WSJ interview
with William Xu, Huawei senior executive in charge of the enterprise-network business. Building relationships with resellers is "like dating or marriage; it takes mutual attraction," Xu told the newspaper. Huawei's goal is to increase its enterprise-networking revenue from about $1.9 billion to closer to $2.7 billion on the strength of its growing network of resellers, new products aimed at the enterprise and $600 million it is devoting to product R&D this year,
according to NASDAQ
. That doesn't mean it will be easy, financial analyst Matthew Ball of Canalys warned the WSJ. Huawei has set a goal to increase its enterprise network business by 40 percent this year, to approximately $2.7 billion, and increase the size of the overall market to $10 billion. Expanding its slice of the enterprise networking business could balance out the often-turbulent global market for telecom equipment, which makes up 73 percent of Huawei's total revenue—but it won't be easy to make that business grow, Ball said: "This is a very difficult market to penetrate for Huawei." It may take even more time given accusations by Western government officials that Huawei is too directly controlled by the Chinese government to trust its technology. Former NSA and CIA chief Michael Hayden
sparked controversy last month
by saying that, in his professional judgment, Huawei should be considered a national security threat unless proven otherwise. Huawei rejected both Hayden's judgment and an earlier Congressional report that echoed those "threat" sentiments, but the report ended the company's chances of selling into the U.S. telecom market; it has been banned from similar roles in the U.K. and Australia. It also put company executives into what sounded like a snit, during which they issued a public statement claiming the company was no longer interested in the U.S. market, at least as a place to sell telecom gear. The global revenue of $18.54 billion Huawei posted in July was 10.8 percent higher than the same period last year. The company expects to generate a net profit of between 7 percent and 8 percent this year. Its success in 2013 was due largely to its carrier networking business, but the company is pushing hard to expand that base by increasing its enterprise networking business as well as the consumer devices that make up 22 percent of its overall revenue. Huawei obviously plans on expanding its markets.
Image: Huawei