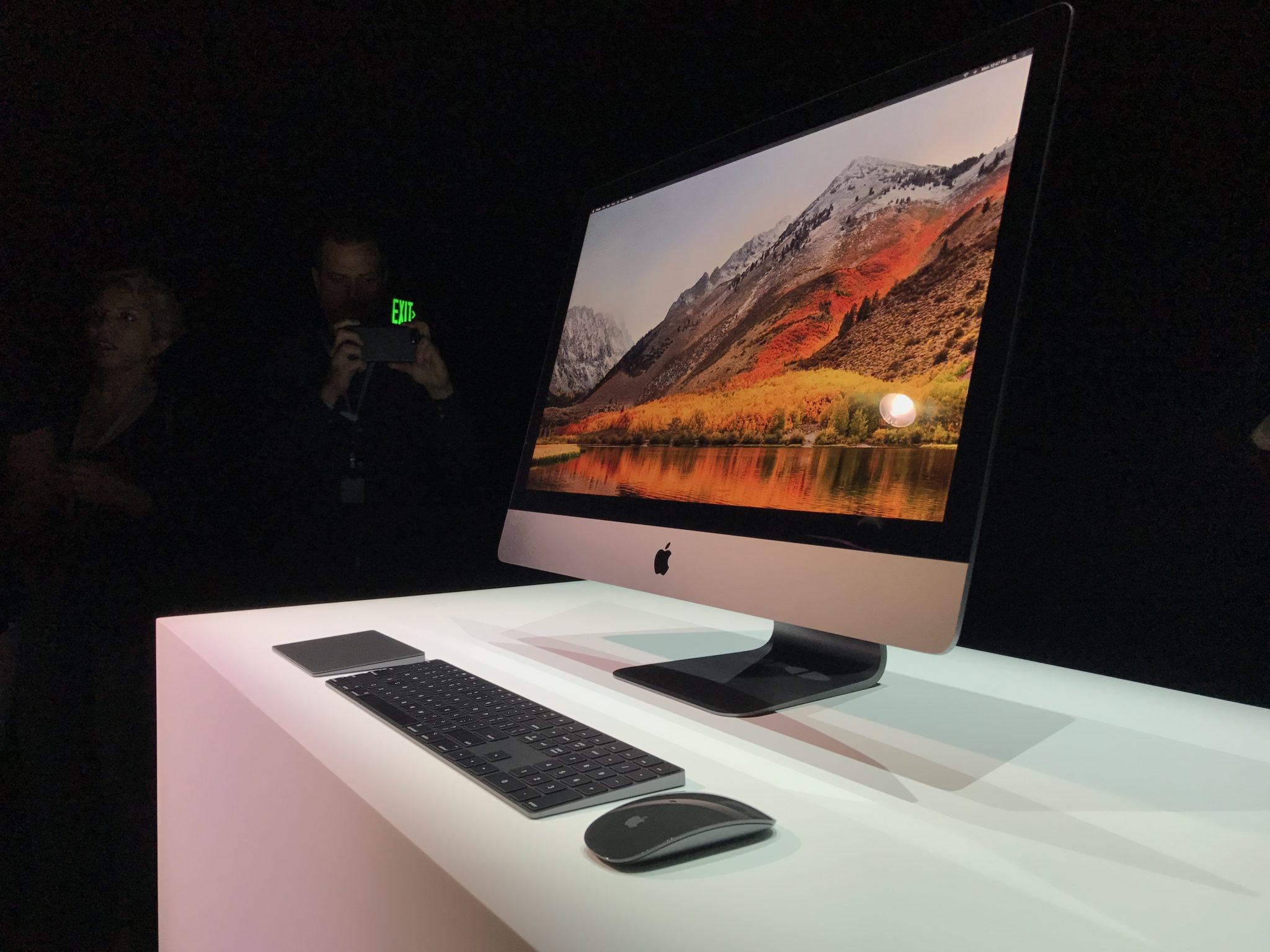 The iMac Pro,
first announced at WWDC 2017
, is
arriving
this week. It comes in Space Gray, starts at $4,999, and has some great specs. But is it really a 'Pro' device? The screen is the most familiar part of the iMac Pro. It's a 27-inch 5K Retina display with 500 nits of brightness, capable of 14.7 million pixels and over one billion colors in the P3 color gamut. Under the hood, things get intense. The base model is an 8-Core option (the Intel Xeon), as first
mentioned
at WWDC 2017. You'll also start with 32GB of 2666MHz DDR4 ECC memory (that's all jargon for 'whoa, fast'), 1TB SSD storage, a Radeon Pro Vega 56 GPU with 8GB of dedicated HBM2 memory, and a collection of ports (3.5mm audio jack, SD card slot, four USB 3 slots, four Thunderbolt 3 connection points, and a 10Gb Ethernet port). [caption id="attachment_142018" align="aligncenter" width="4032"]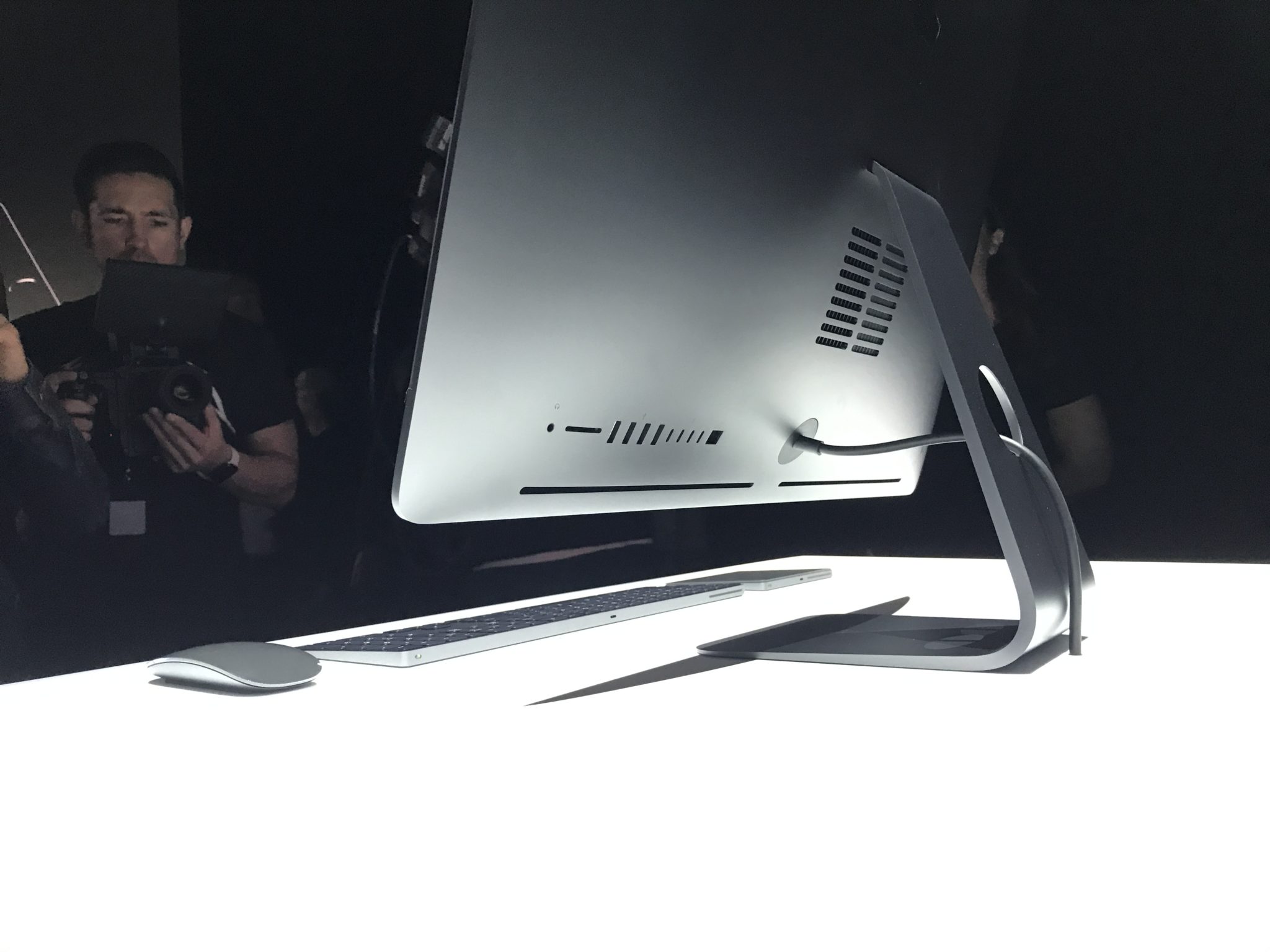 iMac Pro ports[/caption] If you want to get really creative, the iMac Pro can be custom ordered with a 10- or 18-Core processor (again, all Xeon). Some pundits are also noting a 14-Core processor available, though the iMac Pro site doesn't list that. In terms of other specs, you can get 64GB or 128GB memory, 2 or 4TB SSD storage, and a Radeon Pro Vega 64 GPU. In packing so much into the same chassis, Apple leveraged the design philosophy behind the MacBook Pro. The iMac Pro has some dedicated ventilation around back, and the same two-fan setup we find inside the MacBook Pro to help keep things running cool. As you might expect, benchmark scores and real-world performance is out of this world. It's particularly impressive when you consider everything takes place in the same chassis as a "regular" iMac. Although few people actually have one at this point, YouTuber Marques Brownlee has been running the machine through its paces for a week:
Who is the iMac Pro For?
Brownlee makes a few critical points in his video. First, $4,999 only
sounds
too expensive. In reality, building a device with the same specs would cost you a touch more –
and
not come in an all-in-one design. But that's also a point of inflection for professionals. Apple's iMacs now come as static builds once they're ordered. You won't be able to dig into the machine and add more RAM or memory later on. If you don't get what you need at the time of purchase, you're just out of luck. This is something that
fxguide
points to as a problem:
It is a move in the right direction but it is not the perfect pro machine, I still want Nvidia graphics. I love this iMac but I want to be able to have my Mac and have my Nvidia graphics pipeline too. The iMac's graphics are fast and impressive, but choice is good, and some applications just fly better on Nvidia hardware. This machine also lacks an RGBD camera for simulating, testing and developing face and AR App material.
Developer Craig Hunter
points out
the iMac Pro is a solid dev machine. "Most of my apps have around 20,000-30,000 lines of code spread out over 80-120 source files (mostly Obj-C and C with a teeny amount of Swift mixed in)," he writes. "There are so many variables that go into compile performance that it's hard to come up with a benchmark that is universally relevant, so I'll simply note that I saw reductions in compile time of between 30-60% while working on apps when I compared the iMac Pro to my 2016 MacBook Pro and 2013 iMac. If you're developing for iOS you'll still be subject to the bottleneck of installing and launching an app on the simulator or a device, but when developing for the Mac this makes a pretty noticeable improvement in repetitive code-compile-test cycles." Indeed, my fans kicking into gear every time I spin up the Xcode simulator is pretty annoying. But is it $4,999 annoying? More to the point, all these reviews test the 10-Core iMac Pro, not the base-model 8-Core version. It's a shell game; Your mind tells you all this costs a
mere
five grand, but the actual cost to level up to the performance standards listed in text and video will be more – and we don't yet know how much more. Apple is only telling us the base price of the iMac Pro. We won't know for a few days (it drops Thursday) how much all the upgraded bells and whistles cost. Early estimations put the top-end, specced out model somewhere near $15,000-17,000. We'll find out later this week.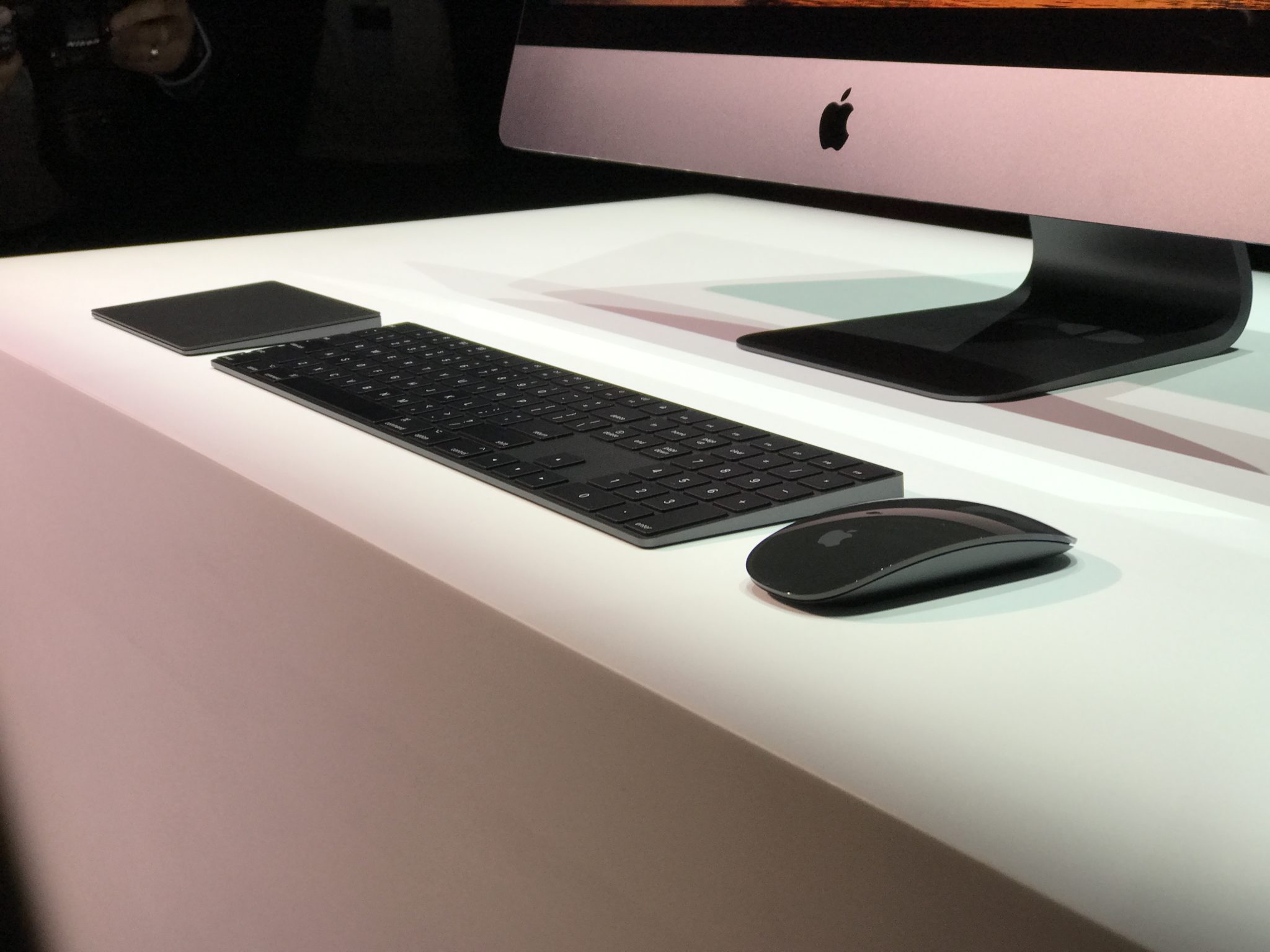 The iMac Pro gets us back to square one, in a sense. When the Mac Pro launched, it was an expensive marvel – a powerhouse 'pros' couldn't live without. A few years later,
Apple conceded it was a faulty design
. Now, we're being sold a similar bill of goods: the iMac Pro is so freakin' awesome every pro on Earth will want one! Fortunately, Apple seems to have found its professional stride. The iMac is a tried-and-true form factor, and store-level employees know how to work on it, as do authorized third-party resellers and repair centers. Apple also isn't employing fussy new configurations; even the fan setup should be familiar to hardware repair pros (although it's a touch larger). Developers will be interested, I'm sure, but this is a good time to examine your needs. Hunter's use-case is likely pretty rare for indie developers; 30,000 lines of code and roughly 100 source files is pretty robust. He also admits he was racing to send an update for
Theodolite
, a very intense AR viewfinder app (it's like Google Maps' street view for everywhere), which tells us there could be some anxiety mixed in with his review for development purposes. "When you get into an intense development or debug cycle that involves a lot of compiles, saving fractions of seconds here and there adds up and can give you extra hours in a day," he writes. "This is one area where the 10-core iMac Pro shines when combined with Xcode's ability to automatically take advantage of multiple cores to compile multiple source files simultaneously." Come Thursday, many professionals will snap up an iMac Pro, and be very happy they did. We're also indoctrinated into Apple's no-upgrades position on hardware, so be prepared to spend more than $4,999 if you're going to try and buy one. (Apple likes to point out you can link a RAID array and two external 5K monitors via the four Thunderbolt 3 ports; cost aside, that's an incredible setup.) But cost is never an aside, and the iMac Pro makes no concessions there. It's expensive, no matter which configuration you choose. If you need all that power, though, it's about as good as it gets. The one real knock on the Mac Pro, Apple's last powerhouse, was that the company never upgraded it; that's not something we can expect with the iMac Pro.