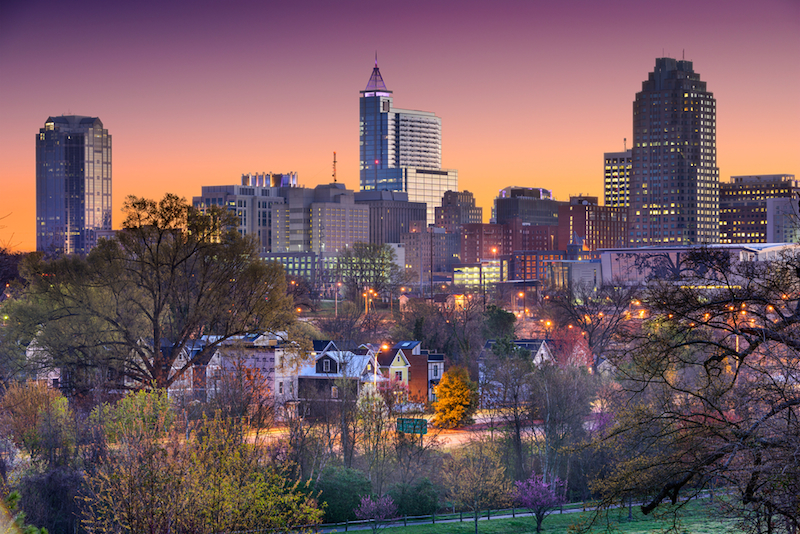 The tech market in Raleigh, North Carolina continues to grow at a steady clip, led by the healthcare IT industry and its continuing need for
data analysts
,
software engineers
, and
senior architects
. The area's Research Triangle (known by some as simply "The Triangle")
fulfills many of the requirements for solid startup growth
, including easy access to Raleigh and Durham, as well as numerous universities. Sciences and healthcare in particular are seeing a lot of innovation, said Adrienne Cole, executive director of Wake County Economic Development.
Companies Hiring
Larger healthcare employers, including
Allscripts
and Siemens' healthcare division, have been adding tech positions in the metro area, including some for software engineers. But it's not just limited to healthcare, or even startups. "Companies outside of tech are adding IT professionals at a greater pace than tech companies in the region," said Brooks Raiford, president and CEO at the North Carolina Technology Association (NCTA). As the NCTA notes, there are about 254,000 tech workers in North Carolina working for non-tech companies, versus 220,000 workers directly employed by the tech industry. Companies such as
MetLife
, which has its global technology hub in Raleigh, as well as
Deutsche Bank Global Technologies
, are actively looking for tech talent, Raiford added.
Check out the latest tech jobs in Raleigh.
Skills in Demand
Employers are in need of people with C and
C++
skills, in addition to
Java
,
PHP
,
Python
and
Ruby
. "There's a big demand for strong
UI
/
UX
talent and folks with some of the newer
JavaScript
libraries under their belt," said Zane Sosna, Raleigh's branch manager at
Robert Half Technology
. Tech professionals with
cloud
,
Web
, and
mobile development
skills are in short supply and big demand.
Project manager positions
are also on the rise. For example, Red Hat is hiring, on the lookout for
technical support engineers
for OpenShift and OpenStack, in addition to senior software engineers with Java and Python development skills. DeLisa Alexander, executive vice president and chief people officer for Red Hat, predicts more hiring down the road: "We're seeing increasing demand for our portfolio of solutions. You can expect to see us continue to grow our headcount to keep pace with that demand."
Salary Trends
According to the
2015-2014 Dice Salary Survey
, tech professionals in the Raleigh metro area received a 2.3 percent bump in pay to top out at an average salary of $87,532 in 2014. "Salaries are rising, and demand is exceeding the supply," Sosna said. "The rock star developers might have four or five great opportunities on the table." Employers want people with the latest and greatest skills, and they're willing to pay for it. There's upward pressure on salaries for the right people. Developers with a minimal amount of experience—three to four years under their belt—are easily commanding $80,000 to $90,000 in pay, noted Sosna. Tech professionals with "in-demand skills" and five or more years of expertise in the field can earn $125,000 to $130,000.
Tweaking the Culture
Small and new companies without the name-brand appeal are having a challenging time getting the right people. "Startup and mid-level companies can't always compete with bigger companies, so they're trying to recruit and retain people by creating the right culture," Sosna said. That might mean more perks, such as allowing employees to work remotely. The competition for talent is forcing tech companies and companies in other sectors to be creative when it comes to recruiting tech pros. According to a Robert Half Technology survey of Raleigh-area CIOs, employers are upping networking activities and referral bonuses, as well as using additional consultants to fill the gap.
Jobs in Demand
According to Wake County Economic Development, the top 10 reoccurring jobs in demand in the region breaks down as follows:
Software Developer
Cloud Security – Analysts, Cloud IT Engineers
IT Specialist
Technical Support Engineer
Support Specialist, Support Engineer, Support Analyst
Systems Engineer
Network Engineer
Security – Analyst/Specialist/ Engineer
IT Project Managers
Customer Support Specialist, Customer Support Representative, and Technical Support Representative