California still has close to 1 million high-tech employees, and that number has held steady through the worst of the recession, but prospects for all those workers have been limited over the past few years. Looking for positive spin, Gov. Arnold Schwarzenegger said in April, "News that California is the nation's leader in high-tech jobs and wages comes as no surprise because our state's tech-friendly policies and world class workforce create an environment ripe for high-tech success."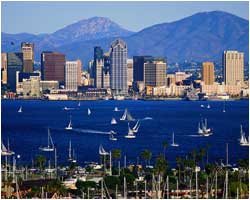 The story in San Diego mirrors that of the rest of the state. The latest unemployment figures from California's Employment Development Department show that local unemployment is at 10.5 percent, actually lower than the state average but higher than the current national average. The two largest tech sectors in San Diego remain R&D and testing labs and telecommunications services. According to the newest Dice salary survey, the average San Diego IT job is paying $81,819, basically holding steady from 2008 through 2009. It lags the average for the entire Pacific region (Silicon Valley salaries are higher), but beats the national average by $3,000, a good thing given California's relatively high cost of living.
The current tech hiring outlook is mixed at best. IT staffing consultancy Robert Half Technology, whose third-quarter IT Hiring Index was just released, finds that for the Pacific region, 9 percent of companies plan to hire, equal to the national average though it isn't particularly encouraging.

Other signs are better. As of mid-July, Dice had 1,026 listings available, down from June but up a whopping 40 percent from a year ago - perhaps the single most encouraging stat indicating some kind of local tech rebound.
Kanani Masterson, vice president of business development and director of the technology division of San Diego-based recruiting firm TriStaff Group, is generally optimistic about the state of San Diego hiring, especially in contrast to 2009. "It's been picking up and is quite active now," Masterson says. "2009 was slow, but this year has been busy, especially for our Web-related and new-media clients."

While firms are doing some recruiting for contract positions, the majority of hiring activity is for full-time slots, according to Masterson. "The focus is on permanent positions. Firms want to find people who are going to stick around if they spend the recruiting money to find them in the first place."

The skills most in demand? "Web development of all kinds," says Masterson. "Everything from Java to PHP and LAMP." Another hot area: wireless in all its many shapes and forms.
Masterson advises job hunters to consider not only San Diego's largest tech firms, such as local tech leader Qualcomm, but also the smaller and dynamic Net-centric or start-up firms that are beginning to prosper again as venture capital activity perks up. VC money isn't flowing at anything like it was in the good old days of 2007, but according to stats from the MoneyTree Report prepared by PricewaterhouseCoopers and the National Venture Capital Association, VCs invested $222 million in the first quarter, up an encouraging 242 percent from Q1 2009.

Given that the City of San Diego itself is hatching a plan to outsource its own IT, it's hard to be completely optimistic about San Diego's fortunes in the near future. But if the studies that identify San Diego as one of the top 10 cities in the country for employment growth through 2025 are correct, perhaps it's the right place to be to lay career plans for tomorrow.
-- Don Willmott