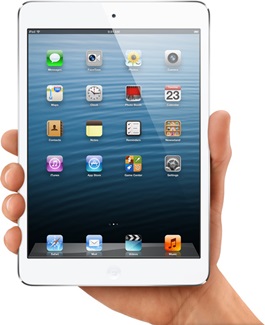 Apple announced a whole range of refreshed products in its special event last week. The impossibly thin iMac is arguably the most impressive of all, but the iPad mini, the cheapest among all the announced products, caught the most attention from journalists and the public alike. The reason was unveiled in the event itself: Apple sold over 100 million iPads since the first version was announced, and due to its much lower prices, it reaches more customers than the iMac could ever dream of. Besides, the tablet market, especially the 7-inchers, is gaining a lot of steam following Amazon's and Google's foray into the category with amazingly affordable devices. People are wondering whether Apple could dominate the
mini tablet
market, the only category where Android tablets have any significant traction, and whether Apple will follow its rival in making the iPad mini highly affordable. Wonder no more. The iPad mini is cheaper than all other iPad models, including the iPad 2, but at $329 for the base model, it's still more expensive than the Kindle Fire and Nexus 7 tablets. Worse, the iPad mini runs on older generation A5 chip, the same processor found in the iPad 2, and has a non-Retina 1024x768 display. To justify the higher selling price despite the apparently inferior specifications, Apple took the trouble to compare the iPad mini and Nexus 7 side by side.
275,000 iPad-optimized Apps
Contrary to what
I predicted previously
, the iPad mini will run shrunken iPad apps instead of breeding a new range of 7-inch optimized apps. The iPad mini has a screen size of 7.9 inches, less than 2 inches smaller than the regular-sized iPad, and apparently the smaller touch elements are still very usable. Because the iPad mini has the same resolution as the iPad 2, it will be able to run all iPad-optimized apps out of box and provide a full tablet experience despite its size. Apple made the point in the presentation by comparing the Nexus 7 running enlarged smartphone apps and the iPad mini running iPad apps. Those who have used both the iPad and an Android tablet will be able to see why this difference will make or break the user experience. By now, Google has got the message and is trying to fill the Play Store with more tablet-optimized apps. But for now, Apple has the advantage with its vast catalog of iPad-optimized apps, and therefore it can charge a premium price for a premium user experience. Besides the robust tablet app ecosystem, the iPad mini is well-built, just like other iOS devices, according to comments by people who have had a chance to play with the device. The aluminum unibody back plate gives a premium look and feel to the tablet, and the device is significantly thinner than other 7-inch tablets. It also comes with a 5MP rear camera capable of capturing HD videos, as well as a FaceTime HD front camera. The build quality and the extra bells and whistles are welcome, but they aren't the deciding factor for people purchasing the iPad mini. The iOS and the 275,000 tablet-optimized apps are the real selling points of the iPad mini, and any other iPad model. There is no way the iPad mini could sell for $329 if it were powered by Android.