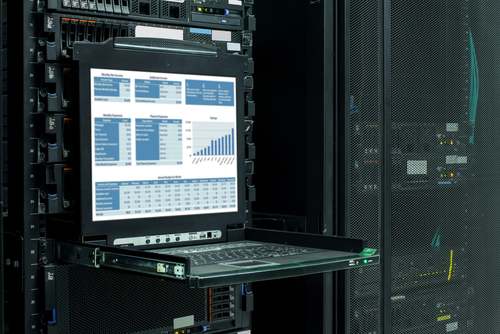 A survey released July 9 shows that IT decision-makers doubt their antiquated datacenters are up to the challenge of supporting cloud computing and virtualization. As a result, they're leaping into increasingly esoteric network virtualization systems. Three quarters of the 1,750 IT decision makers polled by British market-research firm Vanson Bourne (the study was sponsored by Brocade Communications, which sells networking equipment) said their corporate datacenters had been upgraded within the past three years; 61 percent said their datacenters aren't up to the work being demanded of them already. Seventy-nine percent said their companies already have some cloud-based services running somewhere within the corporate infrastructure; 91 percent said their IT infrastructure would have to be upgraded to support cloud or virtualization properly. Roughly 18 percent of respondents already used a fabric-based network—a primary building block for software-defined networks (SDN). Fifty-one percent planned to roll out Ethernet fabrics during the next year to support projects, with the goal of expanding the number of virtualized servers from 46 percent now to 59 percent by 2015, the survey showed. Other surveys have arrived at similar conclusions. Virtualizing applications and servers is such a high priority, is being done so quickly, and results in networks so much more complex than physical networks that 75 percent of companies are having moderate- to sever network problems,
according to an April poll of customers by network-security firm Enterasys
. There are 11 virtual servers for every physical server in most large companies, but that's not the biggest capacity or complexity challenge, according to
Gartner analyst David Capuccio
. Server workloads are growing at 10 percent per year; demand for network bandwidth is going up 35 percent per year. Storage capacity goes up 50 percent per year and demand for power goes up 20 percent. "Throwing more capacity at demand is not the solution," Capuccio told Forbes. "You need to optimize capacity in new ways: virtualization, data duplication, etc." Datacenters, the functional and practical center of all that growth and complexity, haven't been designed to accommodate the dynamic reconfiguration, capacity, and easy Internet access of most of the technologies for which they are becoming responsible,
according to a May study from IEEE
. Virtualized datacenters can make both datacenters and virtualized infrastructures more flexible, affordable and easier to manage, but are being deployed in too few companies to make a big difference yet. Nor can the infrastructure or budgets of most datacenters can keep up with growth in demand for capacity, or even overcome the complexity of supporting all the mobile and virtual technologies required of modern datacenters, Capuccio said. Expectations are simply out of sync with the work required to build complex, dynamic new technologies on top of older, static and often fragile ones. That dichotomy is likely the source of most of the contradictory messages about what enterprises want their infrastructure to accomplish, and what the infrastructure managers think can actually be done. Or it might all be a misunderstanding. In April, Swedish SDN provider Tail-F Systems polled senior-level network managers to see how familiar the network experts were with virtualized networking. Ninety-one percent told pollsters they were aware of the term SDN,
but only 51 percent could pick the correct definition from a list
.
Image: Yentafern/Shutterstock.com