Is there any place in tech for a worker over age 50? Not according to a number of once-successful professionals who lost jobs before or during the recession and now find it all-but-impossible to return to work. However, career experts and rehired workers say reentry is possible, though the rules for making it happen have changed. You may have seen the cartoon that shows one person saying to another: "We're looking for someone with the wisdom of a 50-year-old, the experience of a 40-year-old, the drive of a 30-year-old and the pay scale of a 20-year-old." One underemployed 50-something former IT executive notes that, "it seems to be true, especially the pay scale part."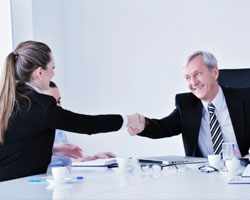 "As soon as they see your resume and the recruiter gets an idea of how old I am, they never call back," says Kevin Quinn, a 60-year-old programmer and QA engineer who has been doing contract work and sending out resumes for more than two years. But the issue may not only be about age. Luther Jackson, a program manager and researcher at the Sunnyvale, Calif.-based employment and training agency NOVA, says many people send resumes that aren't helping them get jobs. They're relying on the old-fashioned chronological resume, which doesn't always do the trick. Jackson advises clients to take a "problem-solution-results" approach to selling their skills. "That's what employers want to see," he says. With the PSR approach, you describe problems you've encountered at previous positions, the solutions you implemented, and the positive impacts that resulted. While traditional resumes highlight specific skills, the PSR approach helps you focus on the benefits those skills have brought to employers, co-workers, customers or, ideally, all three. Unfortunately, PSR resumes aren't a magic bullet. In Quinn's experience the approach has sparked interest, but once recruiters figure out his age, "interest dies," he says.
Social Media
Another factor is that many older workers haven't mastered the use of social networks, which has become a key job-hunting skill, Jackson says. He recommends that job seekers become active participants in online groups covering their areas of interest. Likewise, devoting at least one evening a month to attending networking and professional groups can expand the job seeker's network. "A large percentage of jobs are never posted," Jackson observes. "Those jobs are discovered by word-of-mouth. The larger your professional circle, the better your chances of finding those hidden opportunities." Another way to network into a job is by getting involved with angel investor groups, suggests Deb McAlister, a Dallas marketing consultant. So is helping counsel startups at a technology incubator. That kind of work can offer access not just to startups, but their backers and others who may one day connect you with an employer. "Networking," McAlister says, "is always a long-term investment." Older workers are sometimes thought of as relics of past programming languages and databases. That can turn into a plus, however, for those who find companies using technology that fresh college graduates know little about. Those jobs can sometimes be found through interest and alumni groups, though they may be few and far between, as Quinn has found. Temp agencies may be another resource for older workers. Sometimes, you might find yourself with a full-time offer from a company you' have temped for, Jackson says. Indeed, NOVA likes to place workers into temp jobs, where they have steady, if non-permanent, work while they continue their search. Some companies treat temps as inside applicants, also, allowing them to apply for openings before the jobs are posted to outsiders. The bottom line is more experienced workers face extra obstacles in their job hunt, but they're not insurmountable. Highlight your pertinent skills, demonstrate the results you have achieved and build a network of connections, and your next move can be well within reach.