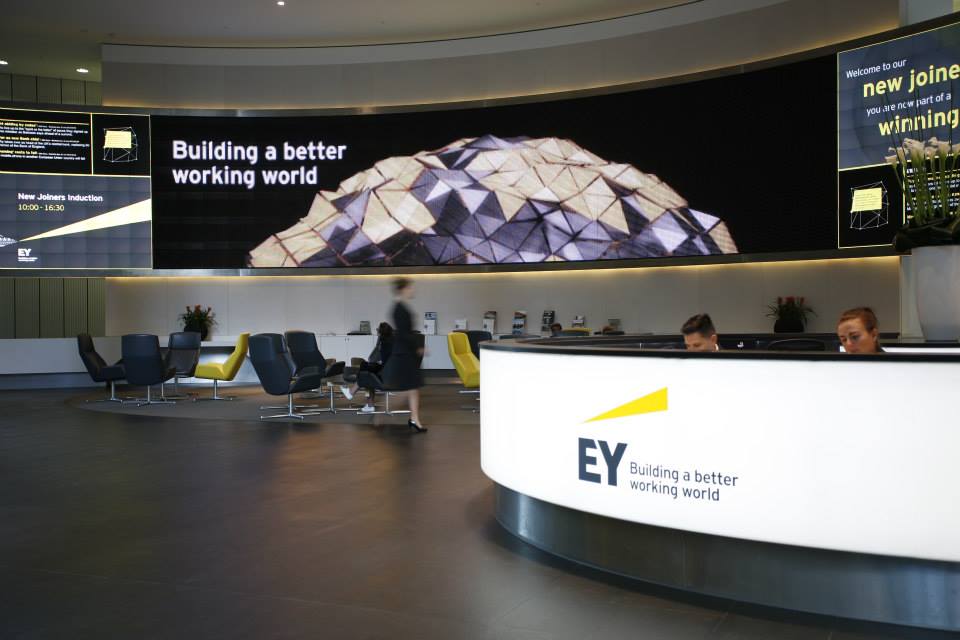 Ernst & Young
, also known as "EY," is a global leader in assurance, tax, transaction and advisory services. The company has about 175,000 employees in over 150 countries, some 54,000 of whom are in the Americas. Currently, more than 4,000 professionals work in EY's IT operations. "At EY, we have many opportunities for individuals with backgrounds in technology in all of our service lines," says Larry Nash, EY Americas director of experienced & executive recruiting. Primarily a
Microsoft
shop, the company is trying to fill positions for
.NET
and
SharePoint developers
,
information security specialists
,
project managers
,
quality assurance testers
and
business analysts
.
Click here to find a tech job in the financial services industry.
Collectively, the IT Services group is responsible for planning, developing, managing and operating all technology used within the organization. Its employees work as a global team. Some technical skill requirements include .NET,
JavaScript
,
ASP.NET
,
SQL
, SharePoint,
DBA
,
identity and access management
,
Active Directory
,
Spotfire
and
Tableau
.
How to Read a Job Posting
EY IT Services' job descriptions clearly describe the open positions and their requirements. Candidates should ensure that their current skills align with those listed in the job description they're considering. It's important that you only apply for positions you're qualified for. Pay attention to technical certification requirements.
The Hiring Process
"It's important for our interviewing team to understand a candidate's technical skills given the nature of the work," says Nash. "Candidates should be prepared to articulate their competencies and experiences so we can best gauge and understand their IT skills." Throughout the selection process, you'll be asked about your successes, career objectives and ambitions. Nash strongly suggests that you prepare for interviews by researching EY, the position and the people who'll be interviewing you. At the same time, don't oversell your past experiences and current IT skills. While obviously you want to tour your skills, be honest and accurate about your abilities and your track record. Nash says that EY recruiters are searching for the right skills and experience—not creative resume headlines.
What Makes a Good Fit?
EY is primarily a financial services organization. It is corporate, not casual; highly structured, not a startup. "We run a fair and objective recruitment process that reflects our values, which are demonstrating integrity, respect and teaming," explains Nash. "Our values influence the way we work with each other, serve our clients and engage with our communities, so it's important that potential candidates possess these values and understand the role they will play in the overall success of the organization."
See more Landing@ stories here.
Advice for Seasoned Professionals
Submit a complete resume or online profile that clearly describes your current duties and responsibilities and, if appropriate, take the opportunity to present recommendations online. Commentary from former supervisors, peers and clients can offer a more complete picture than a simple resume.
Advice for New Graduates
Nash can't stress the idea of doing your homework enough. This applies to researching the company, the position you're applying for and the person who may be doing the interviewing. Recent graduates can connect with EY via social media channels in order to stay up-to-date on job announcements and general company news.
Upload Your ResumeEmployers want candidates like you. Upload your resume. Show them you're awesome.
Related Articles
Image: Ernst & Young