[caption id="attachment_9038" align="aligncenter" width="618"]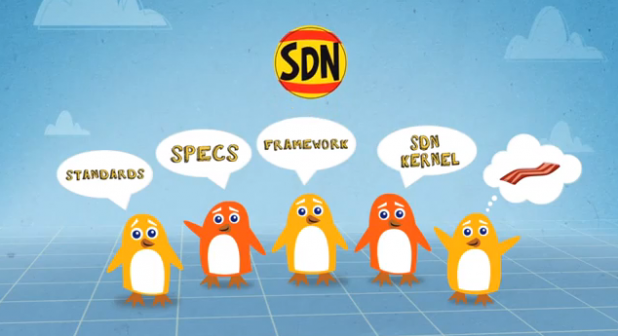 The founding members of the OpenDaylight project thought that cartoon birds (and bacon) would help
sell their concept video
.[/caption] In recent years, a number of open-source initiatives have been formed to share knowledge and collaboratively drive the industry forward: OpenStack, OpenFlow, Open Compute, and more. Add
the OpenDaylight project
to the list, with the goal of making software-defined networking open to all. Part of the Linux Foundation, OpenDaylight brings together some of the top technology powerhouses, including Big Switch Networks, Brocade, Cisco, Citrix, Ericsson, IBM, Juniper Networks, Microsoft, NEC, Red Hat and VMware (all of which are founding members). As you might imagine, the intellectual property contributed by each company is considerable. In the past year, interest in software-defined networking—technologies that pool and manage networking resources in much the same way that storage or compute nodes can be combined—has skyrocketed. But the OpenDaylight Project is predicated on the idea that too many proprietary products can leave customers scratching their heads over which to choose. Then there's the standard open-source argument—a community is going to produce better software than just a single company.
Even Gartner was forced to recently release a taxonomy
attempting to define what the heck SDN actually means. Gartner concluded that, in the SDN architecture, the control and data planes are decoupled, network intelligence and state are logically centralized, and the underlying network infrastructure is abstracted from network applications and features. In addition, programmability enables external control and automation that allow for highly scalable, flexible networks that readily adapt to changing business needs. The first code from the OpenDaylight Project could be released in the third quarter of 2013; expected donations and projects include an open controller, a virtual overlay network, protocol plug-ins and switch device enhancements, according to the Foundation. Although the companies are coming together under the auspices of the Linux Foundation, OpenDaylight will remain operating-system independent. OpenDaylight products will be sold from a variety of vendors. "This is a rare gathering of leaders in the technology ecosystem who have decided to combine efforts in a common platform in order to innovate faster and build better products for their customers," Jim Zemlin, executive director at The Linux Foundation, wrote in a statement. OpenDaylight will support OpenFlow, which partitions out the control path from the data path within a router or switch. Many consider OpenFlow to be a building block upon which SDN technologies are built. Many of the companies involved in OpenDaylight described what they would contribute to the effort. Red Hat, for example, said it would build and deliver an SDN solution integrated with OpenStack, Linux and KVM. Citrix will contribute an application controller that integrates Layer 4-7 network services for enabling application awareness and comprehensive control. And Cisco said it had contributed controller technology to the Project, including an Application Framework and Service Abstraction Layer (SAL), providing basic controller functionality with support for southbound plug-ins—the better to communicate with network devices using various protocols including OpenFlow. Will OpenDaylight commoditize the networking market? Even though Cisco is participating, likely not. Although the hardware is certainly significant, the value will derive from the services layered on top. And if nothing else, OpenDaylight will bring consistency to a market where even the definition of SDN remains in doubt.
Image: Linux Foundation