Which companies have posted the most open jobs for virtual reality (VR) talent?
If you guessed Meta—which is betting its very existence on the "Metaverse," or an ecosystem of VR and augmented reality (AR) apps—you'd actually be wrong, according to a new study by Revelio Labs and Bloomberg. Since October 2021, consulting firm Accenture has posted the most VR-related jobs, followed by Meta, Autodesk, Qualcomm, and Apple: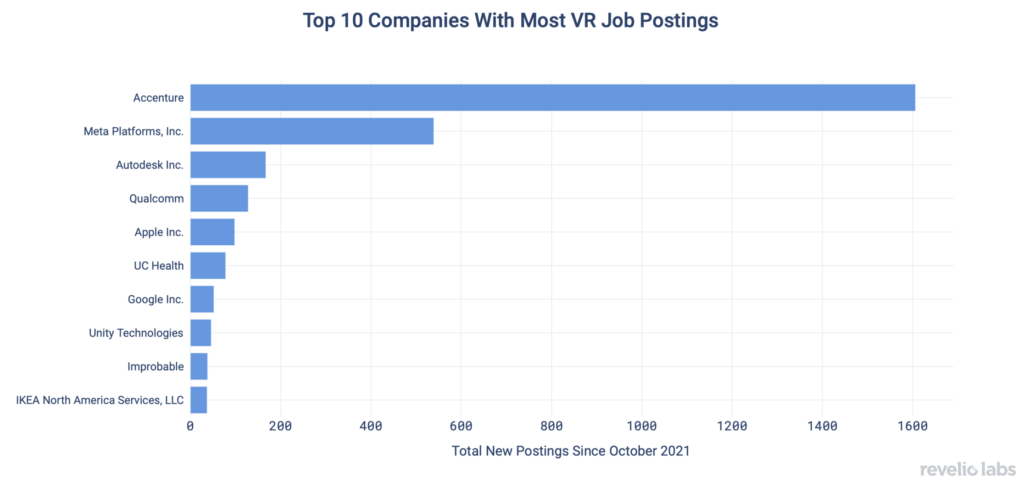 "As Accenture quickly expands its services in the metaverse, its focus is slightly different than Meta's. When we compare the skill share differences between Accenture and Meta, we see that the VR positions in Accenture have a much higher share in design-focused skills while those in Meta have a greater emphasis on research and product development," Ben Zweig, Revelio Labs' CEO, wrote in a LinkedIn posting about the study.
"As a specialist in digital transformation and implementation, Accenture is not looking to conduct groundbreaking research," Zweig added, "but is perhaps hoping to leverage existing tools to help its clients adapt and operate in the metaverse."
Meta came out of the proverbial gate strong, with a huge spike of VR-related hiring that peaked in January 2022; ever since, however, its competitors have surged ahead. Between April and June 2022, hiring for virtual reality roles declined a stunning 81 percent, most likely due to companies tightening budgets in the face of economic uncertainty.
Meta may face increased competition from rivals such as Apple, which rumors suggest is working hard on its own VR and/or AR headset for release sometime in 2023. Google is also reportedly testing its own AR headsets in the real world, although there's no indication it'll launch a finished product anytime soon. Even Amazon could potentially jump into the game.
But it could require a lot of work for these companies to take augmented reality and virtual reality truly mainstream. Lightcast (formerly Emsi Burning Glass) estimates that less than 10,000 jobs requiring AR-related skills popped up in 2021, although it predicts that AR-related jobs will grow 64.4 percent over the next two years (although the Revelio/Bloomberg data suggests that could be optimistic, if current trends hold). If you're interested in working in AR or VR, make sure you pay attention to hiring at consulting firms in addition to tech companies.