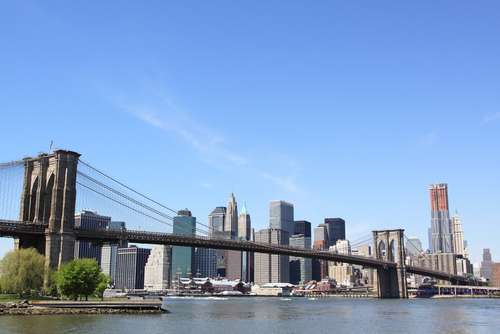 New York City, which has devoted considerable effort to developing a "Silicon Alley" tech hub, is getting the top-level domain to go with it: .nyc, which will be available to businesses and individuals who operate within the city limits. "The addition of a .nyc suffix will give small businesses and residents the chance to secure their own city-themed, personal domain name and generate millions of dollars in revenue for the City," Christine Quinn, Speaker of the New York City Council (and mayoral candidate), wrote in a statement
posted on NYC.gov
. Mayor Michael Bloomberg and chief digital officer Rachel Haot also made statements emphasizing the city's rising status as a tech hub. Those who want a Web address ending with .nyc will need to have a physical address or "bona fide presence" within the city limits ("meaning regularly performing lawful activities within the city and maintaining an office or other facility in the city," according to NYC.gov), and apply once registration opens in late 2013. But how much money could New York City actually make off the domain? The
official Website for the .nyc domain
is opaque about fees. "Registrars of .nyc domain names will determine the retail annual fee of .nyc domain names," reads the relevant FAQ. "The City expects multiple Registrars to participate and for pricing to be competitive with the market prices for other top-level domains." In other words, if a company wants to lock down "tech.nyc" or "startups.nyc," it's probably going to cost a pretty penny. It's also likely that established firms such as Microsoft and Google will rush to secure the .nyc variant of their popular Web destinations. Michael Bloomberg has long promoted New York City as a destination for tech firms, possibly as a way of balancing out the city's reliance on the financial sector as a source of tax revenue. At
Stanford's most recent commencement ceremony
, he termed New York "the hottest new tech scene in the country," where "there's more to do on a Friday night than go to the Pizza Hut in Sunnyvale." (Bonus points for expressing those sentiments right in Silicon Valley's backyard.) Tech salaries in New York City recently surpassed those in Silicon Valley, according to staffing firm Mondo. Startups such as Contently, Fancy Hands, and Codeacademy have been popping up around the Big Apple,
creating billionaires
and sparking a real-estate crunch
in Brooklyn and parts of Manhattan
.
Image: Joshua Haviv/Shutterstock.com