[caption id="attachment_4730" align="aligncenter" width="580"]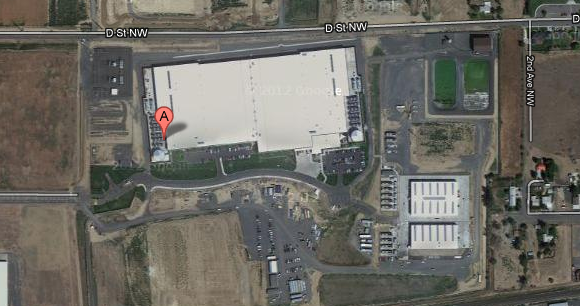 The location of Microsoft's data center in Quincy, Washington, according to a final NOC permit filed with the Washington State Department of Ecology.[/caption] Microsoft wasted millions of watts of power in an effort to essentially punish a Washington state utility from fining it for under-reporting the estimated power use of one of its data centers,
The New York Times
reported Sept. 24. Microsoft did not deny the specific allegation, but an executive said the company "respectfully disagrees" with the implication that Microsoft ran "its diesel backup generators in excess of what is required to provide safe, reliable power to our data centers."
The report
, the second in the "The Cloud Factories" series chronicling the data center, also focused on the environmental consequences of storing billions of videos, pictures, and other documents in the dozens of data centers that make up the cloud. The story follows the first in the series,
a somewhat puzzling piece
that examined the data center market from a macroscopic perspective. The Sept. 24 story focused on Microsoft, the first—but not the last—to build a data center in the small agricultural town of Quincy, Wash. (Dell, Intuit, and Yahoo have also built their own sites.) In 2006, Microsoft bought 75 acres and began building its data center, powered by the abundant power of the Columbia River and its network of hydroelectric dams. As documented by the
Times
, a series of prickly exchanges erupted between the software giant and the local power utility district, the Grant County PUD. Microsoft first asked for a local power substation's timetable to be accelerated. Then, the company filed permits for 24 diesel generators, which could provide backup power in the case of an emergency. The
Times
followed the story back and forth, noting that there were concerns about the environmental impact of diesel generators. California had already warned Microsoft's Santa Clara data center about its use of diesel generators and their possible links to cancer; Quincy, for its part, concluded that the additional generators posed no health risk. The meat of the story, though, concerns Microsoft's brush with Rate Schedule 99, the local PUD's ordinance that major customers such as Microsoft and Yahoo provide estimates of their upcoming power use. Estimates that were too low could prompt fines, as could estimates that were too high. Microsoft's power consumption was significantly lower than what it forecast as it neared the deadline. In return, Microsoft began wasting electricity, turning on large heaters, to the tune of an additional 5 million to 7 million watts, in a bid to bring it in line with its estimates. "Microsoft could incur approximately $70,000 in power costs to avoid the $210,000 penalty, resulting in real savings of $140,000," the
Times
reported. A Microsoft spokeswoman told the newspaper that the episode was "a one-time event that was quickly resolved."
In a Sept. 24 blog post
, Brian Janous, a utility architect for Microsoft, respectfully criticized both articles in Microsoft's data-center series. "While the article identifies the key issues of efficiency and utilization, it conflates these two key but distinct challenges, wrongly implying that underutilization of servers in data centers equates to unneeded consumption of massive amounts of energy," Janous wrote. "In doing so the article fails to recognize that not all data centers are created equal, nor are the operations and software applications running inside those data centers equally utilized." The main issue is Microsoft's actions in Quincy, and how it behaved in securing the power contracts it wanted in a small Washington town. But the angle of the diesel power generators is also interesting, for Microsoft recently said that it was considering eliminating diesel generators altogether. Janous didn't deny that Microsoft had run heaters to boost its power consumption, or that it had dickered back and forth with the local PUD. Microsoft did claim that it had created 50 jobs in Quincy, and that its tax revenue had funded a new fire station, an expansion of the library, and that it had built a new water-treatment plant it leased to the city. Janous also noted that Microsoft had already pointed out that it didn't really want to run generators in the first place, and that it was moving away toward other sources of power. "Given the unreliability of the electric grid and the need for continuous availability of cloud services, Microsoft maintains diesel generator backup at all of our data centers, as is typical across the industry," he wrote. "Our policy is to use these backup generators only when necessary to help maintain grid stability or in extraordinary repair, and maintenance situations that require us to take our data centers off the power grid." The generators, he added, are inefficient to operate from both a cost and environmental perspective. "We are currently exploring alternative backup energy options that would allow us to provide emergency power without the need for diesel generators, which in some cases will mean transitioning to cleaner-burning natural gas and in other cases, eliminating the need for back-up generation altogether." In addition, the newest phase of Microsoft's Boydton, Virginia facility is designed without any generators, Janous wrote in his Monday post.
Image: Google Maps