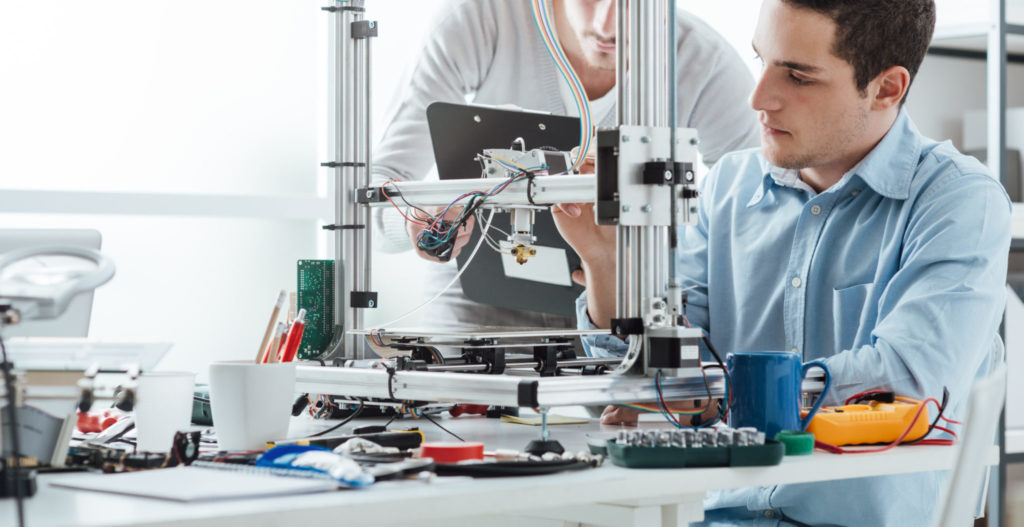 When some folks hear "North Carolina," they might think of
Andy Griffith in Mayberry
. But while Mount Airy (the real-life Mayberry) is a sweet little town, North Carolina is a hotbed of growing cities and cutting-edge technology jobs. And nowhere is that more true than in the state's Research Triangle of Chapel Hill, Durham, and Raleigh. Much of the talent fueling these cities' tech scenes comes from the area's major universities: North Carolina State University, Raleigh; Duke University, Durham; and the University of North Carolina at Chapel Hill. The Research Triangle itself originated from a government and private consortium to create a technology job center,
Research Triangle Park (RTP)
. Today, this 7,000-acre area, which was specially designated for scientific research and production activities, is home to over 250 tech and scientific businesses. On the startup front, the Triangle is home to tech up-and-comers such as
CloudFactory
(which outsources routine office work),
First
(a big-data sales analytics firm), and
GoldenKey
(a technology firm which unbundles real estate services for a flat rate rather than a sale commission). While RTP has served as an incubator for smaller companies, its primary purpose is bringing larger technology businesses to the area. Today, its top ten employers include tech household names such as IBM, Cisco, and Lenovo.
SAS
, another firm, was doing data analysis long before Apache Hadoop was a gleam in its developers' eyes; today, the company has just under 14,000 employees, over 5,000 of them in Cary, NC. Another of the better-known Triangle firms is the Linux- and open-source giant
Red Hat
. Co-founder Bob Young
started the company in a closet
; today, Red Hat has over 10,000 employees. According to Allison Showalter, Red Hat's corporate communications manager, Red Hat is looking for people with experience ranging from entry-level to 15+ years on-the-job experience. There are opportunities open for applicants with knowledge of Red Hat products and technologies such as Red Hat Enterprise Linux (RHEL), OpenShift, and Ansible; virtualization technologies including VMware, KVM, and Xen; and advanced coding abilities using Python, Bash, or shell scripting. "At a base level with all Red Hat positions, knowledge of, and a passion for, open-source practices, licenses, and ecosystems is a must for applicants," Showalter said. "Applicants who are active in open-source communities and truly believe in the open-source way are the people that we want." More than fifty percent of employees hired at Red Hat "come through the
Red Hat Ambassadors
program – our associate referral initiative," Showalter added. "Networking with current Red hat employees and asking them to refer you is the best way to get your foot in the door." In my own discussions with Triangle companies, I've found that open-source is hot even in companies that aren't built on it. In addition, Big Data skills (especially Hadoop, Spark, and Hive) are all in high demand (by no coincidence whatsoever, these are also all open-source software). What other job skills do you actually need to make it in the triangle?
Kelly Services
(which has the most recent data) reports: "
Companies are aggressively recruiting talent
with qualified certifications related to information security (CISSP), Cisco networking, and project management (PMP )." Job postings list the top skills as Java, Linux, SQL, JavaScript, and Python. Nor is employment in the Triangle driven solely by technology companies: healthcare and university jobs are plentiful. For example,
PRA Health Sciences
(a pharmaceutical research company),
Teleflex
(a medical technology firm), and
Quintiles
(a healthcare data analytics business) are all seeking tech-savvy employees. According to
Brookings' MetroMonitor
, which ranks the nation's 100 largest metro areas based on their economic performance,
jobs grew by 16.2 percent in Raleigh, NC
alone from 2010 to 2015. By
CompTIA
's count, Raleigh has the
fourth-highest concentration of tech industry workers
. In total, there are approximately 8,000 jobs in the Triangle area. Not enough? Keep in mind the cost of living in the Triangle is lower than in many other tech centers. For example, a
900-square-foot, furnished apartment in a high-end part of the area runs about $1,250
. Try finding that in Silicon Valley.