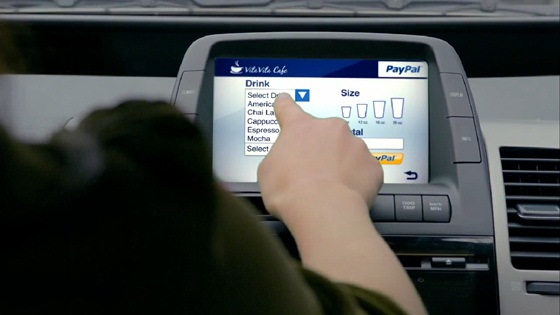 PayPal wants your business, both online and offline. The eBay-owned, online payment company publicly previewed what they call the "future of shopping" this week -- applications designed to change the way consumers make in-store purchases by eliminating the need to carry credit cards and interact with cashiers. In a video developed in conjunction with a partner event that amassed about 150 merchants, PayPal showed us several scenarios demonstrating how its technology can make "the act of paying for something as seamless as your decision to buy it," as PayPal President Scott Thompson puts it. Among the scenarios demonstrated:
Bump to send money -- A father sending allowance to his daughter by bumping their smartphones together. This feature has been available on both iPhone and Android since PayPal incorporated Bump's technology into its mobile apps a year ago.
Location-based instant coupon -- A shopper was prompted by a coupon alert as she physically passes by an apparel store. The coupon can be shared with friends.
Inventory search -- Instead of being assisted by a store employee, a shopper simply scans an item's bar code in search of a smaller size. The app will also search for the same item at other store locations. She can then pay for the item using the app, instead of waiting in queue at the store.
QR code promotion -- A shopper scans the QR code on a promotional poster in a hardware shop. The special offers instantly transfer to his smartphone.
Pay with PayPal-registered phone number and PIN -- A shopper enters his phone number and PayPal PIN into a payment terminal to pay for his charcoal grill. He then receives the receipt on his smartphone.
Self checkout -- A shopper scans the bar codes of the items she's purchasing, pays for them with the mobile app, and leaves the store without ever interacting with an employee or waiting in line.
Pay for coffee in advance -- A woman orders a cup of coffee and pays for it from the comfort of her car. The coffee is ready by the time she enters the shop.
Select payment source -- Post-purchase, a user can select the source of payment (PayPal credit, credit card or bank account) for every individual transaction.
How do you like these ideas? I'm guessing most users would appreciate the self-checkout feature, except for the few who perhaps enjoy the social aspects of shopping and waiting in line. And I find entering a phone number and PIN just to make a payment somewhat counterproductive. Isn't it easier to hand over our cards and let the cashier do the rest? Also, what if someone is peeking over my shoulder when I'm entering my PayPal information? I will definitely not sacrifice security for the sake of convenience. Stay tuned -- more details on these advances will be coming next month at PayPal's Innovate Conference. For now, check out this video: [youtube http://www.youtube.com/watch?v=V7q1jx8mYi8?rel=0&w=560&h=315] Source:
AllThingsD