A quick look at some of the movement among IT people this week.
Mad Catz Interactive
, a flight software and video game developer and distributor of third party games and video game products, appointed Karen K. McGinnis as Chief Financial Officer. McGinnis replaces Allyson Evans, who
recently announced her resignation.
[Mad Catz]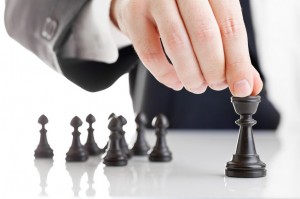 Apple
hired former U.S. Environmental Protection Agency Chief Lisa Jackson as Vice President of Environmental Initiatives. Jackson worked for the EPA on and off for 25 years, and was the first African American to lead the agency. [San Jose Mercury News] Ryan Sarver,
Twitter's
Director of Platform, tweeted his resignation from the company. Looking to the future he claims he has "no plans but rest." Ian Dodsworth, Founder of
TweetDeck
, also announced his departure, almost two years to the day since Twitter acquired the company. He, however, has other plans, saying it's the perfect time to start his next venture. [TechCrunch, All Things D] Mobile gaming company
Social Gaming Network
announced a round of strategic hires to support its rapid growth. Mike Chera, formerly a designer at
Storm8
, was hired as a Senior Game Designer. Nicolas Bourges, formerly a designer at
Lucas Arts
, was also added to the team, as a Senior UI/UX Artist. Other hires came from game
Zynga
, and
Playtika
. [SGN.com] Following its recent launch of Veda, a proprietary social risk engine, e-commerce company
WePay
named John Canfield Vice President of Risk Management. Canfield worked previously as Senior Director of Global Fraud and Risk Management at
eBay
, and founded
Nimbler
, a transportation app development company. [Marketwire]
PermaBit
, a data efficiency software developer, named Cameron Pforr Senior Vice President of Business and Corporate Development. Pforr brings nearly 20 years of experience in technology and financial services from his previous role as CFO at
WhipTail
, as well as positions at
Revolution Partners
,
Mustang Capital Partners
, and
Deutsche Bank Securities
. [PRNewswire] Optical communications company
Source Photonics
named Doug Wright President and CEO. He succeeds Near Margalit, who is credited with transitioning the company from a small business to an industry leader. Margalit will become Chief Product Officer and refocus his efforts on product development and quality improvements. [Dice News] NoSQL database technology company
Couchbase
named Ravi Mayuram Vice President of Engineering. Most recently Mayuram was the Senior Director of Engineering at
Oracle
. He's also held senior and technical management positions at
BEA
,
HP
,
Informix
, and
Siebel
. [Marketwire]
PatientsLikeMe
, a patient network and research platform, named Marcia Nizzari Vice President of Engineering. She will oversee all engineering projects and future platform developments. [patientslikeme.com] Scott Pulsipher joins
Needle
, a provider of social commerce for e-commerce companies, as President and Chief Operating Officer. Pulsipher was most recently the General Manager of
Amazon Webstore
, where he led the launch of the current version in the U.S., UK and Germany. [Needle.com] Customer communication technologies provider
Pitney Bowes
named Roger Pilc Executive Vice President and Chief Innovation Officer. [PB.com] E-commerce company
Intrix
named Suzanne Coleman Director of IT. She was formerly the COO of
Mass Global Solutions
. [Marketwire]
Jawbone
, a developer of wearable technology, appointed Mindy Mount to be its new President. Mount comes to Jawbone from
Microsoft
, where she held multiple positions including Corporate Vice President and Chief Financial Officer of the Online Services Division. [Jawbone.com]