In the context of Agile methodology, the role of "product owner" emerges as central to a project's success, bridging the gap between business vision and development execution. Considered a relatively new position in the world of tech, product owners ensure that the team always keeps the end user in mind; they also communicate constantly with stakeholders beyond the developers (such as sales and marketing executives) about the project's progress.
Given the complexity of the role, a product owner resume should highlight a strategic blend of skills. Let's dig into the ideal product owner resume, including which skills to list, how to craft a mission statement, and a sample resume you can customize on your own.
What do you need to include in a product owner resume?
As a baseline, a product owner resume should highlight your understanding of Agile frameworks, as well as a passion for driving iterative innovation. Prospective candidates should emphasize their adeptness in the following:
Stakeholder communication

User-centric design

Prioritizing backlog items
The resume should clearly demonstrate the candidate's alignment between strategic goals and daily operations, while also underlining their ability to foster a culture of collaboration. If you can, make sure the experience section of your resume shows how you've contributed to team morale and product excellence; while such things can be hard to measure, adding any kind of data points (such as revenue or positive customer feedback) can prove a huge boost.
Kenneth Sardoni, senior vice president for learning programs at CompTIA, says that if you're starting your resume with a mission statement at the top, it's important to convey your passion for the product owner role.
"Explain your passion for ensuring the product team is using the Agile methods and is using Scrum to efficiently and effectively move those projects forward," he says. "I would identify my real passion for leadership and talk about my ability to negotiate priorities, manage expectations and resolve conflicts."
Josh Drew, Robert Half Regional Director, explains that, when listing work experience (which should go at the top of the resume), outline the product history, highlighting usage growth, revenue successes within that product and statistics that suggest growth in use.
"Put a focus on your experience with cross-functional teams, because on the product side, you work with marketing, you work with developers, you work with stakeholders, there's a lot of different kind of cross-functional teams that you engage with," he says.
Before breaking down your skills in the resume, re-read the job posting. Which skills does it list? Which do you know? Make sure that any skills you've mastered end up in your resume, because hiring managers and recruiters use automated resume screening software to sort through applications, and it will reject resumes that don't feature the requested skills.
How to detail your previous roles on your product owner resume
Your resume should show your aptitude at tackling the entire product development lifescycle, Drew says: "Were you a true product owner from start to finish? Were you more on the testing phase where you on deployment and upgrades and reconfiguration? Can you give specific examples of that?"
Adding regarding team size and budgets, particularly regarding a successful project that required a major investment, also helps draw positive attention to the resume. "Listing a product budget size can give scope or perspective to the size of the projects and products you've worked on and how that impacts that industry," Drew says.
Sardoni suggests it's important to highlight your relevant experience, with an emphasis on how you've ensured a product's ultimate value was enhanced. You can also cite efficiencies you've baked into product development lifecycles.
"You also want to identify an excellent understanding of the business and the industry on which you're focusing you're resume," he adds. "Clarify that you understand the competition, market trends and customer needs and how you articulate that back into the product design."
Don't forget product owner education, training, and soft skills
Although there are many different routes to becoming a product owner, it's always key to list your education and certifications in your resume, especially if your formal education is particularly strong. "Someone with a really strong education—Georgetown, Harvard or some other Ivy League school—might want to highlight that because it does jump off the page," Drew says.
Certifications that show mastery of Agile methodology will give you an advantage. For example, Certified Agile Leadership (CAL) and Certified Scrum Product Owner (CSPO), both offered by the Scum Alliance, and Agile Certified Practitioner (PMI-ACP), offered by the Project Management Institute (PMI).
It's common to see product owners list soft skills like communication and results-oriented organization. You can build even more of an advantage by using the experience section of your resume to show how you've used your soft skills to help propel a product over the finish line; for example, using your teamwork to unite stakeholders to bring in a software project on time and under budget. "Listing out examples of how those skills impacted the project, the team and the product itself, is always a good opportunity to nail down specifics and further illustrate specifics," Drew says.
"You want to make sure they're just not a laundry list," Sardoni adds. "I would also try to link those soft skills—be they communication or leadership—to examples of where I had moved things forward with a product."
He suggests finding ways to briefly explain how you managed the product development process with executives in the organization, including setting priorities and budgets. "People are going through the resume and reading it, seeing specific applications, and the hiring manager, can say; 'I see that you were actually doing an AI project for AWS in your organization, and you were the product owner of it—that particular project brought these benefits: Tell me about it,'" Sardoni says.
From his perspective, additional context always helps make a resume for a product owner more compelling and easier for the hiring manager to understand. "If you're a product owner and it's for development within an organization, then that ought to be a pretty high-profile type of application," he says. "Being able to identify that and how you use those skills, as an interviewer, I can then ask you to tell me about the project, where it went well, and where perhaps it did not go so well."
Product owner resume template
Whatever product owner roles you pursue, it's always critical to craft your resume to a specific position. Hiring managers and recruiters always want to see that you're interested in the exact role they're offering, and they don't appreciate receiving what's clearly a generic resume.
In order to speed up the customization of your resume, we've provided a template to work from. Check out this sample product owner resume: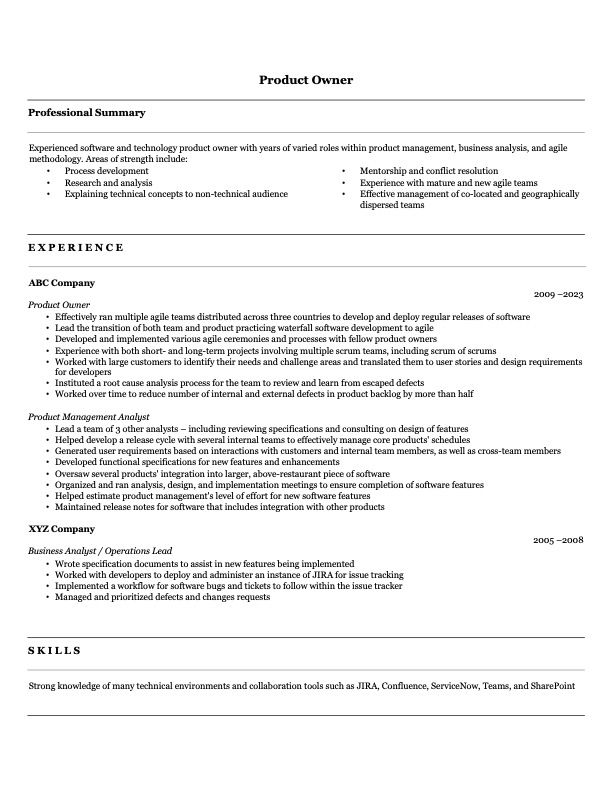 Customize as much as possible, list your most relevant skills and side projects, and always remember that your soft skills such as empathy and communication will matter just as much as your technical skills.