A recruiter calls you up about a Java job, iOS developer position or some other hot, hard to fill IT role. But as you talk, it becomes clear that they've given your resume little more than a cursory glance. Sadly you've gotten one of the six second resume scans that's often performed by recruiters wading through a pile of resumes with little time to read each one.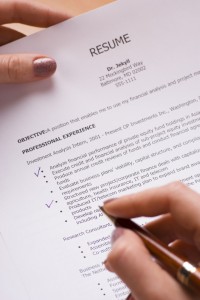 Of course, you'd hope that they'd spend a little more effort with the resumes of people they're calling, but that's neither here nor there. Like it or not, recruiters are gatekeepers to the managers doing the hiring, so you have to keep your cool even when they're unprepared. "If you look at my resume online, you'd see I'm really into [artificial intelligence] and data mining," says Yeunjin Kong, an Android developer and former Google employee. "But recruiters don't look at my resume that closely. I think they should." Alba Perez-Cuadrado Robles, another Android developer, makes a similar complaint, saying recruiters often approach her based on the mere fact "Android" is on her resume.
Resume Reading
While some recruiters may ask specific questions regarding projects you've worked on or positions you've held, those who ask broad questions around technologies may simply be checking off items from a job description, says David Chie, president and chief operating officer of recruiter Palo Alto Staffing Technology. "Skilled technology talent is in high demand and candidates need to remember they can choose who represents them" when it comes to recruiters, he observes. If an engineer, software developer or other tech professional senses a recruiter hasn't read their resume, Chie suggests asking if they have the document in front of them. "You will have to judge whether they have a valid reason [why it isn't]," he says. "Remember, a recruiter is your advocate. They need to be engaged, responsive and thorough. If they aren't interested in seeing your resume, then the question becomes are they wasting your time? And how can they possibly represent you properly to the client?" In other words, if the recruiter doesn't take the time to read your resume, the likelihood they'll match you to the job will be slim. But no matter how frustrating the situation may be, remember that most recruiters – whether they're prepared right now or not – can be good contacts for you down the road. Don't lose your cool. Keep the conversation business-like and try to get them to engage with your resume, even if it's while you're on the phone. Also, ask questions. Even if they're just fishing with a wide net, the assignment they're working on may be a good fit for you. If that's the case, the time you spend educating them will be well worth the effort.