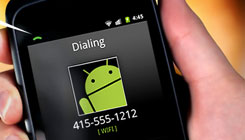 Republic Wireless
unveiled a plan to bring mobile costs down into the realm of the reasonable with a $19-a-month plan that includes unlimited text, data and voice.
TechCrunch says the price comes
from a hybrid network that uses WiFi whenever it can, then falls back to cell connections when it has to. It's kind of like the Prius for smartphones.
The first phone being offered by Republic Wireless — which users will need to buy in order to use the service — is a modified version of The LG Optimus, running Android 2.3 (Gingerbread). This phone is offered by other carriers and is generally regarded as a solid low-end device (it's not going to look great next to a Galaxy S II, but it'll more than suffice for a lot of people). The device will be sold for $199 with no contract, and it will be available at a discounted rate of $99 through November 27 if you use the promo code 'welcome19′. Again, that's with no contract — there are no termination fees.
Still, there are some pesky requirements. First, you'll have to log into your WiFi account to use the service. Republic will track how often you do this, and if you're found to be relying on the cell channel too much, it'll end your membership. "We'll help you find a more suitable, traditional carrier," they say. Nice of them. That doesn't bother Jason Kincaid at TechCrunch. He points out you could use 550 minutes, send 150 texts and download 300 megabytes on cellular, and still won't get a warning.
Stefan Constantinescu at intomobile sees it differently
. He says:
You need to use less than 550 minutes, fewer than 150 text messages, and 300 megabytes of data per month while not attached to WiFi, otherwise you get kicked off their network. You're also stuck with an LG Optimus, the only device they currently offer, though there are plans to make the Samsung Galaxy S II available. Since this is a prepaid operator you're also going to have to cough up a lot of money to buy what's essentially an unsubsidized device. Oh and as for the cellular network that Republic Wireless uses, it's Sprint.
So, the jury's out. To jump from automobile to airline analogies, the questions is will this service be
Ryanair
or Southwest. And, my question to you: Will you jump to Republic Wireless?