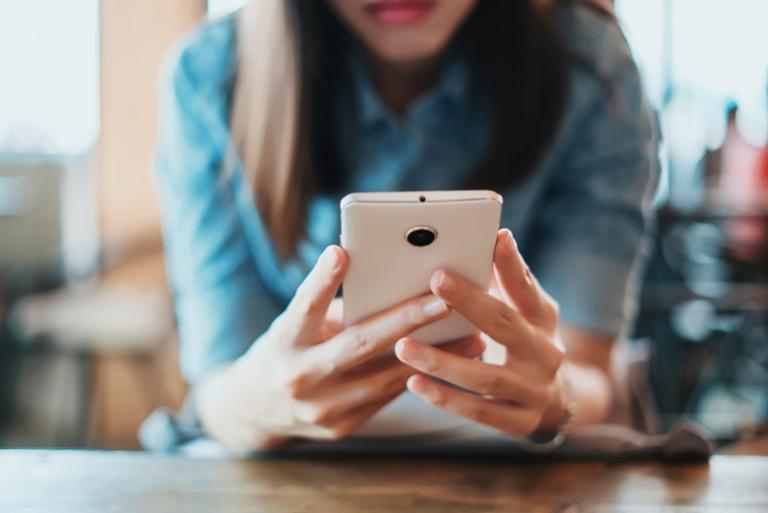 If you stand in line at any local coffee shop, you're bound to see a room full of people staring down at tiny screens, tapping away. Rather than interacting with the world around them, most are communicating with others via text. In this highly technological era, this phenomenon probably comes as no surprise to you. In fact, studies have shown that the sheer volume of monthly text messages has increased by more than
7,700 percent
in the last decade, which could explain why some
90 percent
of people keep their phones readily accessible at all times. The global texting craze presents an excellent opportunity for busy recruiters looking to connect with candidates efficiently and effectively. However, adding text to the recruiting toolbox is not something to take lightly. The rules are different when it comes to talent acquisition, especially with changing regulations that impact the way data gets managed. The last thing any recruiter wants to do is compromise the candidate connection or alienate a potential new hire. Here are a few important considerations:
Always Ask Permission
Consent is key.
According to one study
, tech pros are ambivalent when it comes to texting as a recruiting channel. While 35 percent of job seekers stated that they welcome the idea and see it as professional, 34 percent believe the practice to be unprofessional, and the remaining 31 percent remain undecided. For some people, unsolicited text messages can come across as intrusive—and may even get flagged as spam by a candidate's phone. Beyond that, candidates may feel obligated to respond to your texts, triggering a negative association or souring their experience with you. The goal is to engage potential hires and promote a positive employer brand, so if you're going to add texting, make sure to start early in the recruiting process. Confirm that your candidates are willing to communicate with you via text, and assure them that participation is optional, with the ability to opt out later if they so choose. After they agree to receive text messages, set expectations. This will ensure that all parties feel comfortable with the way texting fits into the hiring process, and reinforces your intent to keep the exchanges strictly professional.
Keep It Short and Timely
Texting is a natural and (typically) casual communication method, so avoid sending any long-form messages. In recruiting, texts should be short and sweet. Don't overwhelm candidates with lengthy messages that would be better received in an email or discussed over the phone. Instead, use texts to confirm interviews, share directions and answer easy questions. When you let candidates know how texting fits into the hiring process, stick to this strategy. If the need arises, escalate to a different method. No one wants to get dumped via text. Given that candidates are likely to respond to texts quicker than to other messages, maintain "office hours." Though texting is familiar to most people, it should be onboarded into the recruiting process like any other new technology. Over time, whittle down the nine-to-five and enhance your approach by identifying which hours prompt the best response rates. Midday, for instance, might work best for your outreach, since it accounts for multiple time zones without disrupting anyone.
Employ the Right Technology
Nobody expects recruiters to pull out their personal devices to start typing up candidate outreach—and for good reason. Aside from being a nightmare to manage, this approach just isn't an option in today's highly-regulated world. With the implementation of the
General Data Protection Regulation
(GDPR) in May 2018, organizations with a global footprint must comply with strict information security guidelines or face steep penalties for violations. Talent acquisition pros know that data, including cell phone numbers, is personal and private, and needs to be protected at all costs. By leveraging text-recruiting software, organizations can ensure messages are transmitted in a secure, compliant way. These text-recruiting solutions solve several other issues, as well, including managing multiple messages at once. Through integrations, some text-recruiting software can streamline your engagement process and work in tandem with your organization's ATS. Fast, seamless and safe—it's a win-win.
Rules of Engagement
Texting affords recruiters a unique opportunity. Because this communication method is so widely accepted and used around the world, job seekers already know how it works. At the same time, most people associate it with casual conversations, rather than interviews and making career moves. According to a
Dice study
, tech pros find one in every three outreach messages to be borderline irrelevant, so maintain a considerate and personalized approach when drafting your texts. Recruiters interested in texting will need to carefully orchestrate their strategy, accounting for candidate reactions, the information exchanged and the proper timing – all while making certain that texts remain wholly compliant. With the right solution in place, texting can become a seamless extension of the recruiting process, even though there's always the possibility that job seekers may respond negatively or react poorly if they don't get the job. Text with care, intent and purpose to advance candidates and improve engagement… it might even catch their attention while they're waiting for coffee. For more information on how candidates communicate via text, check out our guide,
What Tech Talent Wants
.
Noel Cocca 
is the founder and CEO of RecruitingDaily and its merry band of rabble-rousers. He aims to produce at the sweet spot between content and actual awareness by creating great work for living, breathing human beings in recruiting and hiring. He works to ease problems, both large and small, from startups to enterprises.