Find the Right Candidates
Millions of tech professionals join Dice to find their next job opportunity. We make it easy for recruiters like you to search for and connect with the ones who are the right match for your open roles.
Automate your sourcing process with AI
Pinpoint talent with advanced filters and tools
Connect immediately with in-demand tech talent.
DID YOU KNOW
Candidates who create profiles on Dices are required to include their name, work authorization, location, job preference, resume, email, job title and at least 5 skills.
Start finding top tech talent!
Fill out this form and our team will be in touch soon.
"Very user friendly and easy to use. The site has great features to search and invite candidates to apply."
Senior Talent Acquisition Specialist, Albert Einstein College of Medicine
Access our candidate database
Connect with millions of tech professionals who come to Dice to find their next job opportunity.

Automate your sourcing
Use our tech-focused AI to automatically get a qualified list of candidate matches in seconds.

Pinpoint the right candidates
Candidates on Dice add detailed information to their profiles, so you can filter down to your exact hiring needs.
Your tech sourcing challenges are one of a kind.
So are our candidate search tools.
Explore our features and tools to find your ideal candidate.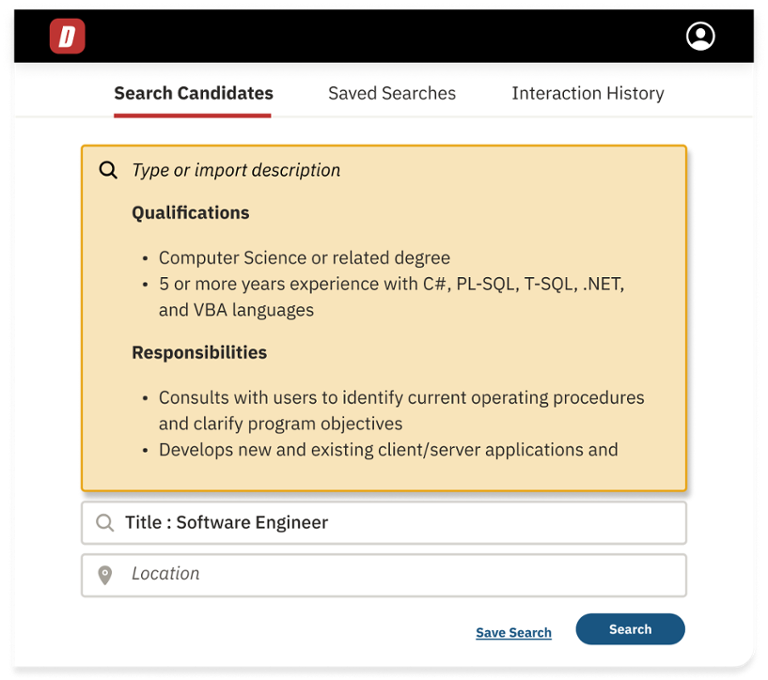 IntelliSearch™
Utilize Dice's robust AI and patented tech taxonomy by pasting a job description or resume, and receiving candidate matches in seconds.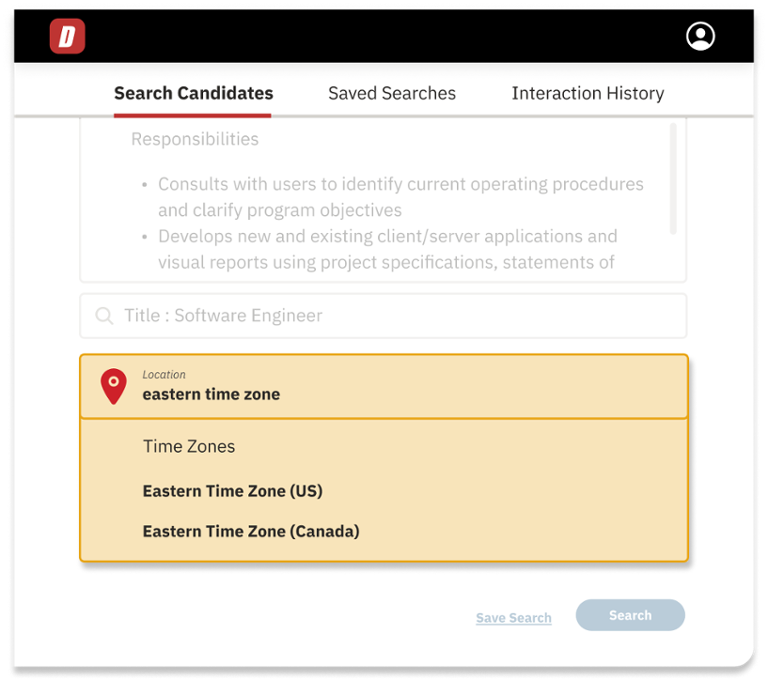 Multi-Location & Time Zones
Save time by sourcing from multiple locations or entire time zones in a single search.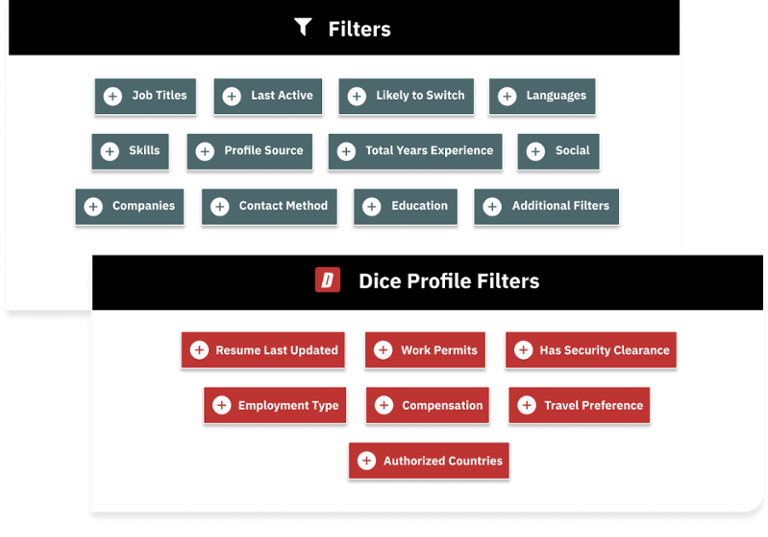 Advanced Filters
Pinpoint candidates through detailed filters including likeliness to switch jobs, security clearance, desired compensation and more.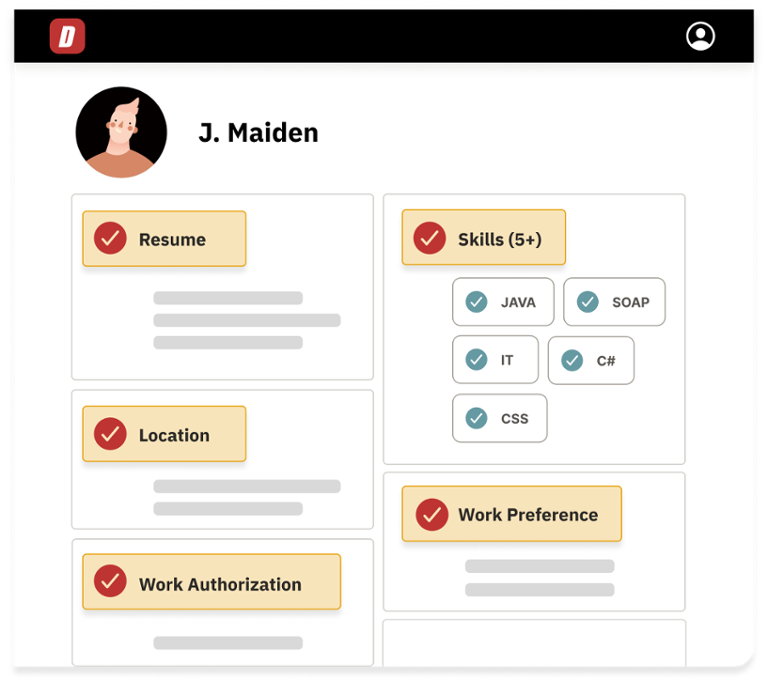 Dice Profiles
More than 98% of new visible profiles on Dice include: name, work authorization, location, work type preference, resume, email, job title and at least 5 skills.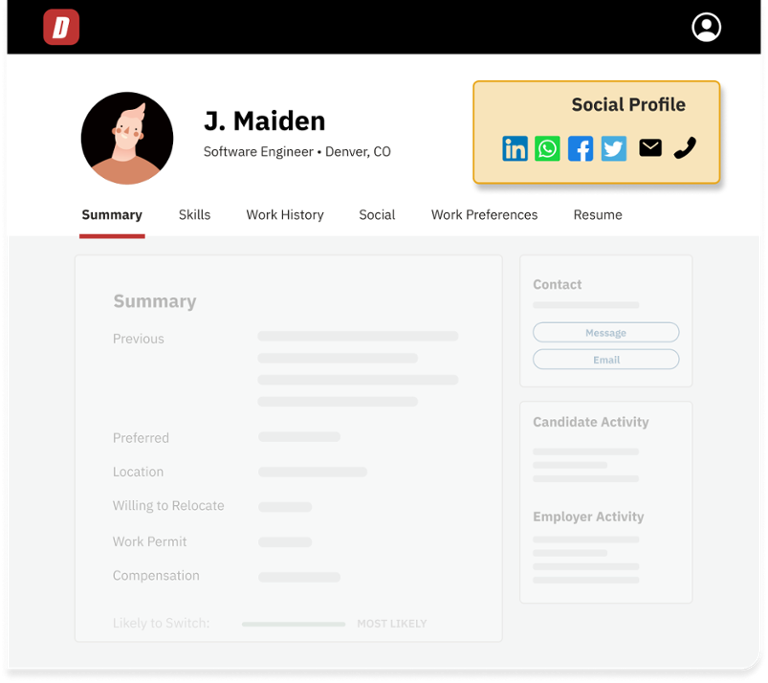 Social Profiles
Expand your search with millions of Social Profiles, which aggregate candidate information from the open web.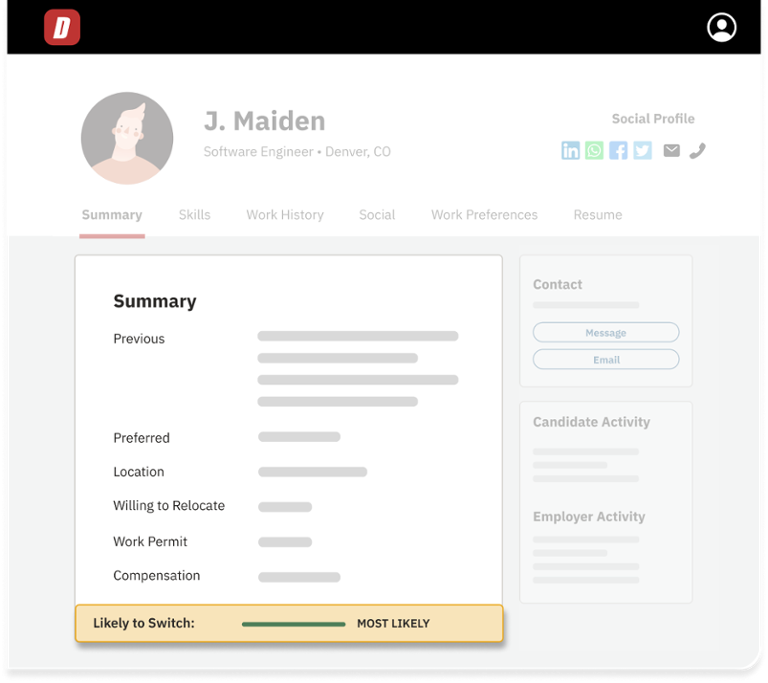 Likely to Switch
Simplify your sourcing by predicting how likely a candidate is to engage in new opportunities.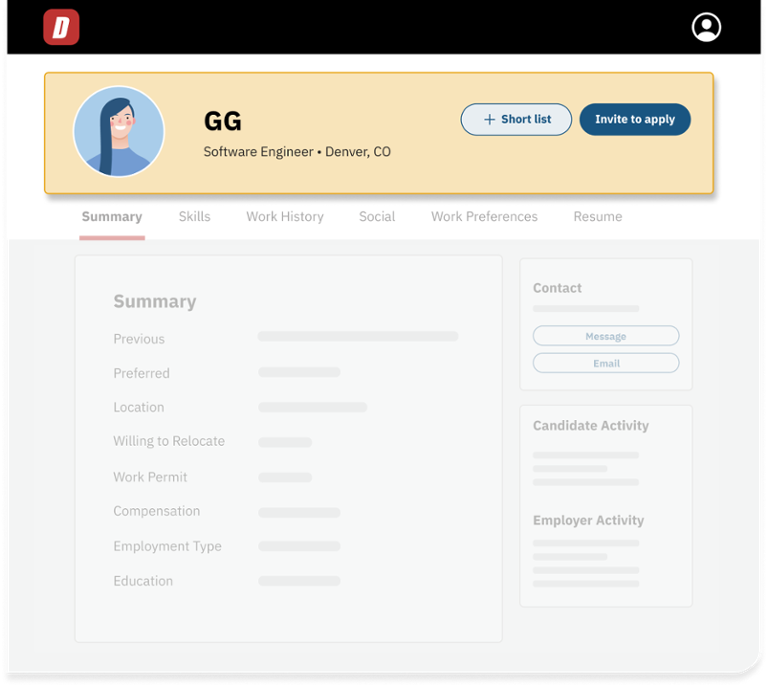 Unbiased Sourcing
Build out more diverse, higher-performing teams by removing data that can cause bias early in the sourcing process.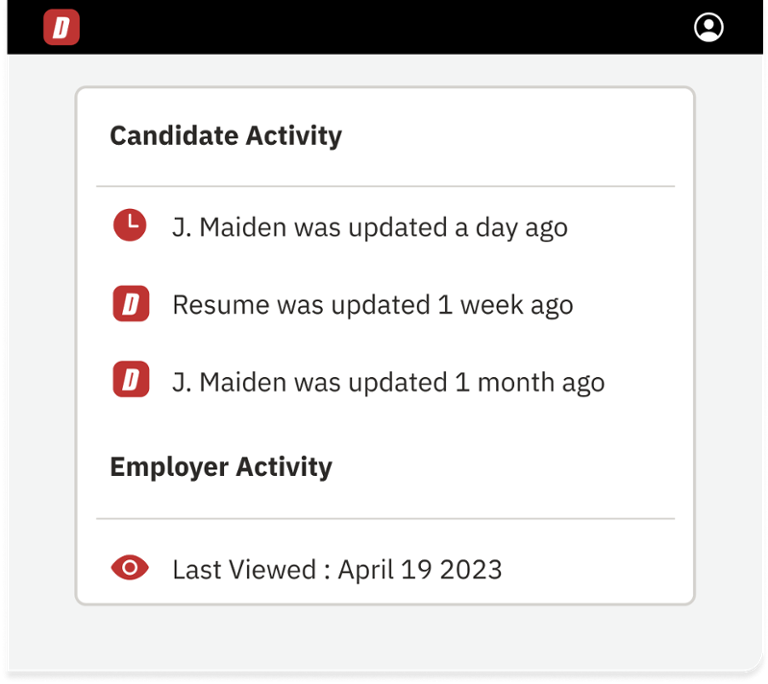 Last Active
See when job seekers were last active on Dice to find the ones who may be actively searching for their next opportunity.
In a time crunch? Let Dice source talent for you.
Our expert Sourcing Services takes work off your plate. We source and screen so you can focus on interviewing and hiring.
Access Dice from your ATS
Dice integrates seamlessly with the tools you already use to deliver the most efficient recruiting experience.



Let's make your next tech hire!
Find tech candidates today. Contact us, and a member of our team will be in touch soon to discuss solutions and pricing.