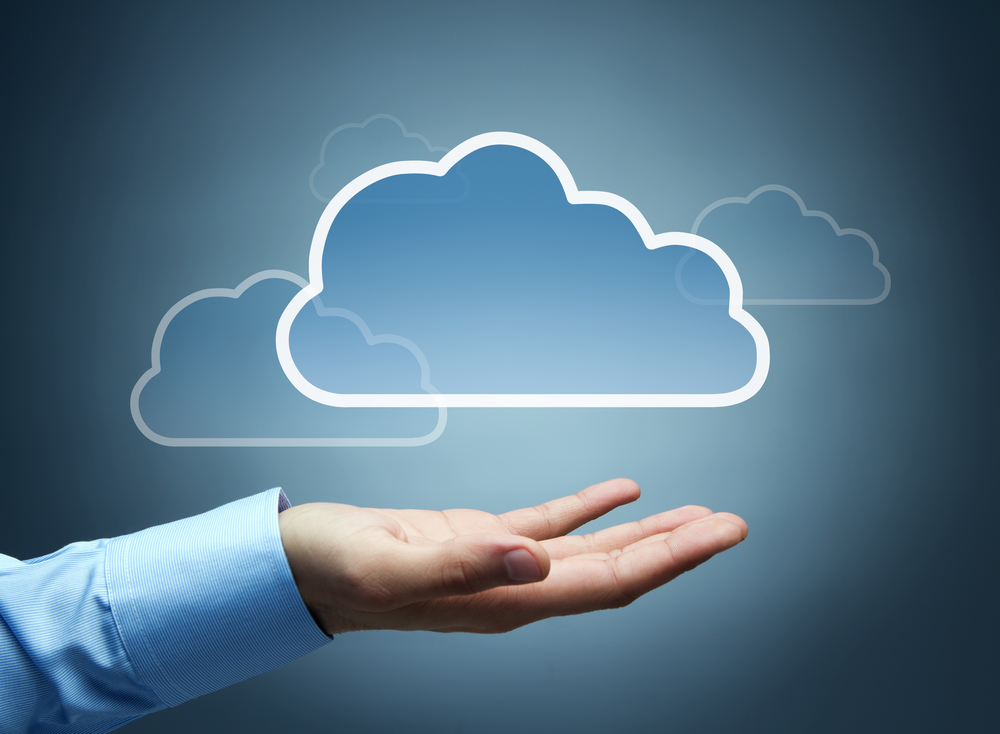 April's Dice Report
explored the fastest-growing technology skills, based on an analysis of job postings and data from Dice's annual salary survey. The results are below; percentages are based on year-over-year growth in job postings: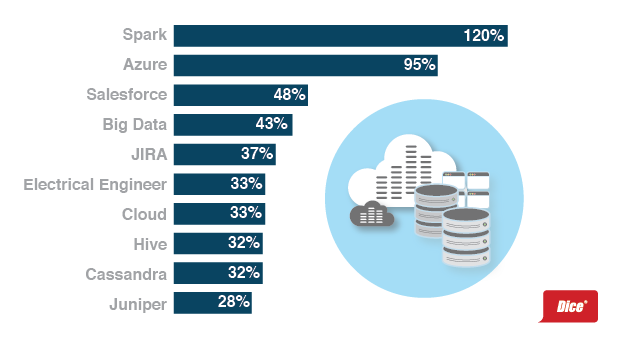 For those unfamiliar with the above skills, the following is a handy background, along with average salaries and year-over-year salary growth (also based on Dice data):
Spark
2015 salary:
$113,214
Yr/yr salary change:
6.8 percent Originally developed as a Berkeley research project, and later incubated at the Apache Foundation, Spark is an open-source distributed computing framework that many companies rely upon for advanced analytics. Those companies use Spark in conjunction with Apache Hadoop Distributed File System, which is a Java-based file system originally developed for the Apache Hadoop framework; it can also interface with Amazon S3 and Cassandra. When it comes to data processing at speed, some firms choose to rely on in-memory data platforms such as SAP HANA, or Apache Storm, a "real time" (i.e., really fast) computation system. But Spark has gained enough adherents over the years to place it high on the list of fastest-growing skills; data scientists and sysadmins have evaluated the technology and clearly seen what they liked.
Azure
2015 salary:
$110,707
Yr/yr salary change:
5.0 percent Azure is Microsoft's cloud-computing platform for building and deploying apps via its worldwide network of datacenters. As the company attempts to become increasingly mobile- and cloud-centric, Azure also represents its best chance for staying competitive with the likes of Google and Amazon. The continued reliance of many businesses on Microsoft services, combined with Microsoft's emphasis on Azure, makes knowing the platform vital for many developers and systems administrators. As Azure continues to grow, so will demand for those who know its intricacies.
Salesforce
2015 salary:
$107,810
Yr/yr salary change:
8.4 percent Salesforce is a cloud-based vendor of CRM and other marketing products. Over the past several years, its executives have also attempted to position the company as a developer hub, via services such as Force.com, a platform-as-a-service (PaaS) for building apps that integrate with "core" Salesforce.
Big Data
2015 salary:
$121,328
Yr/yr salary change:
4.2 percent "Big Data" is a rapidly aging buzzword, but the technologies underlying it remain relevant. Companies are storing and managing more data than ever, and need trained analysts capable of sorting through all of it for actionable insights. Analyst firm McKinsey & Company recently predicted a shortage of 1.5 million data experts within the next two years. As demand increases, companies will end up paying more and more for trained and experienced analysts. For those interested in jumping into this rapidly growing field,
Dice offers some key tips
.
JIRA
2015 salary:
$111,103
Yr/yr salary change:
8.3 percent JIRA is a bug- and issue-tracking system originally created by Atlassian Software. The name derives from "Gojira," the Japanese term for "Godzilla." Developers and administrators appreciate the customizability of the software, which is free to certain open-source projects and nonprofits.
Electrical Engineer
2015 salary:
$109,507
Yr/yr salary change:
5.7 percent It's easy for non-hardware people to forget that all these nifty cloud services arrive on your screen only because someone took the time to wire up a lot of IT infrastructure. As companies build out their tech stacks and datacenters, the need for electrical engineers continues unabated. Who else is going to make sure that the enormous electrical needs of servers and other hardware are (safely) met?
Next:
Cloud, Hive, Cassandra, and more (click here or below)

Cloud
2015 salary:
$112,972
Yr/yr salary change:
8.2 percent As companies continue to move away from on-premises computing, the need for cloud experts of all types will only rise. Developers, managers, and system administrators need to figure out which cloud platforms will best suit a particular business (or what sort of functionality needs to be built to meet industry needs); hardware experts and datacenter administrators must manage the infrastructure that delivers these services to end-users. At this point, the cloud touches on pretty much every aspect of tech in some fashion.
Hive
2015 salary:
$129,400
Yr/yr salary change:
7.1 percent A data-warehouse platform that interfaces with Apache Hadoop, Hive counts Facebook, Netflix, and Amazon as just some of the tech companies that rely on it. Features include support for different storage types (including HBase and plain text), built-in user-defined functions (such as string management), and SQL-like queries via HiveQL.
Cassandra
2015 salary:
$147,811
Yr/yr salary change:
14.9 percent Among analytics technologies, Cassandra has long been one of the highest-paying,
along with Cloudera and MapReduce
. Indeed, many companies rely on Cassandra to manage (and scale) data across multiple servers and datacenters with a minimum of latency and no single point of failure. It's open-source, an added benefit for smaller firms trying to keep their costs low.
Juniper
2015 salary:
$98,293
Yr/yr salary change:
8.2 percent Juniper Networks offers a variety of network-management products, including (but not limited to) switches and routers; it also offers security software.