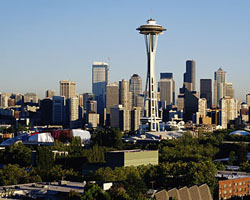 Mark Zuckerberg Recruits in Seattle:
The Facebook CEO visited Seattle to recruit engineers for the company's Seattle office, which opened so it could stop hiring people from Seattle and moving them to Palo Alto. Zuckerberg noted the abundance of tech talent in Seattle and observed "there's a really good startup scene up here, as well."
GeekWire
Starbucks Brewing More Applications for Mobile Payment:
Earlier this year, Starbucks launched its nationwide mobile payments program and processed more than 3 million payments in nine weeks. Now, the company is exploring new ways to extend the Starbucks Card Mobile plan to include all of its products.
Mashable
PopCap Games Eyed in $1 billion Acquisition:
PopCap Games is said to be in acquisition talks with video game giant Electronic Arts. The creator of popular games like
Plants vs Zombies
and
Bejeweled
, PopCap has revenues between $100-150 million a year.
TechCrunch
Amazon Launches Groupon Competitor:
Facing off against Groupon and Google, Amazon launched its AmazonLocal for Seattle, a service offering daily deals for area residents. The company plans to roll out AmazonLocal to other cities in the coming months.
TechFlash
Amazon Fights Internet Tax Laws:
Amazon says it will terminate its associates program in California if Gov. Jerry Brown signs a bill that would require online retailers to collect taxes on sales if they have affiliates there.
GeekWire
Ballmer Says Seattle is Second Most Important Tech Hub:
Microsoft CEO Steve Ballmer, who says he's staying put as the company's leader, believes Seattle is the most important technology hub after the San Francisco Bay Area. He's pushing Washington State to invest in better transportation and education in order to keep itself competitive.
The Seattle Times
Microsoft Cashes in on Android Patent:
Microsoft has been either suing or signing licensing agreements with phone and computer manufacturers that use Android. The company owns a key patent for Android and has been said to earn $5 for every HTC Android phone sold.
Seattle PI
Candidate Calls for More Tech Jobs:
U.S. Rep. and gubernatorial candidate Jay Inslee wants to use a portion of state pension funds to create a pool of capital "for startups that pledge to start here and pledge to stay here." He noted Washington is fifth in the country for technology jobs, but 45th for the number of high school graduates eligible for those positions.
TechFlash